Games to pass the time
The Nokia X6 comes with three games preinstalled, all of which are quite familiar.
The first one is Spore - a simple but fun arcade game with a twist. You gain DNA points in the game that can eventually be spent to "evolve" the little critter that you control and make it faster, stronger and so on.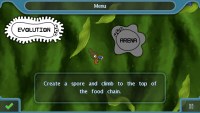 Stay away from bigger creatures with bigger teeth
Next up is Asphalt 4: Elite Racing. With its pseudo-3D graphics, it's hardly worth bragging about with today's portable gaming machines.
Finally, there's the DJ Hero wannabe - DJ Mix Tour, a simple rhythm game.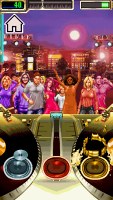 DJ Mix Tour is riding on Guitar Hero's popularity
Final words
A first capacitive screen for Nokia and a first truly high-end device in the XpressMusic lineup, the X6 is a phone that requires attention. It's good that Nokia do try and improve their touchscreens and respond to users' demands.
Yet we don't think the screen sensitivity is the main problem of the Nokia touch phones. Resistive screens have strengths of their own (better accuracy, stylus use and handwriting, etc.) over capacitive ones, so it's more about picking your priorities rather than ranking the two technologies.
Don't get us wrong - we are pleased with Nokia for giving their users a choice. It's great that they are creating handsets for different customers, rather than relying on the one-size-fit-all approach. However, there are other issues that need more urgent attention and we believe Nokia should focus their efforts there.
That focus should be the software on their smartphones, of course. The S60 UI is neither user-friendly nor attractive enough to rival the best in class. The core functionality is all there but when we are talking about that much money, only covering the basics just doesn't cut it.
The Nokia X6 is an expensive device all right (around 500 euro), even if we discount the Comes With Music license and the great headphones. And at this price point the flaws are not easily forgiven. Competition in this segment is tough to start with, and the fact that there's too many affordable alternatives with comparable feature sets doesn't help either.
The Nokia 5800 XpressMusic, 5530 XpressMusic and the 5230 might be placed in a much lower segment but they do match most of the X6 functionality and cost a lot less. If you are willing to sacrifice some screen estate and GPS (5530) or Wi-Fi (5230) and a couple of megapixels of image resolution (5230) you can save yourself more than half the money and get the same software package, even with the Comes with music goodies (5235).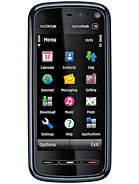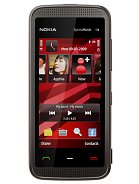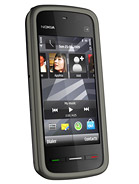 Nokia 5800 XpressMusic • Nokia 5800 XpressMusic • Nokia 5230
The HTC Hero and Acer Liquid are the two Android alternatives that give you great performance, a much more fluid UI and solid multimedia capabilities. They don't offer the same in-box headphones or all-you-can-eat music downloads but cost less and you can use the money you save on either of those. And all other things equal, the Nokia loses on points despite the 32GB built-in storage.
All those alternatives listed above pinpoint the main weakness of Nokia X6: its low bang-for-buck ratio. The capacitive display is nice but when the performance necessary to back it up is missing, there is little benefit for the user. And real audiophiles are likely to already own a top-notch headset, so another major selling point is moot.
There is always a chance that the market will see to it that the X6 price is adequately adjusted, which will improve the phone's prospects. At this stage, the handset is not really a smart buy in the way that the 5800 XpressMusic is. But maybe smart buys belong in the midrange, premium phones are a different story.