Connectivity is great
Smartphones are usually well-heeled in terms of connectivity and the Nokia X6 is no exception: all contemporary means of data transfer are supported.
All kinds of network connectivity are at the user disposal - GPRS, EDGE and 3G with HSDPA (3.6Mbps). The GSM/EDGE networking of course comes in quad-band flavor and the 3G in tri-band - 900/1900/2100.
Both USB and Bluetooth are version 2.0 and the latter naturally also sports A2DP. Wi-Fi with UPnP support is also at hand. There is no shortcut key for the Wi-Fi manager, but it can be easily found in the Connectivity menu and connecting to a WLAN network is two taps away.
Finally, the storage. Unlike a lot of other phones, the Nokia X6 doesn't have a microSD card slot and doesn't need one either. With 32GB built-in memory, we can't imagine filling it up and needing more space.
Web browser still has some catching up to do
The S60 web browser is decently usable, especially now that is also offers kinetic scrolling. Yet there is quite a lot of work remaining before it is able to rival the best in class. The Android and iPhone browsers are miles ahead in terms of usability and user-friendliness.
But let's not digress. The Nokia X6 browser has a good rendering algorithm, displaying most of the sites we visited correctly. It also offers some nice functionality such as different font sizes (5 options), auto fill-in of web forms and a password manager.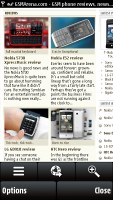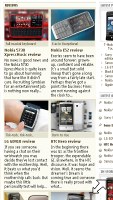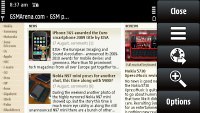 The S60 web browser still needs some polishing
The built-in RSS reader will handle your feeds, while the download manager allows you to download any kind of files while surfing. There's also a popup blocker, but bear in mind that you cannot open a new window in any other way but clicking a pop-up link. We'd have really preferred to see an option to open links in new window.
A minimap is available for finding your way around large pages and the Find on page feature allows you search for keywords. The visual history is a nice bonus that can help you find a page you've visited more easily.
And now we get to Flash support. Yes, there is Flash support, but we had a miserable experience with YouTube (and the other video sharing sites we tested). Half the time, the player wouldn't even load and when it did, simply turning the phone in landscape orientation was enough to crash the browser.
Another disadvantage of the web browser concerns the kinetic scrolling - it is certainly a nice feature to have on board and all but its implementation in the web browser needs polishing. The scrolling is there but it lacks the momentum you see when scrolling listed items in the menu and you'll need several sweeps for even moderately-sized pages.
Double tapping any text zooms it in on screen, but again, the text doesn't fit the zoomed area and you still need to scroll sideways.
So, generally speaking, the S60 touch-browser is going in the right direction but there's still a lot of work to be done to catch up with the rest. The improved usability is a nice start but it's nowhere near the iPhone or Android standards. The same goes for the resolution, which is a lot better than the QVGA non-touch predecessors but hardly a match for WVGA.
Organizer misses a document viewer
The S60 5th edition organizer is pretty well stocked although its applications are already in need of refreshment - especially on a touchscreen. Some of the apps are starting to look boring and dated, having had the same interface for over 3 years now.
The developers are still hesitant to put the touch input of Nokia X6 to some good usage and maybe some cool new features. They have only gone as far as to touch-optimize the S60 3rd edition apps.
The calendar has four different view modes - monthly, weekly, daily and a to-do list, which allows you to check all your To-Do entries regardless of their date. There are four types of events available for setting up - Meeting, Memo, Anniversary and To-do. Each event has unique fields of its own, and some of them allow an alarm to be activated at a preset time to act as a reminder.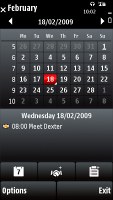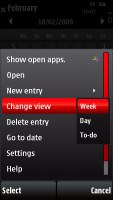 The organizer centerpiece - the calendar
Unfortunately, the Quickoffice application wasn't preinstalled on our Nokia X6. It's available from Ovi Store but it costs 25 euro and the PDF reader is sold separately for 10 euro. Today a document viewed is about as basic as email, so even if document editors are paid, the viewer should be free and preinstalled. Many feature phones have one, so why not this high end device?
The calculator application is very familiar but it lacks the functionality of some of its competitors. The square root is the most complicated function it handles and this is no longer considered an achievement. If all you do with it is split the bill at the bar though, you're free to disregard that last sentence.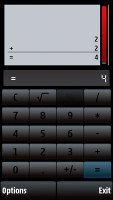 Square root function is as good as the calculator gets
The organizer package also includes a great unit converter, voice recorder, as well as the Notes application.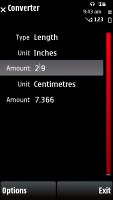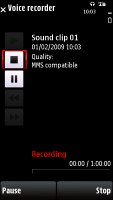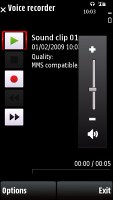 There is also unit converter and voice recorder onboard
The alarm application allows you to set up as many alarms as you want, each with its own name, trigger day and repeat pattern. If this seems too complicated, there is a quick alarm setup where all you do is set the time and you're good to go. Thanks to the built-in accelerometer you can also snooze the alarm by simply flipping your phone.