Fluid and Dynamic OLEDs
Samsung has been the long-reigning champ in the display department. It's also the single biggest OLED supplier for smartphones these days. The Korean tech giant has always kept the good stuff for itself. Samsung flagship models have always been one step ahead in the game when it comes to OLED screens. They usually have the brightest and most color-accurate screens with as little color shift as possible.
However, OnePlus surprisingly has one-upped Samsung in their own game by delivering a phone with a similar curved QHD+ AMOLED screen as the Galaxy S10+'s but with a 90Hz refresh rate. That last feature has inspired the Fluid AMOLED name and even Samsung doesn't have a screen like that in its phones (yet).
And looking at the results, it's hard to say which one is the clear winner. Sure, the S10+ offers a bit higher maximum brightness - by around 177 nits, which at this point isn't that big of a difference. But that buttery-smooth 90Hz refresh rate on the OnePlus makes for a great user experience. You won't feel it while watching static content or movies but navigating through menus, scrolling in apps, watching those animation transitions and playing games that support higher than 60 frames per second will spoil you in no time. Once you go 90Hz, you won't easily go back.
Display test
100% brightness
Black, cd/m2
White, cd/m2
Contrast ratio
Apple iPhone XS Max
0
653
∞
OnePlus 7 Pro
0
436
∞
OnePlus 7 Pro (Max Auto)
0
616
∞
Samsung Galaxy S10+
0
385
∞
Samsung Galaxy S10+ (Max Auto)
0
793
∞
Huawei P30 Pro
0
571
∞
Huawei P30 Pro (Max Auto)
0
605
∞
Huawei Mate 20 Pro
0.002
508
254000
Huawei Mate 20 Pro (Max Auto)
0.003
657
219000
Xiaomi Mi 9
0
428
∞
Xiaomi Mi 9 (Max Auto)
0
620
∞
Sony Xperia 1
0
391
∞
Sony Xperia 1 (Max Auto)
0
665
∞
And while the Galaxy S10+ doesn't have 90Hz refresh rate, it does have one highly sought after feature - Always-on display. That's more of a software feature rather than hardware, but we felt you should know that the 7 Pro still doesn't have a true AOD.
Winner: The OnePlus 7 Pro. We never thought we'd say that but that Galaxy S10+ doesn't win this round. We went with the OnePlus 7 Pro because of its true full-screen experience, the bigger screen size, and that sweet 90Hz refresh rate. The Galaxy S10+'s panel is still the brightest one around but the rather big camera cutout takes away some of the viewing pleasure.
Battery life
Those big boys sure as hell carry some big batteries with them. Still, Samsung's offering takes the lead with a slightly bigger 4100 mAh as opposed to the 4,000 mAh capacity on the 7 Pro. And one would expect a bit lower battery life on the OnePlus 7 Pro due to the larger screen and higher refresh rate. So we ran the tests in 90 and 60Hz modes and it turns out that 7 Pro comes out on top when you switch to 60Hz and falls short a few hours on our endurance score with 90Hz mode active.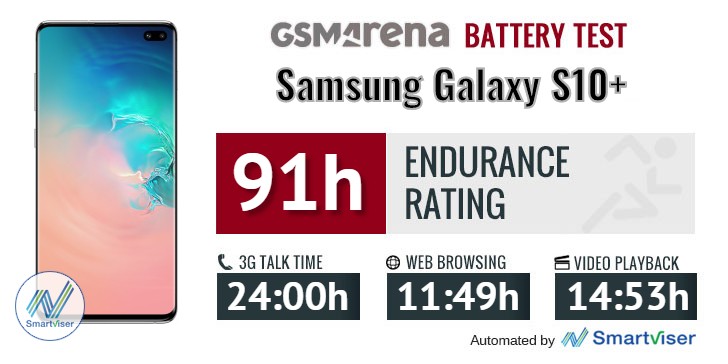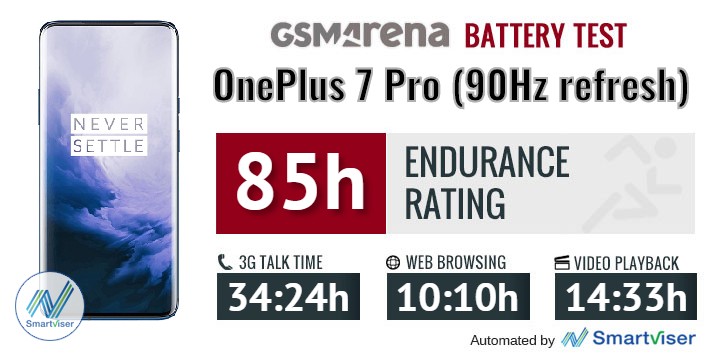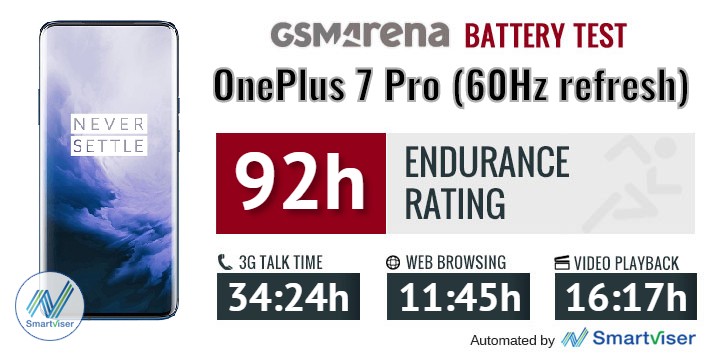 Feature-wise, things get interesting. OnePlus' specialty, fast charging, takes the cake in this race. Its Warp Charge caps at 30W and can charge the beefy 4,000 mAh battery from flat to 60% in just 30 minutes. And the good news is that it also supports the company's older 20W fast charging getting the battery from dead to 47% in 30 minutes. That's great news for previous OnePlus owners or even current ones that don't want to dig deep in their pockets for the faster charger. The old one will work just fine as a secondary option.
Samsung, on the contrary, only supports an older spec 15W Quick Charge 2.0 charging tech that can get you up to 41% in 30 minutes. But the phone offers fast (15W) wireless charging and also reversed wireless charging at (9W). Two nifty features that OnePlus' phone lacks.
Winner: Tie. It really depends on your style of use. If 90Hz isn't something you are after, then the Galaxy S10+ and the 7 Pro will grant you with pretty much the same endurance. Staying at 90Hz, the OnePlus drags behind a few hours in this regard. So it all boils down to whether you prefer fast charging or wireless charging. Obviously, go for the 7 Pro if fast charging is your thing or the Galaxy S10+ if you prefer leaving your phone on the charging pad without worrying about cables. Oh, and the reverse wireless charging, although gimmicky, might come in handy if your smartwatch is in dire need of juice.
Loudspeaker
As two full-fledged flagship models from 2019, both handsets sport stereo loudspeakers. One of the speakers is bottom-facing while the earpiece doubles as a loudspeaker on both devices.
According to our testing in a controlled environment, the OnePlus 7 Pro's speakers appear to be a bit louder in all three scenarios.
| | | | | |
| --- | --- | --- | --- | --- |
| Speakerphone test | Voice, dB | Pink noise/ Music, dB | Ringing phone, dB | Overall score |
| Sony Xperia 1 | 69.8 | 74.5 | 81.0 | Very Good |
| Huawei Mate 20 Pro | 70.3 | 73.4 | 83.8 | Very Good |
| Apple iPhone XS Max | 70.5 | 74.0 | 84.7 | Excellent |
| Samsung Galaxy S10+ | 74.4 | 74.2 | 83.6 | Excellent |
| Huawei P30 Pro | 70.9 | 73.8 | 90.9 | Excellent |
| OnePlus 7 Pro | 79.6 | 77.7 | 87.2 | Excellent |
Nevertheless, upon further inspection and subjective listening, the S10+ sounds a bit louder when playing music from YouTube, for example. But it all could be due to tuning.
The Galaxy S10+ handles vocals and higher pitched sounds a bit better. The 7 Pro, on the other hand, produces fuller sound and it's more balanced in a way. You can feel the bass better - as far as bass goes on a smartphone, of course.
Anyway, both handsets offer additional Dolby Atmos tuning, but we didn't find any prominent enough changes to the music playback when cycling through the modes.
Winner: Tie. All in all, both flagships sound great with little to no difference in sound quality and loudness in general. More pretentious users might find some differences, but even they would agree that they aren't obvious in any way.
Audio quality
The two smartphones put in bright performances in the active external amplifier part of the test, posting perfect scores for clarity and delivering output of high volume. The OnePlus 7 Pro has a louder output than most phones out there but was still unable to match the Samsung Galaxy S10+.
Headphones did very little damage to either, but still managed to affect the intermodulation distortion and stereo crosstalk of the OnePlus 7 Pro. A minor thing really, but with this kind of competition even the smallest of shortcomings can leave you second best, and it's exactly the case here.
| | | | | | | |
| --- | --- | --- | --- | --- | --- | --- |
| Test | Frequency response | Noise level | Dynamic range | THD | IMD + Noise | Stereo crosstalk |
| OnePlus 7 Pro | +0.03, -0.01 | -93.0 | 92.6 | 0.0023 | 0.021 | -89.6 |
| OnePlus 7 Pro (headphones) | +0.10, -0.05 | -92.0 | 91.4 | 0.0034 | 0.106 | -74.8 |
| Samsung Galaxy S10+ | +0.03, -0.05 | -93.0 | 92.8 | 0.0015 | 0.0070 | -94.3 |
| Samsung Galaxy S10+ (headphones) | +0.06, -0.03 | -92.7 | 92.5 | 0.0044 | 0.044 | -87.2 |
Winner: The Galaxy S10+. Both phones are excellent performers, but the Galaxy S10+ is the winner here with just a slight edge over its competitor.