Triple for all situations
Both phones have you covered in all situations. They have a normal, telephoto and an ultra wide-angle camera on their back making for a versatile experience. It's now a norm for modern flagships to feature at least three cameras covering all the bases.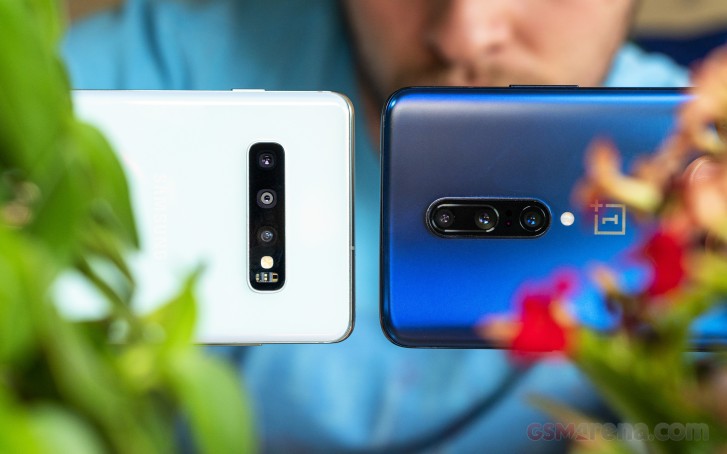 Lets start with the main cameras. The S10+ offers a 12MP unit with variable aperture ranging between f/1.5 to f/2.4 with large 1.4µm pixels and, of course, OIS. On the other side stands the 7 Pro's 48MP main sensor that has become increasingly popular for the last half year or so. It uses pixel binning technology that combines four adjacent pixels into one capturing 12MP still images with increased light sensitivity, better dynamic range and sharper detail. The aperture is f/1.6 and features OIS as well. It's also aided by a laser autofocus system for better performance in low light.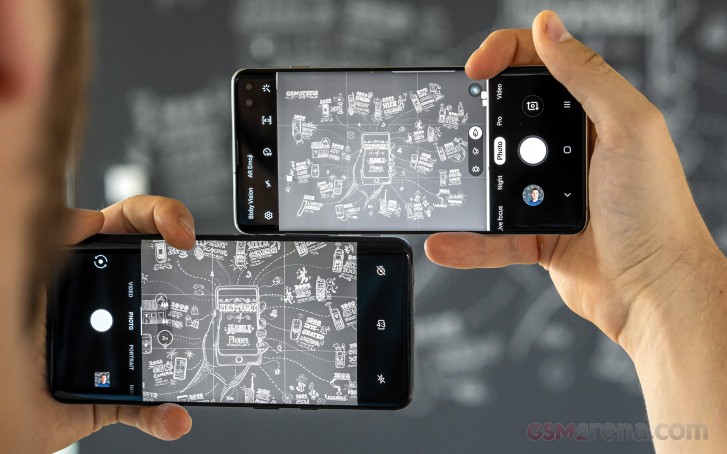 In the telephoto department, the 7 Pro wins with a 3x lossless zoom as opposed to the 2x optical zoom on the Galaxy S10+. It's important to note that the 7 Pro doesn't rely solely on optics. In reality, the sensor isn't 8MP as advertised but it's actually 13MP with around 2.2x optical zoom. The software then crops down another ~0.8x and the end result is an 8MP with 3x lossless zoom. The same telephoto sensor is used for making portraits but outputs the original 13MP with 2.2x magnification image.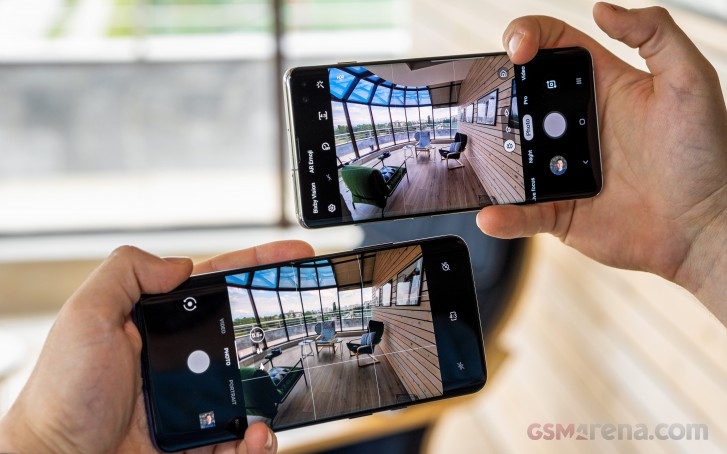 Samsung's 12MP telephoto camera does no such thing. It's has pure 2x optical zoom and it's also optically stabilized. It can also be used for portrait shots but you can also opt for the regular.
In the wide-angle department, both handsets sport 16MP snappers with f/2.2 but the S10+ takes the lead with a slightly wider field of view - 12mm vs 13mm. One millimeter may not sound much but it makes a difference and you will see it in the sample photos comparison.
And as far as selfie cams go, the 7 Pro has more detailed 16MP f/2.0 unit attached to the motorized unit while the S10+ has two snappers on the front - one 10MP with f/1.9 and one 8MP camera for depth sensing. This means that portrait selfies should turn out better. More importantly, though - the S10+'s front-facing camera has autofocus while the 7 Pro's 16MP unit lacks one. Oh, and only the S10+ can shoot 4K videos with its front camera.
Camera apps, interface and features
To be honest, there's not much of a difference UI-wise. Both camera apps change modes by swiping left and right. The S10+, however, accommodates all of its modes on swipe bar while the 7 Pro lets you choose and re-arrange which modes to appear. Swiping up from the bottom opens up the full list of available modes.
There are two things we need address here. The S10+'s app names the portrait mode as Live focus and when shooting selfies, the software crops the photos by default to 6.5MP so you have to tap every single time on the full-res, full coverage mode every time you attempt to do a selfie. This needs to be fixed with a future update.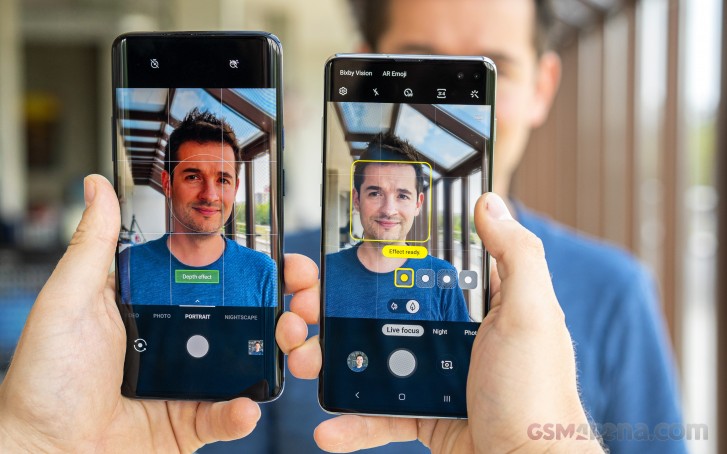 Samsung's scene optimizer appeared to be more informative and accurate than the Smart Content Detection on the 7 Pro. Both modes can be turned off, though.
In addition to the standard Pro modes, both camera apps allow you to manually control the HDR mode. When put to automatic, the apps will prompt you with a small icon indicating that HDR is active for the current scene.
And while everything seems unified and familiar to some extent, video recording is where the S10+ takes the lead. It not only offers super slo-mo 720p videos at 960fps but it can also produce action cam-like videos with 1080p resolution. The Super Steady shot uses the wide-angle lens, crops out most of the scene and you end up with perfectly stabilized 1920x1080 video. It works wonders.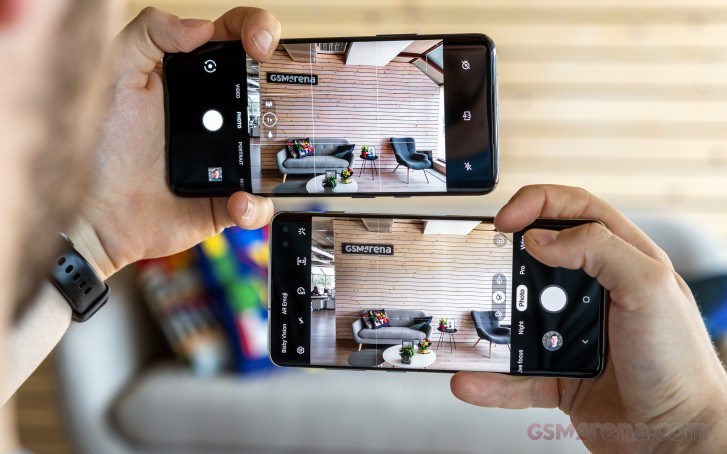 The 7 Pro, unfortunately, lacks any of those modes and caps the slow-motion recording to 720@480fps or 1080p@240fps.
Moreover, the 7 Pro can shoot videos using only its main and telephoto cams - no wide-angle video. The S10+ can do it with all three units on its back. And Night Scape (OnePlus' night mode) works only with the main camera while the S10+ can do night mode shots with its ultra-wide too.
Winner: The Galaxy S10+. Camera features-wise, the Galaxy S10+ is surely the more capable of the two thanks to its additional video modes and selfie camera with autofocus.