Software - battle between stock and custom
The software department is where both phones part ways in their philosophy. Samsung takes the somewhat common path of other OEMs by taking the stock Android UI and completely overhauling it while adding tons of features on top. Diversely, OnePlus has won many of vanilla Android die-hard fans over the years.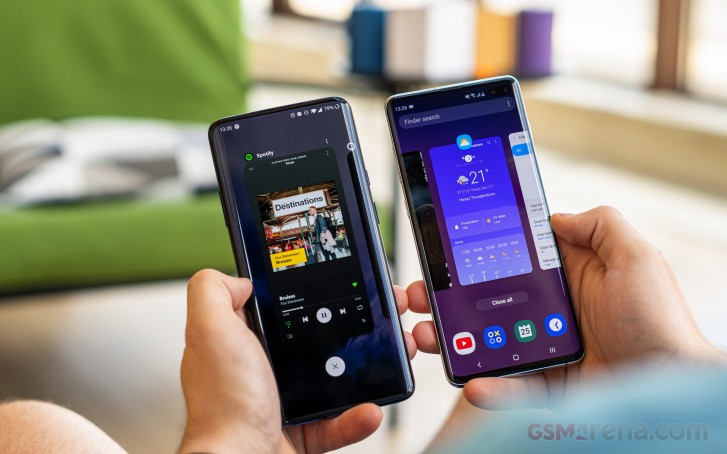 But OnePlus' OxygenOS isn't exactly pure Android. The company does add some features here and there but mainly keeps the software clutter-free and sticks to the overall stock Android aesthetics. More importantly, though, OnePlus has a couple of tweaks under the hood like improved CPU governor, streamlined animations and additional optimizations that remain invisible to the naked eye. That's why OxygenOS is touted as being among the fastest distribution of Android.
If you want to check out both, Samsung's One UI and OxygenOS in depth, we suggest visiting the full reviews. In this piece, we will be focusing mainly on day-to-day usage differences.
Let's start with Samsung's brand new One UI. The Korean OEM has taken a different approach with its software this year. One UI is more streamlined, focuses on the one-handed operation, and it feels more light. Native dark mode has been introduced as well so no need to dig into Samsung's app store for dark themes.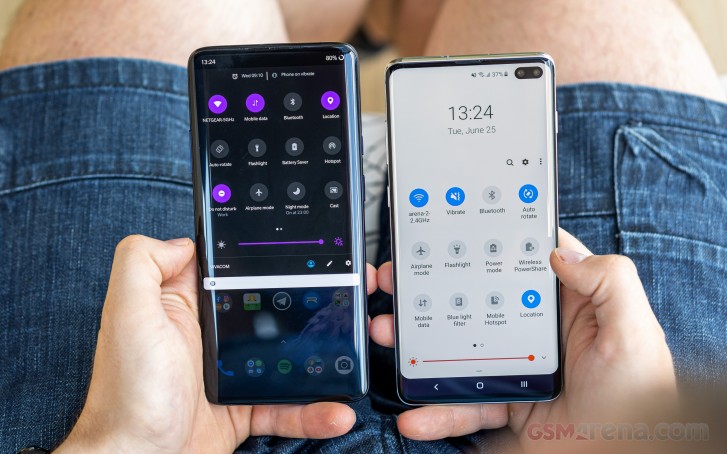 But two of the things that define Samsung's software has carried over the years over to One UI - an overwhelming amount of features (and we mean that in a good way) and plenty of bloatware although, it has been trimmed over the years. There are many options that you wouldn't find on the OnePlus 7 Pro like an always-on display, Edge panel and more granular control over the Edge lighting feature, which comes in handy since the Galaxy S10+ - like the 7 Pro - doesn't have a notification LED.
To be fair, the 7 Pro also has edge lighting feature but doesn't let you customize anything - you got just one color, one effect, it appears briefly (you can't set the duration) and doesn't seem to work with all apps. Perhaps future OxygenOS updates could bring extended functionality.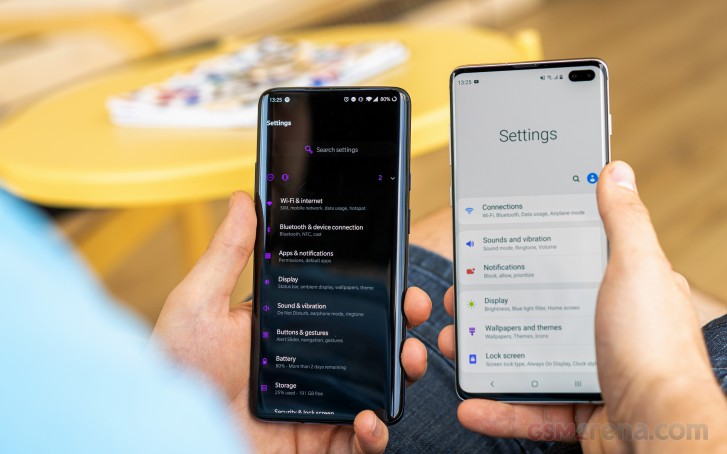 And last, but not least, One UI gives you more control over the battery usage. You've got several preset modes (a high-performance one included, which can be considered as OnePlus' Gaming Mode counterpart), toggle fast charging, put apps to sleep and prevent them from receiving notifications and updating and many more.
OnePlus' OxygenOS although pretty stripped, has its perks and some features that One UI doesn't. Take the screen-off gestures that launch a specific app (including the flashlight) or the notification slider key. Then double-tap on the home screen locks the phone - we could have used that feature on the S10+ with the high placement of the power button.
Navigation is where the OxygenOS stands out. OnePlus gives you the option to choose between Android Pie's default pill navigation, standard software buttons and OnePlus' in-house gestures. We really liked OnePlus' take on the gesture navigation and quick switching between apps is great. Sadly, there are some finger gymnastics involved with OnePlus' gestures due to the big screen and thin lip at the bottom. All gestures start from below the screen, and the learning curve is steep at first, but once you get used to it, OnePlus gestures reward you with animations which perfectly match your finger movement, offering a physical like interaction with the UI.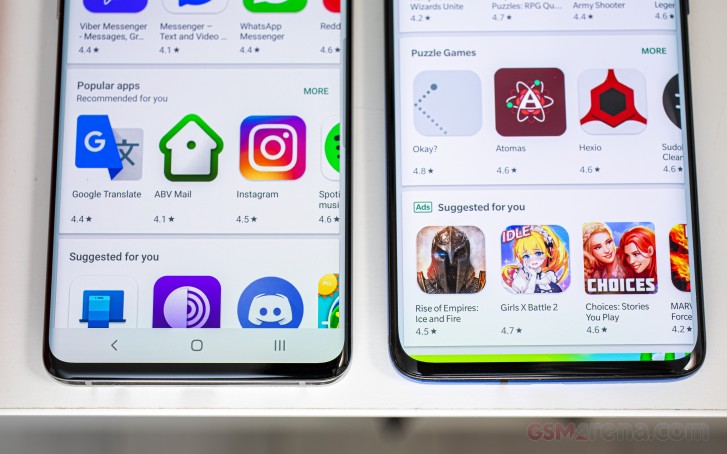 The lack of always-on screen functionality can be largely compensated by the ambient display. The phone is quite sensitive in this regard - a single light tap will show it (along with the illuminated fingerprint reader) and even a subtle movement will trigger it as well. You will always know where to place your finger on the screen.
The same cannot be said about the S10+. We've enabled the option for the screen to light up when you pick up the phone but it didn't always work and most of the times it turns on with a significant delay. The ambient display turns on only when you touch it once showing the clock and lighting up the fingerprint sensor area. Double tap once again lights up the whole screen. The good news, however, is that the fingerprint placement is quite natural. It didn't take long for us to hit the fingerprint reader spot consistently without hints, though.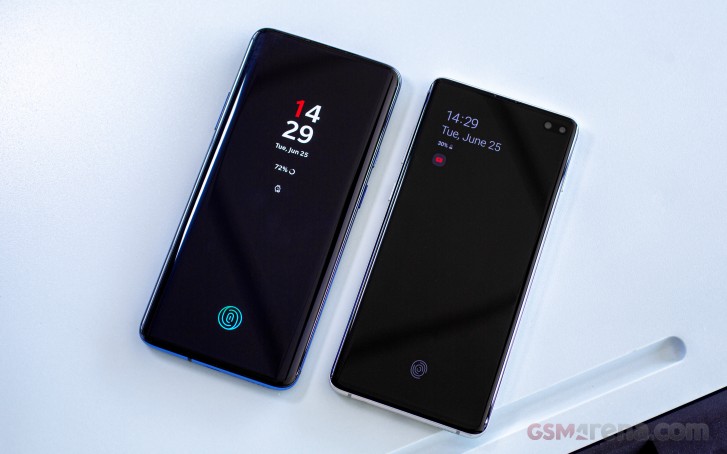 And while we are on the fingerprint subject, let's talk about usability. Since the devices use totally different under-display fingerprint technology, there's a learning curve to both. The Galaxy S10+'s ultrasonic scanner works better for wet or dirty fingerprints and isn't affected by strong direct sunlight. It also doesn't need for you to press your finger against the glass.
OnePlus' optical fingerprint reader, on the other hand, might have some trouble, although rarely, with unlocking under direct sunlight probably because the camera can't capture a clear image of your fingertip with all the surrounding light. And it works better when you press down your finger a little. We strongly recommend training the fingerprint reader on the 7 Pro in a pitch black room. It vastly improves the performance of the scanner.
And even with the said drawbacks, the OnePlus 7 Pro's in-display fingerprint reader is by far the fastest one we've used so far. There's a noticeable difference when comparing it to the S10+, for example. We found that both readers are evenly fast but the 7 Pro's screen lights up way faster even with S10+'s unlock animation disabled. The only real advantage of the ultrasonic fingerprint reader so far is that it doesn't need illuminate your fingertip. As soon as you get used to the fingerprint placement, you can unlock it without waiting for a hint.
With face unlock, things are pretty much a tie. Yes, we were surprised as well. Even though you have to wait for the 7 Pro's camera to pop-up, the S10+ is only marginally faster in this regard. Both face unlock implementations are fast and consistent but not as reliable as an advanced facial unlocking like the Mate 20 Pro's or the iPhone Xs's, for example.
And now let's talk about the subjective nature of the OxygenOS. OnePlus has stripped down some animations and tempered with the CPU governor in all the right places to make the system snappy and absurdly fast. Navigating through menus, opening apps and multitasking just feels faster, smoother and snappier in general compared to the One UI. And it has nothing to do with the 90Hz display. This is by far the strongest argument for the OxygenOS. But don't get us wrong, though, Samsung's One UI still flagship-grade fast - you won't feel any hangs, hiccups or slow-downs.
Winner: Tie. Software has always been a subjective matter and it all depends on what you are after. Stock Android enthusiasts or Android enthusiasts as a whole might want to go for the OnePlus 7 Pro due to its clean nature and also the company allows you to root and install other ROMs without voiding your warranty. On the other hand, we have Samsung's polished One UI with an overwhelming amount of features and customization. We strongly recommend checking out both of the reviews to get a better grasp of OxygenOS and One UI. It will help you decide.
Performance
If you are one of the regions where the Samsung lineup is powered by the Snapdragon 855, there's not much we can talk about here. Both handsets are rocking the latest and greatest from Qualcomm and will handle everything you throw at them.
However, the more widespread version of the Galaxy S10+ is the one with the in-house Exynos 9820 chipset. It features a slightly different architecture compare to its Snapdragon counterpart and that's why we have some a small difference in the benchmark tests.
For one, the Exynos 9820 has two large Mongoose M4 cores clocked at 2.73GHz and two Cortex-A75 cores clocked at 2.31GHz. Those two clusters are doing the heavy lifting while the 4x Cortex-A55 clocked at 1.95GHz take care of the not so demanding tasks. The Snapdragon 855, on the other hand, features 1x Kryo 485 core ticking at 2.84GHz, 3x Kryo 485 at 2.42GHz and 4x Kryo 485 running at 1.8GHz so it's only natural for the Exynos 9820 to take the lead in single-core performance. In multi-core scenarios, there's not much of a difference.
GPU-wise, the Snapdragon 855's Adreno 640 trades blows with Exynos 9820's Mali-G76 MP12 in various GPU-intensive benchmark tests so, in the end, you won't feel a difference here as well.
And as far as memory is concerned, keep in mind that the 7 Pro caps at 12GB of RAM and 256GB of internal storage while the Galaxy S10+ has 512GB and 1TB variants, with only the latter rocking 12GB of RAM whereas the former stays at 8GB. And the 7 Pro doesn't have microSD card slot as well so if internal storage is of great importance to you, the S10+ will most probably suit your needs better.
GeekBench 4.1 (multi-core)
Higher is better
Apple iPhone XS Max
11432
Xiaomi Mi 9
11181
OnePlus 7 Pro
10943
Asus Zenfone 6 (Zen Power Boost)
10800
Asus Zenfone 6
10721
Samsung Galaxy S10+
10387
Huawei Mate 20 Pro (perf.)
10110
Huawei P30 Pro (perf. mode)
10014
Huawei Mate 20 Pro
9712
Huawei P30 Pro
9649
GeekBench 4.1 (single-core)
Higher is better
Apple iPhone XS Max
4777
Samsung Galaxy S10+
4522
Asus Zenfone 6
3505
Xiaomi Mi 9
3503
Asus Zenfone 6 (Zen Power Boost)
3499
OnePlus 7 Pro
3402
Huawei Mate 20 Pro (perf.)
3390
Huawei P30 Pro (perf. mode)
3323
Huawei Mate 20 Pro
3291
Huawei P30 Pro
3270
AnTuTu 7
Higher is better
Asus Zenfone 6 (Zen Power Boost)
377024
Xiaomi Mi 9
372006
OnePlus 7 Pro
364025
Asus Zenfone 6
361679
Apple iPhone XS Max
353210
Samsung Galaxy S10+
333736
Huawei P30 Pro (perf. mode)
316156
Huawei Mate 20 Pro (perf.)
308050
Huawei P30 Pro
290189
Huawei Mate 20 Pro
273913
GFX 3.1 Manhattan (1080p offscreen)
Higher is better
Apple iPhone XS Max
99
Asus Zenfone 6
71
Asus Zenfone 6 (Zen Power Boost)
71
Xiaomi Mi 9
70
Samsung Galaxy S10+
69
OnePlus 7 Pro
68
Huawei P30 Pro (perf. mode)
56
Huawei Mate 20 Pro (perf.)
54
Huawei P30 Pro
54
Huawei Mate 20 Pro
53
GFX 3.1 Manhattan (onscreen)
Higher is better
Apple iPhone XS Max
60
Asus Zenfone 6
57
Asus Zenfone 6 (Zen Power Boost)
57
Xiaomi Mi 9
56
Huawei P30 Pro
50
Huawei P30 Pro (perf. mode)
50
Samsung Galaxy S10+
37
OnePlus 7 Pro
33
Huawei Mate 20 Pro
27
Huawei Mate 20 Pro (perf.)
27
GFX 3.1 Car scene (1080p offscreen)
Higher is better
Apple iPhone XS Max
60
Samsung Galaxy S10+
42
Xiaomi Mi 9
42
Asus Zenfone 6
42
Asus Zenfone 6 (Zen Power Boost)
42
OnePlus 7 Pro
41
Huawei Mate 20 Pro (perf.)
33
Huawei P30 Pro (perf. mode)
33
Huawei Mate 20 Pro
29
Huawei P30 Pro
29
GFX 3.1 Car scene (onscreen)
Higher is better
Apple iPhone XS Max
47
Asus Zenfone 6
36
Asus Zenfone 6 (Zen Power Boost)
36
Xiaomi Mi 9
35
Huawei P30 Pro (perf. mode)
29
Huawei P30 Pro
27
Samsung Galaxy S10+
23
OnePlus 7 Pro
19
Huawei Mate 20 Pro
17
Huawei Mate 20 Pro (perf.)
16
3DMark SSE 3.1 Unlimited
Higher is better
Asus Zenfone 6 (Zen Power Boost)
6282
Asus Zenfone 6
6263
OnePlus 7 Pro
6093
Xiaomi Mi 9
5816
Samsung Galaxy S10+
4632
Huawei P30 Pro (perf. mode)
4315
Huawei P30 Pro
3522
Winner: Tie. Both devices come with capable high-end SoCs, no matter which version of the Galaxy S10+ you get. The smartphones will handle absolutely everything you throw at them with no hiccups.