Display
If we had to pick one headlining feature on the Razer Phone 2, it would definitely be the RGB Chroma logo! In fact, we would have preferred a second logo on the front of the device instead of a display. Joking aside, the Razer Phone 2 has a truly unique display. Again, unique with a sibling twist, since the original Razer Phone has pretty much identical display tech.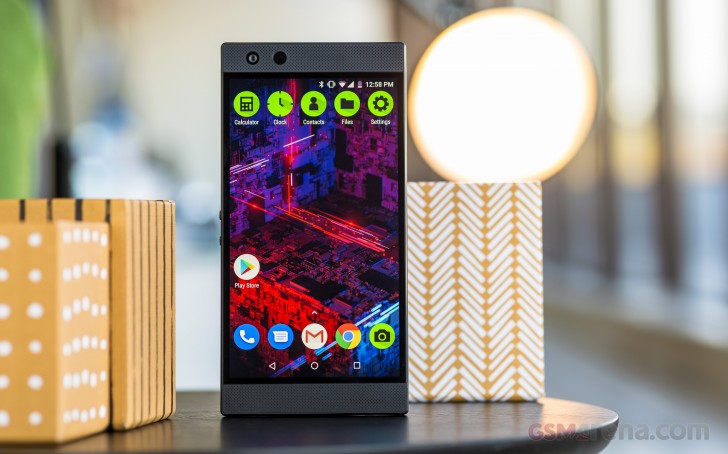 In keeping with "PC master race" traditions, the screen in question has plenty of titles and figures to throw around: ULTRAMOTION, 120Hz, IGZO, Wide Color Gamut. As far as familiar metrics go, it is a 1440 x 2560 pixel panel, with a traditional 16:9 aspect ratio, which works out to a very sharp 513ppi. Razer's justification for sticking with the traditional aspect, instead of going with the trendy 2018 extra-tall display crowd is content consumption. There is something to that, since most video content is, indeed, still delivered in 16:9 aspect ratio and that's unlikely to change anytime soon. Plus, if you really care about your in-game frame rates, then the last thing you would want is rendering extra pixels on the sides of the image.
Anyway, to really appreciate the Razer Phone 2's display and its unique nature, we have to start picking apart the aforementioned technologies it incorporates. If you are already familiar with the original Razer Phone and its panel, it is worth starting the tour off with a comparison of the two. On paper, they look really similar and that's no coincidence. We are pretty certain this panel also comes courtesy of SHARP. In fact, it is probably the exact same panel, only handled and controlled a bit differently.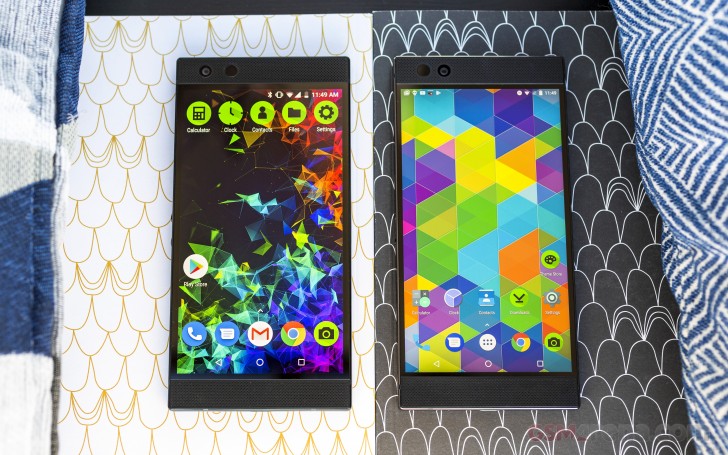 One of the main shortcomings of the original Razer Phone IGZO display was its inadequate brightness, topping off at around 300 nits. Razer has since acknowledged the issue and as a result, the Razer Phone 2 gets noticeably brighter. Now, the company's PR department claims peek brightness of 580 nits, which we really tried to validate. No matter how bright of a light source we introduced to the phone's ambient light sensor, however, the best we managed to get out of the max auto boosted mode is 426 nits. Under normal conditions, simply setting the brightness slider to maximum yields around 380 nits.
Display test
100% brightness
Black, cd/m2
White, cd/m2
Contrast ratio
Huawei Mate 20 (Max Auto)
0.554
778
1404
Samsung Galaxy Note9 (Max Auto)
0
658
∞
Huawei Mate 20 Pro (Max Auto)
0.003
657
219000
Samsung Galaxy Note8 (Max Auto)
0
647
∞
Samsung Galaxy S9+ (Max Auto)
0
631
∞
Xiaomi Mi 8 (Max Auto)
0.002
624
312000
Sony Xperia XZ3 (Max Auto)
0
620
∞
Huawei Mate 20 Pro
0.002
508
254000
Huawei Mate 20
0.347
491
1415
Honor Play
0.414
470
1135
Xiaomi Pocophone F1
0.314
461
1468
Xiaomi Mi 8
0
458
∞
OnePlus 6T (Max Auto)
0
455
∞
OnePlus 6T
0
453
∞
Sony Xperia XZ3
0
442
∞
Razer Phone 2 (Max Auto)
0.403
426
1057
Oppo Find X
0
426
∞
Google Pixel 2 XL
0
420
∞
Samsung Galaxy Note8
0
412
∞
Razer Phone 2
0.401
380
948
Samsung Galaxy S9+
0
376
∞
Samsung Galaxy Note9
0
367
∞
Razer Phone
0.251
300
1195
That's still not great on a market-wide scale, but is definitely an improvement over the original. The same can be said for the previously abysmal sunlight legibility.
Sunlight contrast ratio
Apple iPhone XS
5.171
Apple iPhone X
5.013
Huawei Mate 20 Pro
4.965
OnePlus 5T
4.789
Samsung Galaxy S8
4.768
Samsung Galaxy S8+
4.658
Samsung Galaxy S9
4.63
Samsung Galaxy S6 edge+
4.615
Samsung Galaxy S9+
4.537
Samsung Galaxy Note9
4.531
Apple iPhone XS Max
4.516
Sony Xperia XZ3
4.502
Motorola Moto Z2 Play
4.459
Oppo R11
4.454
Samsung Galaxy S7 edge
4.439
OnePlus 3
4.424
Samsung Galaxy S7
4.376
Google Pixel 3
4.35
OnePlus 6
4.321
HTC One A9
4.274
Oppo R15 Pro
4.251
Samsung Galaxy Note7
4.247
Samsung Galaxy A3
4.241
Nokia 8
4.239
Google Pixel 2 XL (pre-update)
4.234
OnePlus 3T
4.232
Google Pixel XL
4.164
ZTE Axon 7
4.154
Samsung Galaxy Note8
4.148
Meizu Pro 7 Plus
4.147
OnePlus 6T
4.138
Samsung Galaxy S6 edge
4.124
Samsung Galaxy A7 (2017)
4.124
vivo V11
4.113
Huawei Mate 10 Pro (normal)
4.096
Samsung Galaxy Note5
4.09
Huawei P20 Pro
4.087
Xiaomi Mi 8
4.086
Meizu 15
4.082
Nokia 6 (2018)
4.052
Google Pixel 2 (pre-update)
4.023
LG V30
4.022
Huawei Nexus 6P
4.019
vivo NEX S
4.012
Samsung Galaxy J7 Pro
3.998
OnePlus X
3.983
Vivo Xplay5 Elite
3.983
LG G7 ThinQ (outdoor)
3.978
Oppo R7s
3.964
Apple iPhone 7
3.964
Apple iPhone 8 (True Tone)
3.957
Huawei P9 Plus
3.956
Oppo Find X
3.954
Meizu Pro 6 Plus
3.935
Lenovo Moto Z
3.931
Samsung Galaxy A7 (2016)
3.918
OnePlus 5
3.914
Samsung Galaxy C5
3.911
Xiaomi Mi 8 SE
3.901
Meizu PRO 6
3.659
BlackBerry Priv
3.645
Sony Xperia XA1 Ultra
3.597
Apple iPhone 7 Plus
3.588
Sony Xperia XZ2
3.58
LG G6
3.556
Apple iPhone 6s Plus
3.53
Motorola Moto Z Play
3.526
Samsung Galaxy J3 (2016)
3.523
Samsung Galaxy J3 (2016) outdoor mode
3.523
Acer Jade Primo
3.521
Microsoft Lumia 950
3.512
Oppo R7 Plus
3.499
Nokia 7 plus
3.479
nubia Z11
3.466
Huawei P10 Plus
3.456
HTC U Ultra
3.453
Motorola Moto G6
3.448
Sony Xperia XA2 Ultra
3.445
Sony Xperia XA2 Plus
3.445
Samsung Galaxy J7
3.422
Motorola Moto G6 Play
3.419
Meizu MX5
3.416
LG V20
3.402
Samsung Galaxy A6 (2018)
3.397
Xiaomi Redmi Note 5 AI Dual Camera
3.393
LG G7 ThinQ
3.39
Huawei P10
3.379
Samsung Galaxy J5 (2016)
3.378
Oppo R9s
3.352
Honor Play
3.349
Honor 8 Pro
3.341
Oppo F7
3.333
Oppo R7
3.32
Lenovo P2
3.316
Archos Diamond Omega
3.305
Honor 9
3.289
Xiaomi Mi 5s
3.276
Nokia 5
3.261
Nokia 6 (Chinese version)
3.244
Xiaomi Mi 5
3.24
Nokia 6 (Global version)
3.238
Samsung Galaxy J2
3.235
Oppo Realme 2 Pro
3.235
HTC U11 Life
3.108
Motorola Moto X Force
3.105
LG Nexus 5X
3.092
HTC U11
3.089
Xiaomi Mi A2 Lite
3.087
HTC U12+
3.085
Xiaomi Redmi S2 (Y2)
3.077
Huawei Mate S
3.073
Oppo F9
3.069
Microsoft Lumia 640 XL
3.065
Xiaomi Mi Max 3
3.061
Xiaomi Pocophone F1
3.059
Huawei Mate 20
3.052
Huawei Mate 20 Lite
3.051
Apple iPhone 6 Plus
3.023
Asus Zenfone 4 ZE554KL
3.019
Sony Xperia XA1
3.012
Motorola Moto X4
3.012
Oppo Realme 2
3.006
Sony Xperia L1
2.994
Sony Xperia X
2.989
LG Q6
2.987
Huawei P10 Lite
2.974
Samsung Galaxy Note
2.97
Xiaomi Redmi Note 6 Pro
2.966
Huawei P20 Lite
2.952
Xiaomi Redmi 5
2.951
Huawei Mate 8
2.949
Sony Xperia XA2
2.938
Oppo Realme 1
2.932
Razer Phone 2
2.932
Xiaomi Redmi 4
2.92
Xiaomi Redmi 3S
2.913
Xiaomi Redmi 5 Plus
2.913
Sony Xperia XA Ultra
2.906
LG G5
2.905
Huawei Honor View 10
2.896
Xiaomi Redmi 3s Prime
2.893
Xiaomi Mi 5s Plus
2.884
Sony Xperia XZ Premium (sRGB)
2.877
Motorola Moto G 4G
2.546
Lenovo Moto G4
2.544
Lenovo K6 Note
2.544
Oppo F1
2.528
Sony Xperia Z5 Premium
2.525
Huawei Honor 7 Lite / Honor 5c
2.506
Sony Xperia M4 Aqua
2.503
BlackBerry Motion
2.494
Oppo F1s
2.481
Motorola Moto G
2.477
Lenovo Vibe K5 Plus
2.473
Huawei G8
2.471
Huawei nova
2.467
Sony Xperia Z
2.462
Lenovo Vibe K5
2.459
Meizu m3 max
2.447
Xiaomi Mi 5X (Auto)
2.417
HTC 10 evo
2.407
Xiaomi Mi 4S
2.095
Acer Liquid X2
2.084
Huawei P8lite
2.078
vivo V5
2.059
Moto G 3rd gen max manual
2.026
Xiaomi Mi 3
2.001
Xiaomi Mi Max
1.996
Sony Xperia E4g
1.972
OnePlus One
1.961
Meizu m3 note
1.923
BlackBerry Leap
1.892
Meizu m2 note
1.892
HTC Butterfly
1.873
ZTE Nubia Z9 mini
1.759
Sony Xperia U
1.758
Asus Zenfone Selfie
1.68
Motorola Moto E (2nd Gen)
1.675
ZTE Nubia Z9
1.659
Jolla Jolla
1.605
Samsung Galaxy Core
1.563
Motorola Moto E
1.545
Sony Xperia M
1.473
Sony Xperia L
1.351
Xiaomi Redmi 2
1.311
HTC Desire C
1.3
Nokia X
1.291
Meizu MX
1.221
Sony Xperia E
1.215
The new-found, higher maximum brightness is definitely helpful in this regard. Speaking of which, brightness problems aren't what you would typically associate with IGZO technology. If you are not familiar with it, this is a pretty good point to open a bracket and provide a quick overview. This might get a bit technical but bear with us for a moment. A modern flat-panel display, LCD or OLED, is generally comprised of multiple very thin layers. These can include polarizers, light diffusers, and other layers, but one common part is the so-called thin-film transistors layer (TFT for short). It is a layer of transistors that allows pixels to be turned on and off. In most panels, this layer is comprised of amorphous silicon or aSi - a material that is not transparent by nature but gets etched thin enough for the backlight to still be able to shine through it.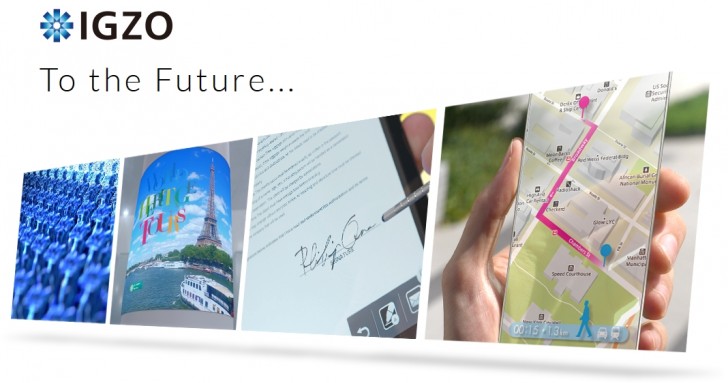 This is where IGZO comes in, it is an acronym for "indium gallium zinc oxide" - a transparent alternative to aSi that's better at passing light through. Manufacturers can thus leverage IGZO technology in one of two ways: either boost the maximum brightness of a panel or lower the power consumption necessary to achieve a particular brightness level. Razer was clearly shooting for the latter with its original smartphone, while the latter tries to strike a more user-friendly balance.
And, since we can already hear you asking, the main reason why Razer is trying to be as conservative as possible with brightness and by extension, power usage, has a lot to do with the 120Hz refresh rate of the panel. Almost a year has passed now since the release of the original Razer Phone and we are happy to see high-refresh rate display popping up here and there in the smartphone realm, like on the Asus ROG Phone. Even so, chances are that most users haven't gotten a chance to experience the glorious smoothness 120Hz provides. Alternatively, some that have had the pleasure to use one of Apple's recent 120Hz tablets can attest to just how much of an experience changer it is.
Every animation and every scroll on the Razer Phone 2's 120Hz display looks much smoother and makes it feel like we're witnessing some extra processing power.
That level of smoothness does, however, come at a cost. Razer has done a great job optimizing its UI to make it run really smooth at 120fps, thus saturating the panel's refresh rate. That, however, means more strain on the Adreno 630 GPU. Not to mention that the fact that the panel is refreshing twice as often as it would on a regular smartphone also makes it more power-hungry.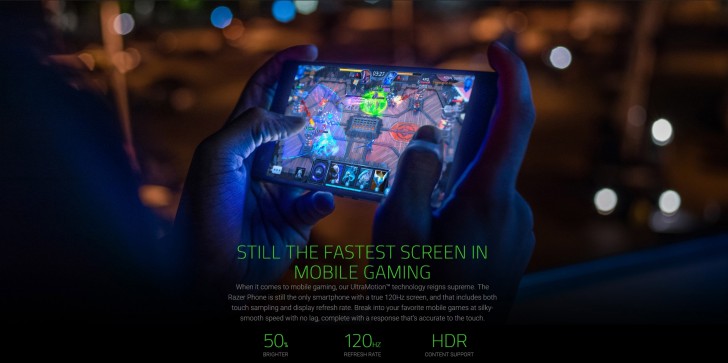 So, maintaining a smooth, high-refresh rate experience is a hard task. And it gets exponentially harder when the Razer Phone 2 has to render heavy game graphics and shoot for high frame rates, not just the mostly static pixels of the Android UI. This is where ULTRAMOTION comes in. The technology is based on a variable refresh rate, quite similar to Nvidia G-Sync or AMD Freesync. At every given moment, the screen refresh rate adapts to match the framerate that the GPU outputs resulting in ultra-smooth motion. No dropped frames, no stutters, no tearing, no lag. You simply get to see every frame the GPU renders, as quick as it does so. And this syncing is important since there is not much Razer can do to guarantee consistently high framerates in all the millions of apps and games that are currently available for Android.
There is a major power-saving aspect to the ULTRAMOTION variable refresh rate technology as well. While Razer does allow you to set a desired refresh rate in the settings: 60Hz, 90Hz or 120Hz, doing so does not fix the refresh rate at that number. Since it is variable, when there is nothing happening on screen, the phone can theoretically lower its refresh rate all the way down to 1Hz, also reducing the panel's power consumption. This kind of dynamic flexibility is really impressive, since other high-refresh rate devices, like the aforementioned ROG Phone and compatible Apple tablets, only have a couple of fixed refresh rate values to switch between, depending on circumstance - the adaptive part being left out.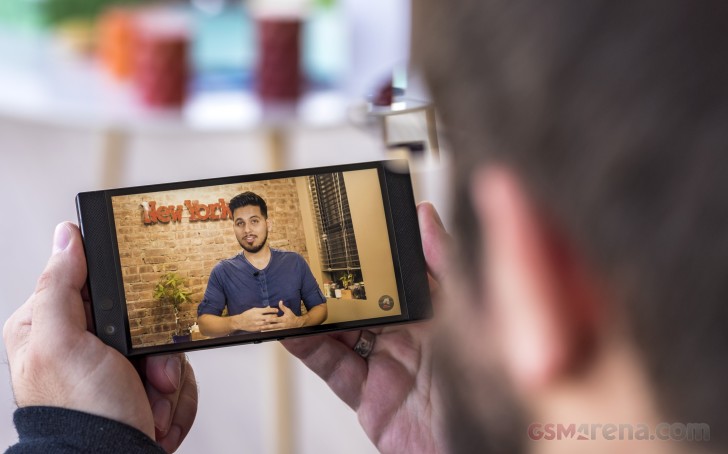 While on the topic of changing and adapting display properties, Razer also allows resolution change. Natively, the display runs at QHD, but you can also set it to run at 1080p or even 270p. In the past, we have already determined that doing so has little battery life benefits and the case was the same here. So, our first guess was that this could help with frame rates, so we can saturate that 120Hz refresh rate as best we can. As it turns out, this is not entirely true either. We will get into more detail in the performance section, but as it turns out, most game engines can't really come close to the 120fps mark by design, no matter how much you lower the screen resolution. But, we digress.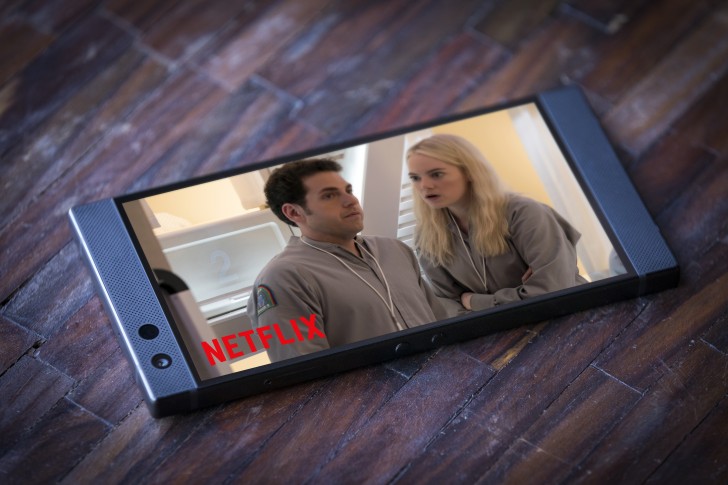 Back to the second generation of Razer's IGZO panel and its color accuracy, which appears to have taken a slight hit compared to the original. No matter how much we fiddled with the settings, the best color rendering we managed to get had an average deltaE of 6.7 and a maximum of 9.1. Boosted, natural and vivid modes all over-saturate certain colors in different ways. It's not all bad news, though, unlike the distortion and tint that is typically associated with cheaper, non-color-accurate LCD panels, the one on the Razer Phone 2 remains well balanced with all the color profiles. Also, there is support for Wide color gamut but it's not something readily perceivable with the naked eye. Still, Razer claims its phone is the only one certified by Netflix for both HDR and 5.1 surround sound.
Battery life
Just like its predecessor, the Razer Phone 2 is pretty well equipped in the battery department. 4,000 mAh is plenty of juice to go around. However, that stunning, high-refresh rate panel draws quite a bit of power. In fact, so much so that the original Razer Phone ended up being very crippled in terms of overall battery endurance.
So, with its new, higher brightness, the Razer Phone 2 must be even more power-hungry, right? Well, Razer shifted some things around and did its best in the optimization department.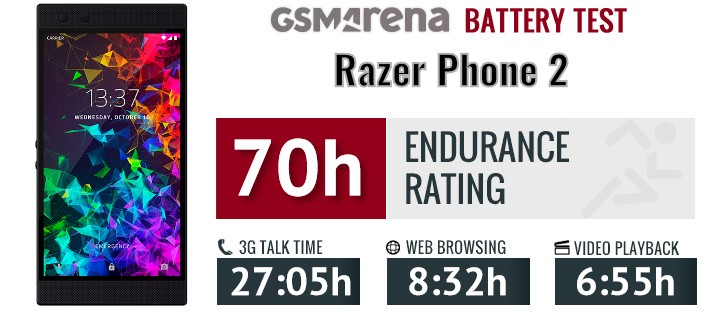 The new Razer Phone 2 clearly fairs better in this respect than its predecessor. That being said, however, it doesn't necessarily get more Screen On time out of a full charge. Playing back a 1080p, h264 video still drains the battery in just about seven hours which is subpar. Wi-Fi browsing time has seen some improvement, but that is more than likely due to Qualcomm optimization on the newer Wi-Fi radio, combined with Android and Google Chrome software improvements.
Speaking of which, the main area of improvement is definitely stand-by performance. Perhaps a large chunk of that can again be attributed to the newer and more efficient X20 LTE modem or the OS itself. But it is still a noticeable improvement. The reported standby figures fall in line with other Snapdragon 845 handsets. In fact, they compare with some of the better-optimized implementations of the chip out there. The same goes for the 3G talk time figure.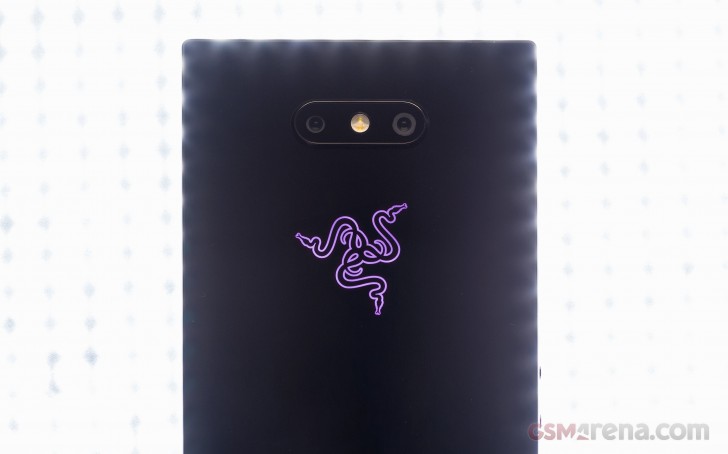 Since we are certain it's going to come up, leaving the RGB Chroma logo ON all the time at its maximum brightness drains quite a bit of battery. It's hard to measure exactly how much, but our best estimate puts it at somewhere around 5% every hour. Of course, you can use it at a medium setting, only when the screen is on or, better yet, just when new notifications come in.
All things considered, the Razer Phone 2 will probably last you longer than its predecessor while simply idling and waiting for a call or notification in your pocket, but won't really do much to extend your gaming time. This is pretty understandable, since, despite the variance in maximum brightness, we still set both phones at 200 nits for our on-screen runs, which levels the playing field. This only comes to show that, just like with the original Razer Phone and its IGZO panel, it's the dynamic high refresh rate that really takes its toll on the battery more than anything else.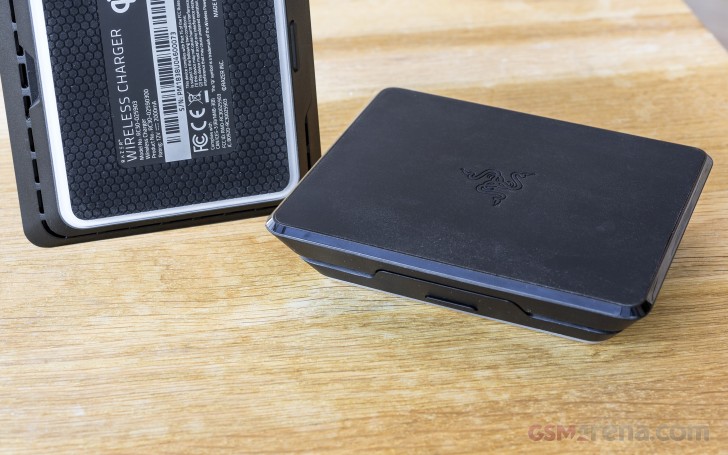 Unlike its predecessor, the Razer Phone 2 comes with support for wireless charging. It uses the Qi standard, which is quickly becoming the norm throughout the industry and claims to be capable of charging at the 15W speeds, as defined by the current Qi Fast Charging specification. We mostly managed to confirm this number in software. Ampere reports about 12W of maximum current going into the phone, which after accounting for idle power draw does roughly round up to 15W going into the phone.
This was achieved using Razer's fancy new wireless charging dock. It can only be described as a perfect match for the Razer Phone 2 and is frankly one of the flashiest Qi chargers we have seen to date. As far as hardware specs go, it supports a 15W output. You do need to hook it up to a good wall brick and one that is capable of outputting 12V@2A. The included charger with the Razer Phone 2 is capable of delivering that and we can only assume that Razer simply deemed it easier to include the extra output and effectively go beyond the Quick Charge 4+ spec the Razer Phone 2 supports and into what appears to be USB Power Delivery, rather than ship a whole different power adapter.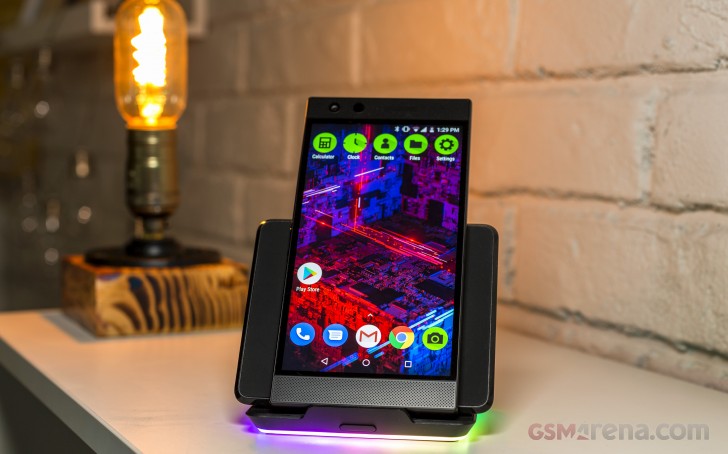 As for the extra juice, the wireless charging dock might just need it to drive its eye-catching 16.8 million color RGB LED ring surrounding the base of the unit. It looks really stunning and fits right into the whole "gamer" aesthetic. It is also managed through the phone itself and Static, Cycle, and Breathing effects. It even doubles as a notification LED while the phone is charging. Last, but not least, the Razer Qi wireless charger is also quite flexible in ergonomic terms, since it has a pivoting mechanism that can switch between a flat horizontal surface and a tilted vertical one, depending on which way you prefer your phone to be facing. Pretty nifty!
Our endurance rating denotes how long a single battery charge will last you if you use the Razer Phone 2 for an hour each of telephony, web browsing, and video playback daily. We've established this usage pattern, so our battery results are comparable across devices in the most common day-to-day tasks. The battery testing procedure is described in detail in case you're interested in the nitty-gritty. You can also check out our complete battery test table, where you can see how all of the smartphones we've tested will compare under your own typical use.
Loudspeaker
The Razer Phone 2 gets really loud. Impressively and almost uncomfortably so. It lacks a bit behind its predecessor in terms of sheer decibel output, but even so, the newer model is impressively consistent in loudness in the highs, mids and even does an impressive job at trying to represent bass and lows.
| | | | | |
| --- | --- | --- | --- | --- |
| Speakerphone test | Voice, dB | Pink noise/ Music, dB | Ringing phone, dB | Overall score |
| Samsung Galaxy Note8 | 67.8 | 69.5 | 71.5 | Good |
| Google Pixel 2 XL | 66.2 | 70.4 | 78.2 | Good |
| Honor Play | 68.3 | 73.8 | 75.8 | Good |
| Samsung Galaxy S9+ | 68.4 | 74.0 | 80.1 | Very Good |
| Xiaomi Mi 8 | 68.1 | 72.3 | 82.2 | Very Good |
| OnePlus 6T | 67.2 | 72.5 | 84.5 | Very Good |
| Samsung Galaxy Note9 | 71.2 | 74.9 | 80.2 | Very Good |
| Huawei Mate 20 | 74.3 | 70.2 | 82.6 | Very Good |
| Oppo Find X | 70.7 | 75.2 | 81.2 | Very Good |
| Sony Xperia XZ3 (ClearAudio+) | 68.0 | 75.3 | 84.0 | Very Good |
| Huawei Mate 20 Pro | 70.3 | 73.4 | 83.8 | Very Good |
| Sony Xperia XZ3 | 71.0 | 75.4 | 82.9 | Excellent |
| Xiaomi Pocophone F1 | 72.8 | 74.7 | 86.6 | Excellent |
| Razer Phone | 69.3 | 75.0 | 90.5 | Excellent |
| Razer Phone 2 (Dolby dynamic) | 76.7 | 77.7 | 87.7 | Excellent |
| Razer Phone 2 | 78.2 | 78.8 | 86.9 | Excellent |
However, being loud doesn't necessarily equate to a good sound. In fact, more often then not, phones tend to hit some unpleasant high-pitched resonance frequency to get the top scores. Out of the box, the Razer Phone 2 is really no different. Despite having a pair of hefty speakers and plenty of air in the chambers around them, the default sound profile is rather hollow and often times distorted.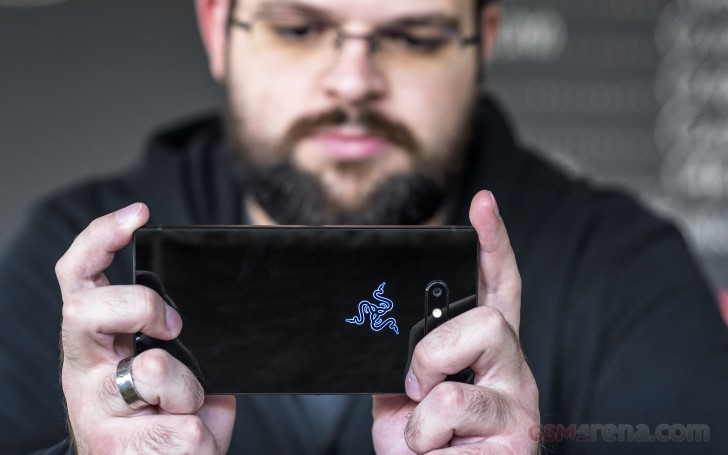 That being said, we really appreciate the addition on a Dolby equalizer in the Razer Phone 2. Once we enabled it on auto mode (Dolby Dynamic), everything started to sound noticeably better. Sure, at the cost of a few decibels, but more than a justified trade-off. If you really go full hands-on with the EQ sliders and know what you are doing, the Razer Phone 2 is actually capable of some really impressive sound output. Razer just needs to improve the defaults a bit and make them less discouraging and off-putting.
Audio quality
Speaker output aside, the Razer Phone 2 really impressed in the audio quality test when we measured what comes through that USB-C port. Using the supplied adapter, the phone delivered a perfectly accurate output with an active external amplifier connected. There is minimal degradation when headphones come into play, which is merely par for the course when talking flagships.
Yet the super high volume in both test use cases made it shine - it's rare that you see a phone so loud these days, and rarer still one that relies on a USB-C to 3.5mm audio adaptor. The Razer Phone 2 adapter's larger USB-C plug is larger than just about every other unit we have seen, so that might be what explains it - the company just had more room to fit in a higher quality chip inside Of course, that's just guessing on our part but the numbers prove it.
Test
Frequency response
Noise level
Dynamic range
THD
IMD + Noise
Stereo crosstalk
Razer Phone 2
+0.06, -0.52
-93.4
93.3
0.0018
0.0078
-92.8
Razer Phone 2 (headphones)
+0.12, -0.18
-92.8
92.8
0.014
0.168
-68.3
Huawei Mate 20
+0.02, -0.16
-92.1
92.0
0.0017
0.013
-85.6
Huawei Mate 20 (headphones)
+0.07, -0.07
-92.1
92.4
0.0021
0.106
-66.5
OnePlus 6T
+0.03, -0.05
-93.4
93.3
0.0010
0.0070
-93.8
OnePlus 6T (headphones)
+0.17, -0.15
-93.2
93.1
0.0056
0.245
-61.1
Sony Xperia XZ3
+0.01, -0.02
-91.2
93.2
0.0024
0.0080
-88.7
Sony Xperia XZ3 (headphones)
+0.38, -0.21
-93.1
92.5
0.0049
0.233
-61.7
Samsung Galaxy Note9
+0.01, -0.03
-93.7
93.7
0.0017
0.0074
-94.1
Samsung Galaxy Note9 (headphones)
+0.03, -0.02
-93.6
93.5
0.0033
0.046
-93.2
HTC U12+
+0.02, -0.15
-94.3
94.3
0.0021
0.0069
-94.3
HTC U12+ (headphones)
+0.18, -0.13
-93.7
93.6
0.0024
0.104
-52.7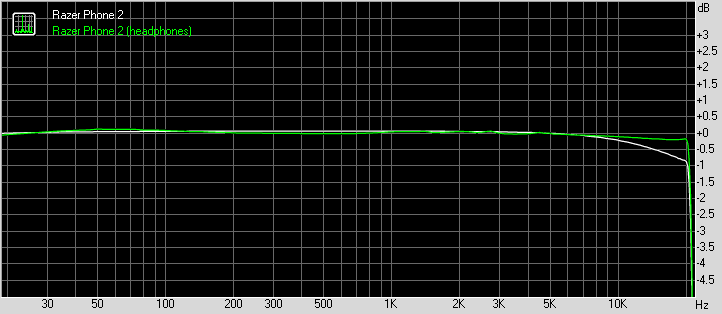 Razer Phone 2 frequency response
You can learn more about the tested parameters and the whole testing process here.