Passable 2 Megapixel
Samsung B2700 has a 2 megapixel camera with a maximum image resolution of 1600 x 1200 pixels. There's no LED flash though.
The camera interface is intuitive and follows the current trend of displaying settings with icons in a toolbar at the bottom of the screen, while options appear as popup menus. The settings are extensive and include picture size, shooting mode (single, multi-shot, mosaic shot and frame), color effects (black and white, negative, sepia, etc.), and white balance. Unfortunately, the camera can be used in portrait mode only.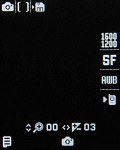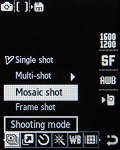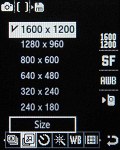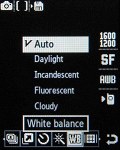 The camera viewfinder and some of the available settings
The image quality is just passable. Colors are rendered relatively well, but contrast is a bit harsh. In an attempt to keep noise down, much detail is blurred away. This is most obvious when you shoot a uniform surface with tiny accents on it. In such scenes the fine detail would be lost due to the strong noise suppression. This gives your images a kind of painted look.
Nevertheless, imaging is hardly a priority for B2700 and the price range just won't accommodate more than that. Bear in mind also that it's a beta version, so image quality could still improve.
Here are some camera samples produced by the 2 megapixel camera of Samsung B2700.
Finally, we come to the video recording capabilities of the camera. Samsung B2700 shoots video in the so-called Camcorder mode. The user interface of the camcorder doesn't differ from the one of the still camera except for some of the available options. The clips are recorded in the miserly QCIF resolution at 15fps and 3gp format. Those kinds of videos are only good for MMS use.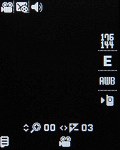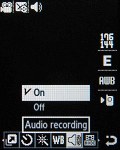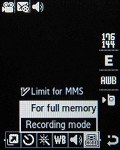 Camcorder viewfinder • camcorder settings on toolbar
Connectivity
With the Samsung B2700 you can count on UMTS and quad-band GPRS/EDGE support.
In addition to the network connectivity options, B2700 also supports USB and Bluetooth, both version 2.0. There is also A2DP support.
Extra features
The Samsung B2700 offers a few niceties that go well with rugged phones: flashlight, digital compass, pedometer and altimeter.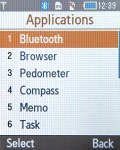 A bunch of extras in the Applications menu
The digital compass appears to be very accurate. It needs quick calibration upon every start - just as the one we saw on the Nokia 6210 Navigator. The Altitude meter is integrated in the compass app. Its accuracy is not top of the line but we haven't seen an accurately working digital consumer altimeter.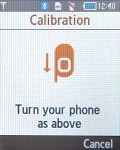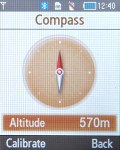 The simple interface of the compass/altimeter
The pedometer appears to be a nifty piece of software. A nice feature allows a goal to be set in terms of number of steps taken, or calories burnt. An alarm can be set so you don't lose track of your goal. Users have to fill in basic information about height and weight, which the application uses for its calculations. And finally, the pedometer counter can be displayed on screen for convenience.
The settings screens remind much of the Samsung F110 Adidas. The B2700 pedometer seems to be working accurately but it takes some free walking before it adjusts to your stride and starts performing its best.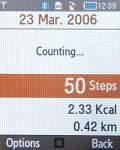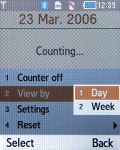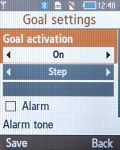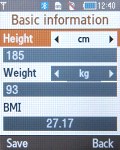 Pedometer app with several settings
Ruggedness
Now this is the main course for tonight. Probably the most important feature of the Samsung B2700 is its durability and it now came the time to put it to a test. We did put the phone through some really serious torture and much to our amazement it survived it all.
While at the beginning we had trouble deciding which test should go first so that we don't break the phone before we are done. However, having seen how it handled the challenges with only minor damages to the body, we are safe to conclude that it was unnecessary.
We started the experiments with something simple - dropping the B2700 on asphalt from about meter - meter and a half height. The phone passed the test with flying colors, without even a scratch but this was almost expected from it.
The next task was much more complicated - the pavement isn't nearly as gentle to the electronic gadgets as the asphalt. A meter and a half flight downwards, ending with a hard hit on the rocks isn't something that every other phone out there can survive. Well, Samsung B2700 isn't every other phone so it did live through this with minimal damage suffered. In all fairness, the B2700 did disassembled on two of the occasions but we put the battery back in place and it was back on track.
Still Samsung B2700 did suffer some minor casualties in this test, but nothing too serious. After all having a few scratches in a test where every normal phone would be totaled is quite an achievement. Besides as you can see from the photos there is nothing you cannot live with.




Samsung B2700 revealed only slight damages after our crash tests were completed
Next on our schedule was running the B2700 over with a car. One would think that more than a ton and a half of load would be enough to break its spirit but that would be completely wrong. Apart from getting a little dirty the Samsung B2700 showed no other evidence of having suffered what it just did.
Finally after getting the Samsung B2700 dirty we had to clean it so we thought - why not put it in the sink. Being as good in the water as gold-winning Michael Phelps wasn't on the B2700 specs sheet but it should probably be. We could hardly bear the arrogant look the phone gave us when we finally gave up and returned it in one piece.