Very basic snapper
The Samsung C3300K Champ features a 1.3 megapixel fixed focus camera for maximum image resolution of 1280 x 960 pixels.
The camera doesn't have any fancy features, but it's nicely touch optimized and very easy to use. It has several effects to offer and also mosaic and frame shooting modes. The first takes several photos and arranges them in a mosaic, while the other is like a cardboard picture with a hole for your face – it has Santa Claus, a TV and so on. These modes are more fun than useful.
You can adjust brightness, white balance, exposure metering or switch on the Night mode but in the end you'll probably shoot with everything on auto. You can turn on guidelines to help you arrange the shot and there's an option to save photos on the memory card.
There's not much that can be said about the image quality. There's not enough resolution to capture any fine detail but noise levels are kept down. Colors come off quite dull however. Anyway, the most important thing is that photos are snapped relatively quickly – it takes a couple of seconds between shots. You are never going to get good quality photos out of a 1.3MP snapper so that's that.
Video recording
The video recording capabilities of the Samsung C3300K Champ are very poor - it maxes out at QCIF@15fps. Hardly any usable videos can be produced with those specs – they are heavily compressed, the only consolation here being that you can fit more video in an MMS.
Here is a sample Samsung C3300K Champ video recording for you to check out.
Modest connectivity
The Samsung C3300K is usable worldwide with quad-band GSM support and it offers GPRS/EDGE for data connectivity. It sports Bluetooth 2.1, which is useful for swapping files between phones, the Bluetooth Messenger too – we'll look at it in a moment. The A2DP support means that you can connect wireless stereo Bluetooth headphones.
The Champ has a standard microUSB port and while there's no data cable in the box, you probably have at least one at home. If not, a microSD card and a card reader are an option too.
Anyway, if you do have a cable, you can connect the Samsung C3300K Champ to a computer in Kies or mass storage mode. In mass storage mode, you can't use any of the phone's functions while it's connected but you can still receive calls.
Web browser isn't very good
The Samsung C3300K Champ is equipped with the now aging NetFront 3.5 browser. It manages most mobile web pages, but when you switch to Desktop view mode some of the more complicated pages will cause "out of memory" errors.
Still, rendering is pretty accurate and scrolling and panning are fast enough (though not quite smooth). Zooming is done with the volume rocker and it's slow. In full screen, the browser manages to fit a decent amount of text, but again – you'd be better off using dedicated mobile pages.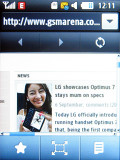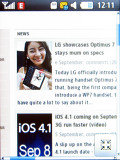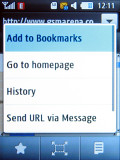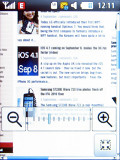 The web browser is showing its age
Flash support is out of the question and you're stuck with EDGE speeds for opening pages.
You should consider installing Opera Mini. We tried v5.1 and despite a few hiccups, it worked. We had to disable the Mini's keyboard (new in version 5) and go back to the phone's native keypad, which worked just fine.
With Opera Mini you get better bookmarks through speed dial, tabbed browsing, saving pages and most importantly, Mini's compression saves on data traffic and speeds up page loading times.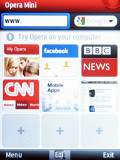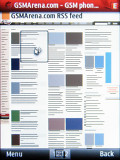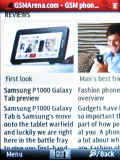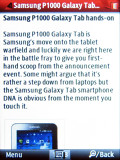 Opera Mini 5.1 running on the Champ
The Samsung C3300K Champ isn't a champ at Java performance though, so page scrolling is actually a bit slower in the Mini than the NetFront browser.