Half-press to play
Samsung Galaxy Camera review: Half-press to play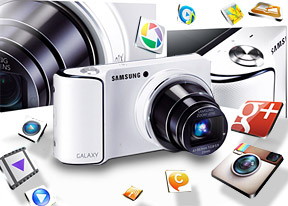 Design and build quality
The Samsung Galaxy Camera would be hard to tell apart from the rest in Samsung's digicam lineup - the only big tell (besides the Galaxy logo) is that there isn't a single button on its back, just a huge (by camera standards) 4.8" screen with 720p resolution.
The Galaxy Camera isn't a small device, but it's been packed with features and still has great ergonomics. The grip on the right allows users to get a stable hold even when shooting with one hand. And a 21x zoom lens gives you what those thin phone camera modules can never offer - proper optical zoom.
That lens, however, accounts for the thickest part of the Galaxy Camera, it's easily the size of a pancake lens for a micro four thirds camera. Speaking of which, Samsung's Android-powered digicam is about the same size as an Olympus PEN PL-1.




Samsung Galaxy Camera vs. Olympus PEN PL-1 size comparison
The Nokia 808 PureView, which is quite chubby by modern smartphone standards, looks small in comparison.




Samsung Galaxy Camera vs. Nokia 808 PureView size comparison
Yet, with the lens extended to its fullest, it's easy to see that the whole thing couldn't have been much thinner. The lens itself has focal length that ranges from 4.1mm (23mm in 35mm equivalent) to 86.1mm (483mm in 35mm equiv.) and the aperture goes from f/2.8 to f/5.9.
The Galaxy Camera boasts proper Optical Image Stabilization with a dedicated gyroscope. It's much better than the digital trickery used by smartphones as we'll see later on in the review.




The Galaxy Camera packs an optically-stabilized 21x zoom lens
Behind the lens is a 1/2.3" backlit sensor with 16.3MP of effective resolution.
Right next to the lens is a red AF assist, but there's no video light.
For stills however, the Samsung Galaxy Camera has a proper xenon flash. It pops up upon a press of the flash button on the left side of the camera. It's a small, flush button that will often need you to dig a fingernail in to properly press.




The pop-up xenon flash • the flash button
When done, the flash can be pushed back in. Getting it to lock into place doesn't always work at the first try. The whole flash experience can be a bit frustrating at times, in terms of turning it on and popping it back in.
The top of the Galaxy Camera is where the only hardware controls are - the Power/Lock key and the traditional zoom lever/shutter key combo. Note that in Android apps the zoom lever maps to the volume rocker, it only controls zoom when the camera is on.
Right next to the zoom lever is the mic pinhole.
The right side of the Camera has a lanyard eyelet, a microUSB port hidden under a plastic flap and a 3.5mm audio jack. On the left, there's the flash button and the loudspeaker grill.



Hardware controls and mic pinhole on top • 3.5mm audio jack, microUSB port and lanyard eyelet
The bottom of the device has a standard tripod mount and a big hinged lid covering the battery compartment. Within that lid is a smaller flap for the microHDMI port. The battery compartment lid has a lock that keeps it in place. We sometimes found it necessary to lift the HDMI flap and use it to pull open the lid, which doesn't always swing open when you release the lock.




The tripod mound • microHDMI port, microSIM and microSD card slots • 1,650mAh battery
The 1,650mAh battery is underneath, which has a lock of its own to hold it into place. Right next to the battery are the microSD and microSIM card slots. The Galaxy Camera comes with 4GB of built-in storage, but that can be expanded easily and cheaply.
Finally, we come around to the back of the Samsung Galaxy Camera, which is a mind-blowing 4.8 inches of Super Clear LCD. The bezel is exceptionally thin except along the right edge, which gives you some room to rest a thumb without hitting buttons on the screen. Actually, we would have liked this bezel to be bigger as we still touched a few things on the screen by accident.



The 4.8" 720p screen should have been better
The screen has the same size and resolution as the Galaxy S III's display (and is covered in Gorilla Glass 2 as well), but isn't a Super AMOLED unit. It's a Super Clear LCD instead. It doesn't have the contrast of an AMOLED - far from it - but colors and viewing angles are quite good. Most disappointingly, sunlight legibility is about average, nowhere near as good as the S III's.
Display test
50% brightness
100% brightness
Black, cd/m2
White, cd/m2
Contrast ratio
Black, cd/m2
White, cd/m2
Contrast ratio
Samsung Galaxy Camera
0.26
224
849
0.57
484
843
Samsung I9300 Galaxy S III
0
174
∞
0
330
∞
Nokia 808 PureView
-
-
-
0
455
∞
Nokia Lumia 920
-
-
-
0.48
513
1065
Apple iPhone 5
0.13
200
1490
0.48
640
1320
Nexus 4
0.22
314
1447
0.45
608
1341
We put the Galaxy Camera screen under a microscope and saw a PenTile RGBW matrix. It introduces a White subpixel into the RGB mix, and then only in every other pixel where it replaces the Blue pixel. The idea is that this arrangement is more power-efficient than a standard RGB display at the same brightness. We have never been impressed by the image quality of PenTile RGBW screens, at least this one has the high 306ppi pixel density to save it.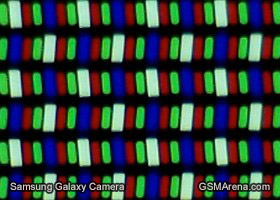 Samsung Galaxy Camera's screen under a microscope
Contrast ratio
Nokia 808 PureView
4.698
Samsung I9300 Galaxy S III
3.419
Samsung Omnia W
3.301
Samsung Galaxy S
3.155
Nokia N9
3.069
Samsung Galaxy Note
2.970
HTC One S
2.901
Samsung Galaxy S II
2.832
Huawei Ascend P1
2.655
Nokia Lumia 900
2.562
Samsung Galaxy S III mini
2.422
Motorola RAZR i
2.366
Apple iPhone 4S
2.269
HTC One X
2.158
Nokia N8
2.144
Apple iPhone 4
2.016
Sony Ericsson Xperia ray
1.955
Samsung Galaxy Camera
1.938
Sony Xperia U
1.758
LG Optimus 4X HD
1.691
HTC One V
1.685
LG Optimus Vu
1.680
HTC Desire V
1.646
LG Optimus 3D
1.542
Nokia Asha 302
1.537
Nokia Lumia 610
1.432
Gigabyte GSmart G1355
1.361
HTC Desire C
1.300
LG Optimus L7
1.269
LG Optimus L9
1.227
Meizu MX
1.221
Samsung Galaxy Pocket
1.180
Sony Xperia tipo
1.166
Samsung Galaxy mini 2
1.114
While the extra large screen doesn't offer the tactility of hardware buttons, the virtual controls on it quickly reconfigure to move from simple Auto controls to DSLR-like manual controls. It also lets you frame the scene better than most other camera screens (which are usually around 3").
The Samsung Galaxy Camera feels great in the hand when you need to take a shot - that grip might not be compact, but it makes holding the camera so much easier. It's a heavy device - the Galaxy Camera weighs 300g - but we didn't find it to be an issue (again thanks to the comfy grip).
The big hardware shutter key is great too, better than any hardware shutter we've seen on a phone (and there are always the on-screen shutter keys for stills and video).
The lens is the thickest part of the Camera, but since it's flat it's quite stable if you put it on a table. Don't worry about scratches either, the lens is protected by an automatic lens cover. As long as you don't hit the camera shortcut on the screen, which would automatically extend the lens, you'll be okay.





Samsung Galaxy Camera in the hand
While holding the camera landscape is easy, using it in portrait mode is quite uncomfortable. The software has been tweaked for landscape use, sometimes you want to use it in portrait (perhaps a habit of using your phone) and that big, protruding lens barrel makes it quite uncomfortable to hold.
As for pocketability, it's not a jeans pocket device. Yes, you could fit it in your pocket, but we'd recommend having the supplied lanyard on.
Finally, we come to the topic of build quality. The Camera feels solidly built for the most part, but we noticed one big issue - dust gets into the lens too easily. After only a couple of days there were noticeable specs of dusts in photos we shot. It's possible that this is just a problem with the unit we tested, but it's something to keep in mind.
The other thing is the flash - we found the flash button a bit too tiny and we sometimes needed to push more than once to pop the flash back in.