Half-press to play
Samsung Galaxy Camera review: Half-press to play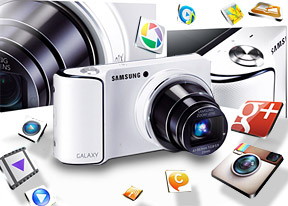 Video recording introduces 60fps mode
The Samsung Galaxy Camera shoots 1080p videos at 30fps, but can also do 720p clips in either 30fps or 60fps. The second option shoots high framerate (HFR) similar to The Hobbit movie (which used 48fps). There's also a 120fps slow-mo mode at a reduced resolution.
The camcorder doesn't get a dedicated UI - instead you just press the record video on-screen button and it starts recording. In Auto mode you don't even get a 16:9 viewfinder, you have to switch to Expert Movie mode to get that.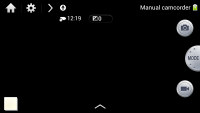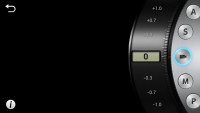 The camcorder uses the same UI as the still camera
The Galaxy Camera features 21x zoom that you can use during video recording. A nice option here is the Quiet zoom, which makes sure the zoom sound isn't recorded (it's barely audible even with that option off).
Optical image stabilization is the other big advantage that the Galaxy Camera lens has, we tested it against the digital stabilization of the Nokia 808 PureView and it did impressively.
The 1080p videos are smooth, noise-free and with good details and color. Contrast in videos is low and the continuous autofocus triggers too often (there's no way to disable it). Another problem is that the videos are visibly oversharpened.
The video container used is mp4 and it creates clips with a bitrate of about 17-18Mbps, of which 128Kbps are for the stereo sound, recorded at 48 kHz sampling frequency.
You can download an untouched 1080p@30fps video sample from here (0:09s, 18.8MB).
720p HFR videos are quite impressive - we call 30fps videos "smooth", but 60fps brings a whole new level of smoothness. 720p@60fps videos have a slightly surreal quality and they might not be for everyone (we're just so used to 24-30fps that anything else looks odd). However, if you're going to record fast moving objects or do a lot of panning, the limitations of 30fps will make themselves apparent, while 60fps videos will remain buttery smooth.
Note that the doubled framerate makes up for the halved resolution and the mp4 files still have around 17Mbps bitrate.
Unfortunately, YouTube doesn't support 60fps videos and turns them into 30fps videos instead. This limits how you can share your videos. Here's a short sample (0:07s, 14MB) that gives you a taste of how 60fps videos look.
Yet another mode on the Samsung Galaxy Camera is the 120fps slow-mo (4x) video recording. Videos are shot at 768 x 512 resolution but still look pretty decent.
Video quality comparison
The Video Quality Compare tool is where you can observe how each of our contenders handles changes in lighting, what actual resolution they achieve in FullHD recording and what levels of detail are produced.