Half-press to play
Samsung Galaxy Camera review: Half-press to play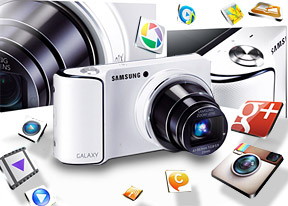 S Voice and Google Now
Samsung released S Voice as an answer to Siri before Google came out with its own solution in Google Now. S Voice is the culmination of Samsung's ongoing effort at integrating voice commands into the Android experience, an effort which goes back to the days of Vlingo. You may remember the voice activation (saying "Hi Galaxy" to trigger S Voice).
S Voice can do the usual - search the web, make calls, send texts (which Android natively supports and so does Vlingo), but you can also use it instead of the notification area toggles, start the camera and take a photo, control the music player and stop or snooze alarms all with voice commands.
It's also a tool for quickly looking up facts - it's powered by Wolfram Alpha (which handles some of Siri's answers too). It has an enormous database covering topics ranging from Culture and Media to Physics. S Voice can also be used as a calculator.
Samsung has decided to keep S Voice alongside Google's solution as the two do differ in functionality. Jelly Bean has the unspoken Google Now info cards, but it also brought Google's Knowledge Graph, which can answer factual questions.
Google Voice Actions can handle stuff like sending messages (SMS or email), asking for directions, taking a note or opening a site. Since the latest update, Google Now can also launch apps, check and manage your calendar and look up nearby places of interest and stuff like movie openings in theaters.
One big advantage of Google's Jelly Bean is that the voice typing functionality doesn't require an internet connection to work. You can enter text by speaking anywhere you can use the on-screen keyboard - be it the Messaging app or a note taking app - without the need for a data connection as long as you have pre-downloaded the needed language packs (and those only take about 20-25MB of your storage per pack).
Making voice typing available offline also made it faster as it's not dependent on your connection. What's even more impressive is that the transition hasn't cost it anything in terms of accuracy.
Synthetic benchmarks
This feels odd - talking about benchmark performance on a camera. But the Samsung Galaxy Camera is the fastest camera we've ever benchmarked. Sure, it's the first one we've benchmarked, but on several occasions it outperforms the Samsung Galaxy S III.
That should come as no surprise - there's a Galaxy S III inside the Camera. The same Exynos 4412 chipset anyway - with a quad-core Cortex-A9 processor at 1.5GHz, 1GB of RAM and Mali-400 GPU.
Our CPU benchmarks show that the Samsung Galaxy Camera is very close to the Galaxy S III in terms of raw CPU power, just slightly behind. Compound benchmarks like AnTuTu and Quadrant, however, rate it higher.
Benchmark Pi
Lower is better
HTC One X+
280
LG Optimus G
285
Samsung Galaxy Note II
305
HTC One X (Tegra 3)
330
LG Optimus 4X HD
350
Samsung Galaxy S III
359
Meizu MX 4-core
362
Samsung Galaxy Camera
381
Nexus 4
431
Linpack
Higher is better
Samsung Galaxy Note II
214.3
Nexus 4
213.5
Meizu MX 4-core
189.1
HTC One X+
177.7
Samsung Galaxy S III
175.5
Samsung Galaxy Camera
165
HTC One X
160.9
LG Optimus 4X HD
141.5
Geekbench 2
Higher is better
Nexus 4
2100
Samsung Galaxy Note II
2000
Samsung Galaxy S III
1845
Samsung Galaxy Camera
1727
LG Optimus G
1723
HTC One X (Tegra 3)
1634
Apple iPhone 5
1601
AnTuTu
Higher is better
Samsung Galaxy Camera
15758
Nexus 4
15146
Samsung Galaxy Note II
13562
HTC One X+
13519
Samsung Galaxy S III
12288
Meizu MX 4-core
11820
HTC One X (Tegra 3)
11633
LG Optimus G
11226
Quadrant
Higher is better
HTC One X+
7632
LG Optimus G
7439
HTC One X
5952
Samsung Galaxy Note II
5916
Samsung Galaxy Camera
5710
Samsung Galaxy S III
5450
Meizu MX 4-core
5170
LG Optimus 4X HD
4814
Nexus 4
4567
The Galaxy Camera can play games too - while the GLBenchmark 2.1 (720p off-screen) results are pretty good, the GLBenchmark 2.5 (1080p off-screen) score is better than a Tegra 3 chipset can offer. You shouldn't have any problems idling the time away between shoots. If you've got backup for the not too impressive 1,650mAh battery.
GLBenchmark 2.1 Egypt (720p offscreen)
Higher is better
LG Optimus G
113
Samsung Galaxy Note II
105
Samsung Galaxy S III
99
Meizu MX 4-core
80
Nexus 4
78
HTC One X (Tegra 3)
64
LG Optimus 4X HD
61
Samsung Galaxy Camera
56
GLBenchmark 2.5 Egypt (1080p offscreen)
Higher is better
LG Optimus G
29
Apple iPhone 5
27
Nexus 4
26
Samsung Galaxy Note II
17
Samsung Galaxy S III
15
Samsung Galaxy Camera
15
HTC One X+
12
HTC One X
9
Some web browsing is very much an option too - that 3G or LTE connection is good for more than just beaming a picture of your lunch to Instagram. The Samsung Galaxy Camera actually outran the Google Nexus 4 in the SunSpider JavaScript benchmark and beat the Galaxy S III in the BrowserMark 2 HTML5 test. It even edged out the S III and the Nexus 4 in Vellamo.
SunSpider
Lower is better
Samsung Ativ S
891
Apple iPhone 5
915
Nokia Lumia 920
910
Samsung Galaxy Note II
972
HTC One X+
1001
Motorola RAZR i XT890
1059
Samsung Galaxy Camera
1134
Samsung Galaxy S III
1192
Meizu MX 4-core
1312
LG Optimus G
1353
Nexus 4
1971
BrowserMark 2
Higher is better
LG Optimus G
2555
Nexus 4
1794
Nokia Lumia 920
1774
Nokia Lumia 820
1760
Samsung Omnia W
1632
Samsung Galaxy Camera
1582
Samsung Galaxy S III
1247
Vellamo
Higher is better
Samsung Galaxy Note II
2418
HTC One X (Tegra 3)
2078
Samsung Galaxy Camera
1697
Samsung Galaxy S III
1641
LG Optimus 4X HD
1568
LG Optimus G
1522
Meizu MX 4-core
1468
Nexus 4
1310
If you're wondering why you would need that much processing power in a camera, you should consider that the advanced functionality enabled by the Android OS opens a lot of possibilities if the device has the computing power for them. You can edit 1080p videos right on the device, no need for a computer, and that takes power. It's also capable of complex live effects - if the Galaxy Camera becomes popular, we should start seeing apps on the Play Store that squeeze the Exynos chipset for all it's worth.
And then there's the other thing - you can use the Camera as a thick, weird phablet. It's not as snazzy as a Galaxy Note II, but it can play games and browse the web almost as well.