Feature-rich gallery but no air view
The gallery on the Galaxy Grand Neo is quite similar to what you get on the Galaxy S4 flagship, with the notable absence of the Air View feature that lets you hover your finger over an album to see the images it contains.
When viewing an album's contents, a right swipe will reveal a bar that lets you browse images in split-screen mode. You can also use a pinch gesture to adjust the size of the thumbnails.
The gallery naturally supports full-res images which results in a pleasant viewing experience thanks to the ample screen and sharp colors. There's even an Adobe RGB screen more for even more accurate color rendering.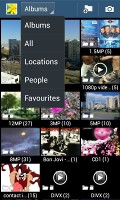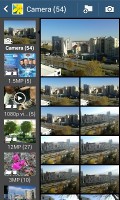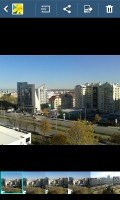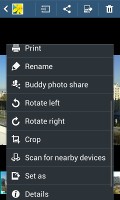 The Gallery * Viewing an image
You can easily edit photos right in the Gallery itself. The photo editor gives you options like crop, rotate, color and effects, and even lets you write a note over the picture.
The Gallery supports slideshows too, with several transition effects to choose from and customizable music and speed.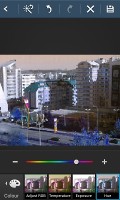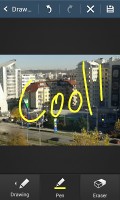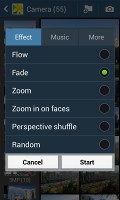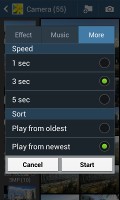 Editing an image * Slideshow options
TouchWiz music player
The TouchWiz music player is jam-packed with features and supports a wide variety of file formats, including .FLAC, .WAV, etc.
Music is sorted by the usual Artist, Album, Playlist, etc. but there's also Folder support that's quite handy as it saves you the need to sort songs into playlists like on so many other players. It can also search for content on other devices like PCs on the same network via its DLNA functionality.
Samsung has enabled equalizer presets (including a custom one with 7 bands) along with sound-enhancing SoundAlive technology from its MP3 and Android-powered media players, which features 7.1 channel virtualization.
There's also a Music square feature that's is quite similar to Sony's SensMe. It automatically rates a song as exciting or calm, passionate or joyful and lets you build playlists based on mood rating.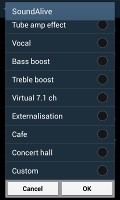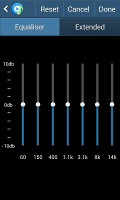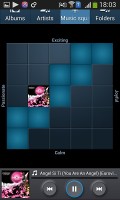 SoundAlive equalizer and Music Square options
The Now playing screen gives you the usual options as well lyrics support, and an AllShare shortcut for streaming content to other devices.
While listening to a song you can find music controls in the notification area and the lockscreen.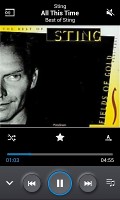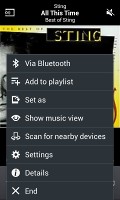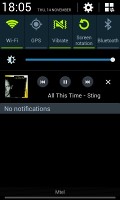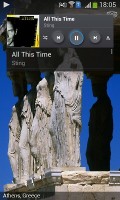 Music player options • controls in the notification area and lockscreen
The Galaxy Grand Neo comes equipped with an FM Radio with RDS. The interface is simple - there's a tuning dial and you can save as many as 12 stations as favorites. You can also play on the loudspeaker, but the headset is still needed as it acts as the antenna. You can record radio broadcasts as well.
Decent video player, but no DivX or AC3 codec support
The video player on the Samsung Galaxy Grand Neo features a thumbnail view by default, which on more advanced Samsung phones would be animated but on the Grand Neo are static.
Besides being able to choose between three crop modes for how the video fits the screen, you can also adjust the brightness, color tone and enable outdoor visibility mode.
The Samsung Galaxy Grand Neo offered a list of subtitles and let us pick. It scans all available subtitle files, so the file doesn't even have to have the same name as the video file as before.
The video player is capable enough outside the glaring omission of the DivX video codec support and the AC3 audio codec support, both of which are subject to license fees so we guess they were scrapped out of economical reasoning.