Basic connectivity options
In terms of connectivity, the Samsung Galaxy Grand Neo starts off with the basics - quad-band GSM/GPRS/EDGE and dual-band 3G.
The Grand Neo uses Bluetooth 4.0 alongside Wi-Fi support which includes b/g/n with both 2.4GHz and 5GHz band compatibility. Unfortunately, there is no USB On-the-go functionality that would have allowed connecting USB peripherals to the Grand Neo.
You can use the Group Play app to link with other nearby Samsung devices via wireless access point, and share files, play games, and even play music while using connected devices as speaker satellites.
Samsung Link (previously known as AllShare Play) is another proprietary service offered by Samsung. Once you download the dedicated app, it automatically syncs all the multimedia content on your device to a cloud storage service of your choice (Sugarsync, Box.Net, Dropbox, or Skydrive). This way your content is not only securely backed up, but it's also available for instant watching/listening on your other Samsung devices (and even your Samsung SmartTV). They are available of course on all your other computers and devices that have access to these cloud storage services.
Thanks to Samsung's AllShare feature you can also mirror your mobile device screen to your HDTV via Wi-Fi Direct and the widely supported Miracast protocol - that would even allow you to play mobile games on the biggest screen in your living room. You don't need to have a Samsung TV for that to work, but it needs to have Wi-Fi connectivity and support Miracast.
Stock Android browser with Google Chrome also on board
The Samsung Galaxy Grand Neo comes with the stock Jelly Bean edition and Google Chrome. Both are very similar in terms of functionality, and Samsung will likely choose one over the other with a future OS update.
The browsers support both double tap and pinch zooming along with the two-finger tilt zoom. There are niceties such as multiple tabs, text reflow, find on page and so on. A neat trick is to pinch zoom out beyond the minimum - that opens up the tabs view.
Chrome has the added benefit of cross-platform sync capabilities that allow you to retrieve open tabs from desktop sessions, for instance, but doesn't have Labs support for test features.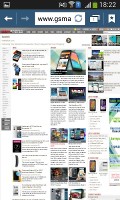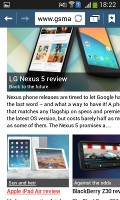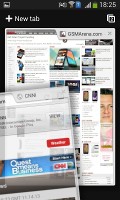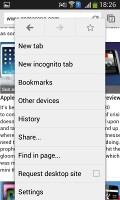 Both browsers offer similar functionality
Apps and more
While it doesn't have all of the extra apps Samsung throws into their flagships, the Samsung Galaxy Grand Neo does have a few nifty applications that help it stand out from other smartphones.
S Translator can translate between two languages using either typed text or speech recognition. It supports many widely-spoken languages - English, Chinese, Spanish, Portuguese, French, German, Italian, Japanese and Korean - and can read out the resulting translation too if you don't think your accent can cut it.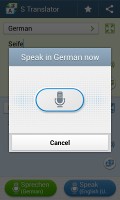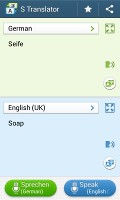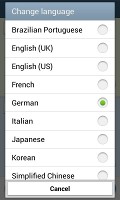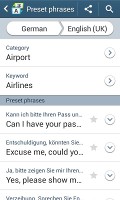 S Translator can be invaluable when traveling
The S Planner fills the role of your calendar app, and automatically syncs with Google Calendar based on the Google account you use in Android.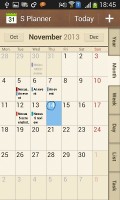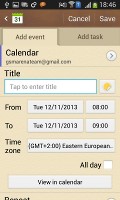 The S Planner calendar application
The My Files app is unique to Samsung devices and offers all you need in a file explorer: multiple selection, cut, copy, paste, create folders, etc. This saves you the trouble of having to download a third-party file manager from the App Store.
The Galaxy Grand Neo comes with Google Maps and Navigation. The app offers much of the same functionality as its web-based counterpart, although you will need a data connection to take full advantage of the navigation features. Street view mode with digital compass enabled is an especially cool trick.
Finally, the best part of owning a smartphone is getting new apps, and the Grand Neo comes with two marketplaces right off the bat. From recommendations to top apps, the Google Play Store features a plethora of ways you can find new apps, and installing an app usually only takes a couple of taps.
Samsung Apps features largely the same type of interface as Google Play, except here you'll find far fewer apps. The good news is Samsung uses this repository to distribute some exclusive apps to Galaxy owners, and you can find some apps that don't come preloaded on the device like the capable Polaris Office editor for documents.