First impressions
The Samsung Galaxy Note7 experience hinges on the S Pen. Without it, you'd be tempted to just get the Galaxy S7 edge. That's hardly news to Samsung, the Note7 stylus has some amazing new tricks.
Not all of them are as showy as writing underwater, but the Screen off memo sounds simple yet has the biggest potential to be useful. The new tools in the Air Command menu make the S Pen even more powerful.
There's the iris scanner too, which may replace the fingerprint reader as the default authentication sensor. It's not fully enabled yet (e.g. Samsung Pay doesn't work), but when it's active it will work in situations the fingerprint reader fails (like having wet fingers).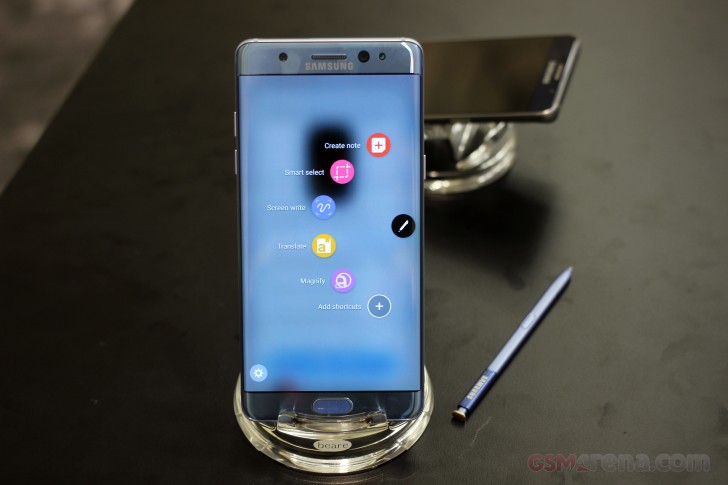 Samsung finally took the plunge and moved to USB Type-C. Perhaps put off by the bad microUSB 3.0 experience, but the company played it very safe. We are excited to see what Samsung does with it, the new Gear VR already supports USB Type-C passthrough so maybe there's something on the way.
The Galaxy Note7 is the fourth in a row to feature a 5.7" Super AMOLED screen. It has QHD resolution (vital for VR) and is curved on both sides, which helps make the phone more compact. It's easier to handle than the Note5, it feels like a sligthly bigger S7 edge.
Samsung has a solid plan for aftermarket value too. You may get a free Gear Fit 2 at launch and later you may be enticed to buy Gear IconX headphones for a full exercise package. There's the Gear VR + Gear 360 combo too, that lets you take photos and relive memories in VR.
Finally, the Samsung Galaxy Note7 offers the usual polished experience. Galaxy S brings the new features, Note perfects them - sounds simple and it is when you've practised enough. The strong sales of the S7 pair bode more than well for the Note7 - which in turn makes no mistakes and is globally available once again.