Life in the fast lane
Samsung Galaxy S5 vs LG G2: Life in the fast lane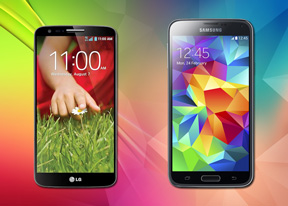 When you're buying a flagship these days you're expecting great multimedia capabilities regardless of the platform. It's gotten to the point when people don't really look to close at what a smartphone offers in terms of gallery, video and music players or connectivity options, because we've got used to getting the best there is, at this price point.
To each its own, though - Samsung and LG have their little touches here and there which will outline the differences in the multimedia handling.
So without further ado.
Galleries
The Samsung Galaxy S5 gallery is a grid of thumbnails, which can be resized by a pinch zoom. You can sort using the usual filters: recent, events, albums, etc. Once you're in an album view you can always invoke the side bar with the other albums by performing an edge swipe, which is very convenient.
LG's gallery also stacks photos in resizeable thumbnails and offers the usual filtering options. Once inside an album you can't go back to the view with all your albums with a swipe like in TouchWiz.
The LG G2 and Galaxy S5 offer batch operations for sharing, deleting or rotating images. Both have their separate editing options or you can use Google's excellent Photos editing software.
Naturally both galleries support full-resolution images as well as panoramas.
There are capable file managers provided on both the Galaxy S5 and the LG G2. They have pretty similar interfaces. Samsung's My Files app lists your files by category (Images, Videos, Audio, etc.) and has a recently viewed section. There's also a download history and Dropbox integration as well. LG's is pretty much identical save for the Recent files folder.
The My Files app on the Galaxy S5 adds the ability to scan for an FTP server or search nearby devices that have wireless sharing on, features missing on LG's side.
Winner: Samsung Galaxy S5. The Galaxy S5 has a slightly more intuitive way of going through albums that the LG G2 lacks. The better file manager is an added bonus.
Music players
The Samsung music player has been aligned with the new, flat, minimalist look of KitKat on the Galaxy S5. The refreshed interface aside, the Galaxy S5's music player has retained its excellent functionality.
Music square is a standout feature of the music player - the phone will scan your music library rating each track in terms of tempo (Exciting or Calm) and emotion (Passionate or Joyful). It can then load a playlist matching your chosen tempo and mood. The emotion axis in the graph can be switched to Age, which makes it easy to automatically create a playlist of classics or contemporary hits.
The SoundAlive equalizer presets are cleverly organized into a square similar to the Music Square. The presets balance Treble and Bass, Vocals and Instrumental. You can also just tap the Auto toggle or enable a Tube amp effect, 7.1 channel virtualization, along with Studio, Club and Concert Hall effects.
Adapt Sound tests the performance of your earphones and tunes the equalizer based on the readings to provide you the ultimate listening experience.
LG's music player allows you to check online for information on the artist, album or track you're listening to, straight off the now playing screen.
It also comes with its own equalizer with predefined settings or you can choose to set it up yourself. It lacks Samsung's smart features like Adapt Sound, though.
Otherwise you get the same great functionality. The LG music player won't act like there's no other music aside from playlists and albums and will respect your folders, just like the TouchWiz player.
The LG G2 has a built-in FM Radio with RDS. The Galaxy S5 lacks the feature.
Winner: Tie. The Galaxy S5 has some advanced features like Adapt Sound. The LG G2 offers an FM Radio.
Video players
The video player hasn't changed in the way it displays your video files. There's a thumb view of all your videos in a vertically-scrollable list. Videos also run in the background while you're browsing the list like on previous Galaxy devices.
There's a great chapter view that segments a video into chapters for faster navigation.
LG's video player also revolves around a vertical grid of video thumbnails. Videos you've already watched will have a little icon indicating you've seen them and you can pick up where you left off.
On the Samsung Galaxy S5 you can pop a video out of the video player and have it overlay the homescreen or any other screen, using Pop Up Play.
The same thing can be done on the LG G2 using Q Slide.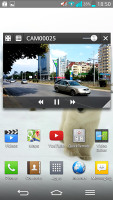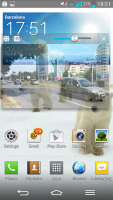 Q Slide lets you watch a video, while using the smartphone
When it comes to actual codec support the Galaxy S5 falls miserably short of the LG G2's impeccable resume. Every file played on the G2 while the Galaxy S5 has issues with even regular files like DivX or MKV.
Winner: LG G2. You may prefer the Galaxy S5's video player interface but the LG G2 gains points where it counts - playing actual videos better. The bigger screen is also a point in the G2's favor - the on-screen buttons move conveniently out of the way.
Audio quality
Both the LG G2 and Samsung Galaxy S5 deliver stellar audio output that should please every audiophile. Yet the Galaxy S5 just managed to edge its opponent here with better stereo quality when headphones are used and generally louder output.
| | | | | | | |
| --- | --- | --- | --- | --- | --- | --- |
| Test | Frequency response | Noise level | Dynamic range | THD | IMD + Noise | Stereo crosstalk |
| Samsung Galaxy S5 | +0.02, -0.08 | -96.3 | 93.3 | 0.0017 | 0.0089 | -95.2 |
| Samsung Galaxy S5 (headphones attached) | +0.01, -0.08 | -96.3 | 93.3 | 0.0095 | 0.018 | -61.9 |
| LG G2 | +0.03, -0.28 | -91.9 | 91.9 | 0.0097 | 0.011 | -91.3 |
| LG G2 (headphones attached) | +0.07, -0.03 | -91.5 | 91.8 | 0.037 | 0.041 | -54.3 |