Droid gladiators
Samsung Galaxy S5 vs Sony Xperia Z2: Droid gladiators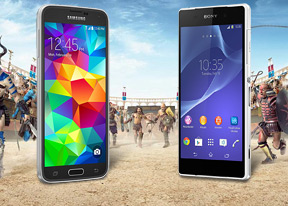 Other apps
We won't go into detail about the phone and messaging apps, but the flagships offers some features that deserve a mention.
The Sony Xperia Z2 has an unusual Slow Talk option that will slow down the speech of the other caller. We guess this could be useful for bilingual calls where you need more time to process what was said. The phone app even has an equalizer with Normal, Bright and Smooth presets.
The Samsung Galaxy S5 is offering voice modes of its own - including support for the cool Adapt sound feature. The smartphone is also pretty concerned with who calls you. Blocking mode disables notifications for calls and messages (even alarms and timers) during select periods. Only priority contacts can get through.
The phone will also help you fight spam by blocking certain numbers from calling or sending messages. Other message features include delayed send, which waits 3 to 30 seconds before actually sending the message (you know how you spot a typo only after you hit send?).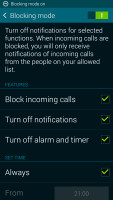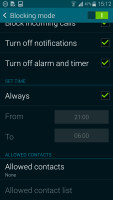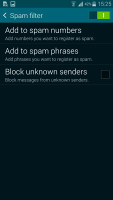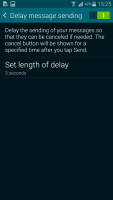 Blocking mode • blocking spam messages
Both companies worked on their own keyboards. They have the basics like predictive input and swipe typing, but Samsung has added a small floating keyboard option, which takes up less space and can be moved around (good for Multi View use). Sony's keyboard is skinnable - how it looks and what buttons are available can be customized with a quick setup wizard.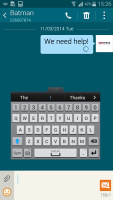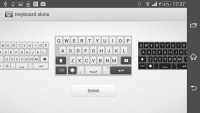 Floating mini keyboard on TouchWiz • skinnable keyboard on Xperia Z2
Both phones come with fully-fledged Office suites though they do differ in their choice of app. The Samsung Galaxy S5 lets you download Polaris Office 5 for free but you'll need to sign up for Samsung Apps. The Sony Xperia Z2 on the other hand comes with the Office Suite 7 preloaded.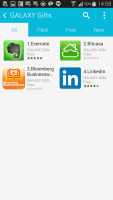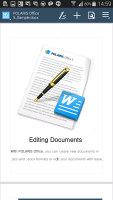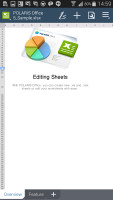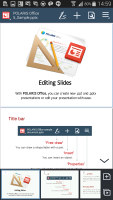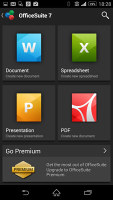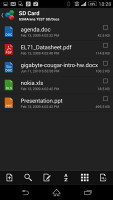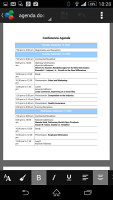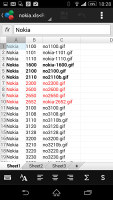 Polaris Office 5 on the Galaxy S5 • Office Suite 7 on the Xperia Z2
Samsung is entering the health lifestyle business with multiple accessories, but the Galaxy S5 also has a heart rate monitor on board. Better yet, it comes with the S Health app, which is a complete solution - it tracks you calorie intake and exercises in detailed logs. The heart rate monitor allows it to get a more accurate reading on how many calories you've burned.
The accelerometer-based step counter always works in the background, so you get credit for walking during the day too. S Health can connect wirelessly to accessories - both over Bluetooth 4.0 and ANT+, and both Samsung-made and third-party accessories.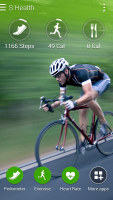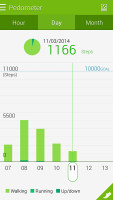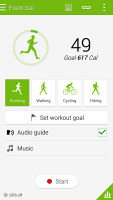 S Health counts your steps and measures your heart rate
Sony has a health accessory too, the Smart Band. It works as a step counter, but it will also monitor your sleep and pick the best time to wake you. It comes with a Lifelog app that is part exercise tracker, part life logger. This app doesn't work well without the band though and the exercise tracking isn't nearly as advanced as what S Health offers.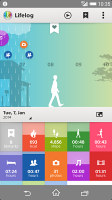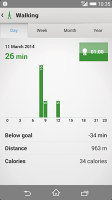 Sony's Lifelog tries to track your exercise as well as your life story
One Sony market Samsung hasn't entered yet is gaming. The PlayStation app connects to your PS4 console and lets you view news, your profile, chat with PSN friends and display game alerts. The Xperia Z2 is also compatible with DualShock 3 controllers so you can play games with proper joystick and buttons.
The What's new app will help you discover new games and apps.
We already mentioned the IR blaster on the Galaxy S5 and the app that controls it. Smart Remote does more than just change channels though, it will ask which service provider you're using and display the TV schedule, as well as offer the synopsis of the upcoming episode or let you set a reminder.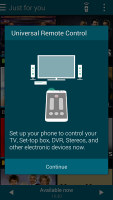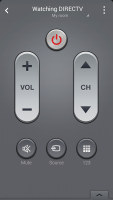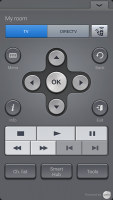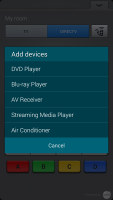 Smart Remote can replace regular IR remotes
Sony bundles the Smart Connect app on its phones with which you can automate certain tasks. It can mute the phone during the night or start the music player when you plug in the headphones. The company has yet to add NFC support though.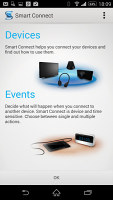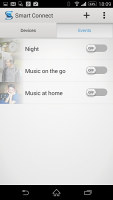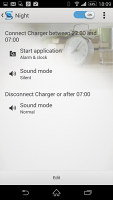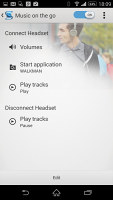 Smart Connect lacks NFC options
Winner: Samsung Galaxy S5. Blocking mode, S Health and an IR app are all great to have out of the box.
The Sony Xperia Z2 will probably appeal to the gaming crowd with its PlayStation integration - both the console and the controller.