Droid gladiators
Samsung Galaxy S5 vs Sony Xperia Z2: Droid gladiators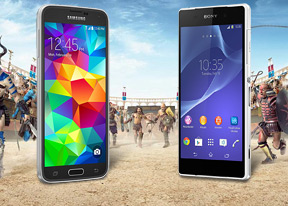 Multimedia
Sony and Samsung have respectable camera divisions and compete in image quality but also value-added features. We'll see camera performance in the next chapter, first we'll visit the multimedia apps each company has preloaded.
Both gallery apps are custom jobs and feature extensive support for online albums. Sony pushes its PlayMemories service along with Facebook, Picasa and Flickr. It features Globe and Map views, great for finding photos you snapped abroad, and a SensMe slideshow that groups similar photos together automatically.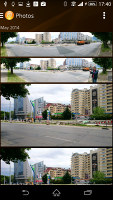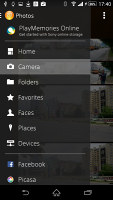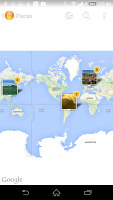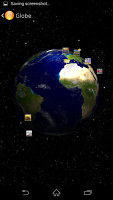 Sony's gallery features online album integration and map view
The Samsung Gallery also supports Facebook and Picasa, plus Dropbox. While the Xperia Gallery can group photos by the people in them, Samsung took this a step further and lets you filter photos by more categories: scenery, documents, pets, food, vehicles.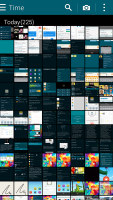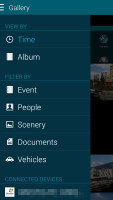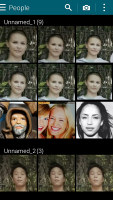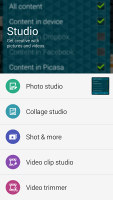 TouchWiz gallery with advanced filters • Studio offers extra editing options
Sony has deep roots in the music industry and uses the music player on the Xperia Z2 to feature its Music Unlimited store, which can also be a great tool for discovering music with Charts, New Releases and Channel categories. It can also be completely disabled.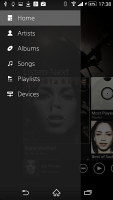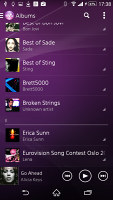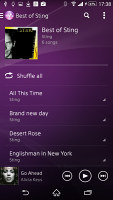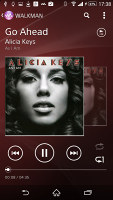 Sony's Walkman-branded music player
The music player features a neat trick - the infinity button allows you to do quick lookups related to the song you're listening to. This could be finding the video on YouTube, looking for lyrics, checking out info about the artist on Wikipedia and more (it can be extended by way of plugins from the Play Store).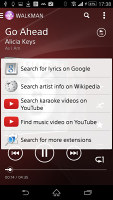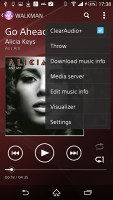 Finding additional contetn with the infinite button • more options
As for audio quality settings, the Xperia Z2 features a 5-band equalizer, a Clear Bass setting, Clear Stereo (it enhances the stereo effect), ClearAudio+ (adjusts the audio settings to fit the song) and dynamic normalizer (which levels out volume differences between tracks).
If you're listening music on the front-facing speakers on the Z2, Clear Phase and xLOUD promise to improve the audio quality and boost the volume respectively.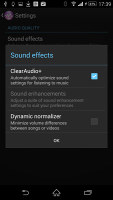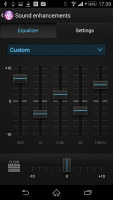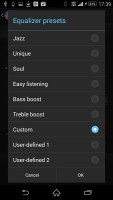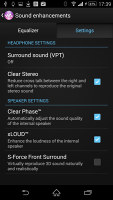 Various sound enhancement for headphones and the stereo loudspeakers
The Sony flagship also has an FM radio with RDS and TrackID integration. Once TrackID recognizes the song, you can post an "I'm listening to..." update on Facebook.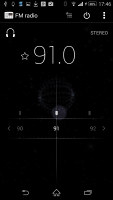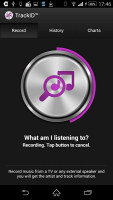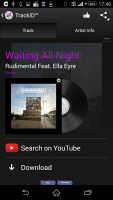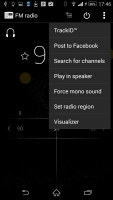 FM radio with RDS and built-in song recognition
The Samsung Galaxy S5 does not have stereo speakers or a radio, but it does have Music square to match SenseMe Playlist on the Sony. The two features build playlists automatically after you select a mood (Passionate or Joyful) and tempo (Exciting or Calm).
The Galaxy S5 uses a similar square interface to simplify picking an equalizer setting or you could do it manually with a 7-band equalizer. Adapt sound can tune the settings automatically for your headphones by playing a series of beeps to assess which frequencies work and which don't.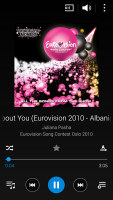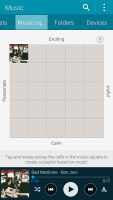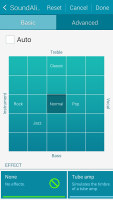 Samsung's music player • Music square • simple view of the equalizer
Smart volume is the name of the feature that equalizes the volume between tracks and you get a number of presets from SoundAlive.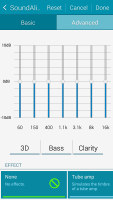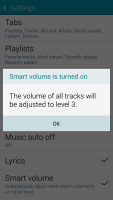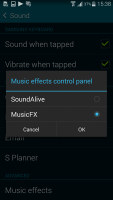 Advanced equalizer view with additional settings
The video players on both phones suffer from relatively poor codec support. Notably DivX is missing, though the XviD works. Both players support MP4 and MKV files, which have overshadowed AVI in recent years - and both work fine. Unless they have multi-channel audio that is, both players pretty much only work with MP3 and AAC.
Both phones support subtitles and carry over the sound options from their music players.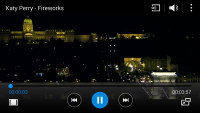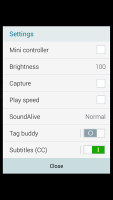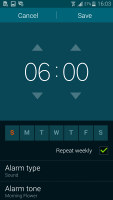 Samsung's video player • subtitle and sound options • Pop Up Play
The Samsung Galaxy S5 has Pop Up Play, which puts the video in a small, resizable window if you want to use another app while watching video.
Sony's video player has an extra trick up its sleeve - much like the song recognition engine in the video player, it can recognize a movie and pull additional info including cast and plot summary.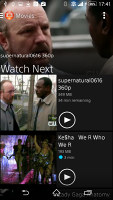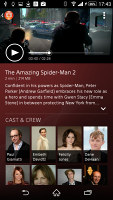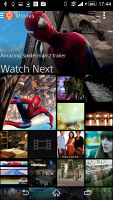 HTPC-like video player from Sony
Winner: Samsung Galaxy S5. By just a hair but the image gallery has more sorting and editing options and the music player is friendlier to beginners.
The Sony Xperia Z2 has FM radio and the Infinite button offers some helpful search functions, but neither is enough to topple the feature-heavy Sense.
Audio quality
The Sony Xperia Z2 and Samsung Galaxy S5 both deliver excellently clean audio output worthy of their flagship status. The Samsung handset has a slight edge, which will be impossible to detect by all but the most hardcore audiophiles armed with ultra expensive headphones.
The volume level difference is far easier to spot though and it's clearly in favor of the Galaxy S5.
| | | | | | | |
| --- | --- | --- | --- | --- | --- | --- |
| Test | Frequency response | Noise level | Dynamic range | THD | IMD + Noise | Stereo crosstalk |
| Sony Xperia Z2 | +0.02, -0.08 | -88.2 | 90.1 | 0.0063 | 0.013 | -88.9 |
| Sony Xperia Z2 (ClearSound) | +0.02, -0.08 | -84.1 | 87.1 | 0.0077 | 0.055 | -46.2 |
| Sony Xperia Z2 (headphones) | +0.08, -0.05 | -89.8 | 91.4 | 0.307 | 0.320 | -64.1 |
| Sony Xperia Z2 (headphones - ClearSound) | +0.08, -0.04 | -84.7 | 87.6 | 0.120 | 0.066 | -60.2 |
| Samsung Galaxy S5 | +0.02, -0.08 | -96.3 | 93.3 | 0.0017 | 0.0089 | -95.2 |
| Samsung Galaxy S5 (headphones) | +0.01, -0.08 | -96.3 | 93.3 | 0.0095 | 0.018 | -61.9 |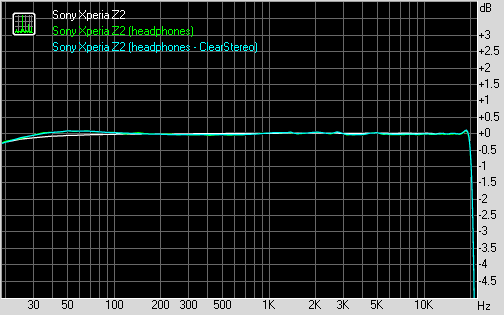 Sony Xperia Z2 frequency response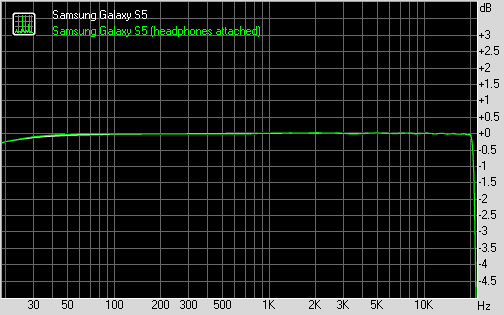 Samsung Galaxy S5 frequency response
You can learn more about the tested parameters and the whole testing process
here
.
Winner: Samsung Galaxy S5. While the majority of users will be perfectly happy with the output of either smartphone, the Galaxy S5 manages to edge its rival in terms of both cleanness and loudness of its audio.