Gallery
The gallery's default view shows photos grouped based on time. Thumbnails are shown on a clean white background and you can change their size with a pinch zoom gesture.
Events uses time and location to group photos and automatically create "Video highlights," a slideshow accompanied with music. You can export that to a video to share on your social network of choice.
The Categories view groups multimedia by type - pictures, videos, slow-mo videos, Virtual shots and so on. The People category groups photos based on the faces in them. There's also a Documents category. You can use the Search shortcut to look for photos based on category, people, time, event, location and so on.
Batch operations are gone, but you can easily move photos to Private mode (this requires activating the mode). Editing tools include simple things like Auto adjust, crop and rotate, but you can also do collages and go into the Photo editor, which is the usual Android editor with more advanced crop and rotate tools, color adjustment, effects and dedicated portrait enhancements (slim face, large eyes, you get the idea).
The Share button allows you to send a photo to a device over DLNA, to a TV using screen mirroring or to a wireless printer. Samsung also has a special feature to send profile photos and high-resolution images to your contacts as a sort of mini social network. For non-Samsung devices, recipients get a link over text message, the link expires after a certain period.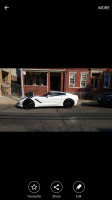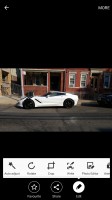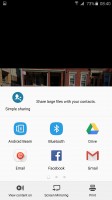 Editing an image • sharing a photo
Music player
Samsung's TouchWiz music player used to be one of the most feature-bloated apps, but the company has done some work to trim the fat. The app looks very clean now, essentially it has just two screens.
One lets you browse tracks and playlists, with a dropdown menu to switch between views including Folder view. The Music square is gone. The other screen is the Now playing with album art and a few playback controls. You can transfer playback to a Bluetooth or a DLNA device.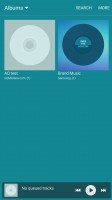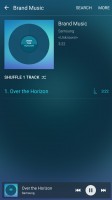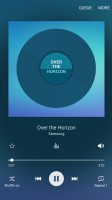 The music player has a clean interface
SoundAlive has gotten rid of the square view too, now it has two dials - one changes the balance between bass and treble, the other between instrumental and vocals. You can tap the Details button for a manual 7-band equalizer. Audiophiles should know 16-bit and 24-bit FLAC audio works out of the box.
Adapt Sound is available to automatically tune the equalizer based on your headphones and your hearing. Additional options include SoundAlive+ (creates a surround sound effect) and Tube Amp. There's also Smart volume to balance the volume between tracks and playback speed if you want to slow down or speed up the playback (useful for audio books we guess).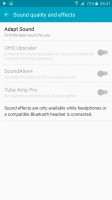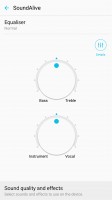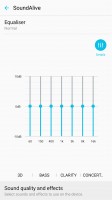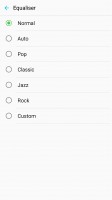 SoundAlive • 7-band equalizer • Adapt Sound
One of the most important additions to the audio credentials of Samsung Galaxy Galaxy S6 edge+ is the UHQ Upscaler. Developed by Samsung, the feature enhances the "sound resolution" of music and video files for better experience with headphones.
Video player
The video player supports all kinds of video file types and codecs, up to 4K 2160p encoded with the new H.265/HEVC codec. As with most phones though, multi-channel audio (AC-3, DTS) is not supported.
The Pop up mode puts the video in a small floating window so you can keep watching while using the phone.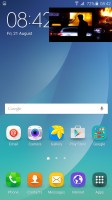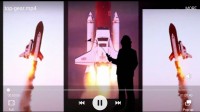 A capable video player right out of the box
There are extensive subtitle settings with adjustable font and text size, text color, edge and background. Multiple presets are available and you can make your own.
You can send video files to DLNA players or use screen mirroring. Alternatively you can beam just the audio over Bluetooth, the Play audio only option is useful for music videos - playback continues, while you use the phone as normal.
There are built-in video editing options including trimming, video color effects and adding background music (with sliders to control the audio volume from both the video and the background music). A more advanced video editor can be downloaded. It can assemble multiple videos and audio tracks together.
Audio output impresses with loudness, has excellent clarity
The Galaxy S6 Edge+ is easily among the most impressive musicians in the Samsung family. The company's flagship lineup has mostly done excellently in our tests, but the curved phablet still managed to outdo them. It had flawlessly clean output when working with an active external amplifier and it garnished it very loud output for an impressive showing.
More impressively, plugging in a pair of headphones didn't cause the volume to drop at all, making this the loudest Galaxy smartphone with a headset plugged in so far. In fact, the only deterioration we spotted with the headphones attached was a moderate hike in stereo crosstalk - it's not the best reading we've seen there, but it's still decent and everything else is simply flawless. An impressive showing indeed.
And here go the results.
| | | | | | | |
| --- | --- | --- | --- | --- | --- | --- |
| Test | Frequency response | Noise level | Dynamic range | THD | IMD + Noise | Stereo crosstalk |
| Samsung Galaxy S6 Edge+ | +0.02, -0.05 | -93.3 | 93.2 | 0.0017 | 0.0070 | -93.7 |
| Samsung Galaxy S6 Edge+ (headphones attached) | +0.03, -0.02 | -93.0 | 93.1 | 0.0058 | 0.038 | -58.3 |
| Samsung Galaxy Note5 | +0.04, -0.01 | -93.6 | 93.5 | 0.0024 | 0.0076 | -94.7 |
| Samsung Galaxy Note5 (headphones attached) | +0.02, -0.05 | -93.1 | 93.2 | 0.0023 | 0.030 | -84.1 |
| Samsung Galaxy Note 4 | +0.01, -0.04 | -96.6 | 93.4 | 0.0015 | 0.0086 | -94.2 |
| Samsung Galaxy Note 4 (headphones attached) | +0.03, -0.02 | -96.8 | 93.5 | 0.011 | 0.035 | -55.2 |
| LG G Flex2 | +0.01, -0.06 | -92.5 | 92.5 | 0.0031 | 0.012 | -91.5 |
| LG G Flex2 (headphones attached) | +0.03, -0.10 | -92.6 | 92.1 | 0.0027 | 0.387 | -60.1 |
| Apple iPhone 6 Plus | +0.04, -0.04 | -94.0 | 94.0 | 0.0013 | 0.0064 | -72.0 |
| Apple iPhone 6 Plus (headphones attached) | +0.10, -0.04 | -94.0 | 93.9 | 0.0016 | 0.087 | -64.1 |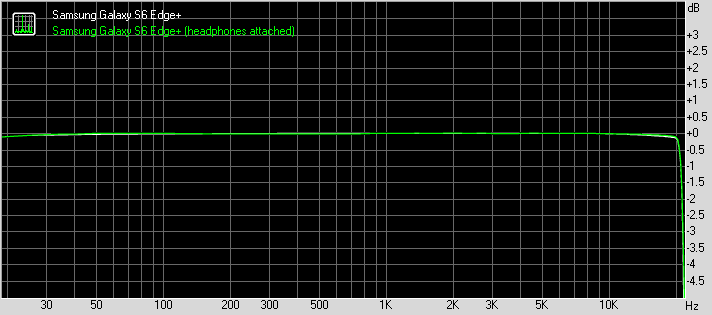 Samsung Galaxy S6 Edge+ frequency response
You can learn more about the tested parameters and the whole testing process here.