Bixby
Samsung has taken 2017 to introduce a brand new assistant but stumbled in the process. It announced Bixby alongside the Samsung Galaxy S8 without the ability to use voice commands in English, only Korean was supported at launch.
Today, Bixby is only bilingual: it can only speak Korean and English. Not only that, but the dedicated button has been deemed useless by Galaxy S8 users in other countries with the ability to disable the feature only arriving after the Galaxy Note 8's launch. And that's disabling not re-purposing.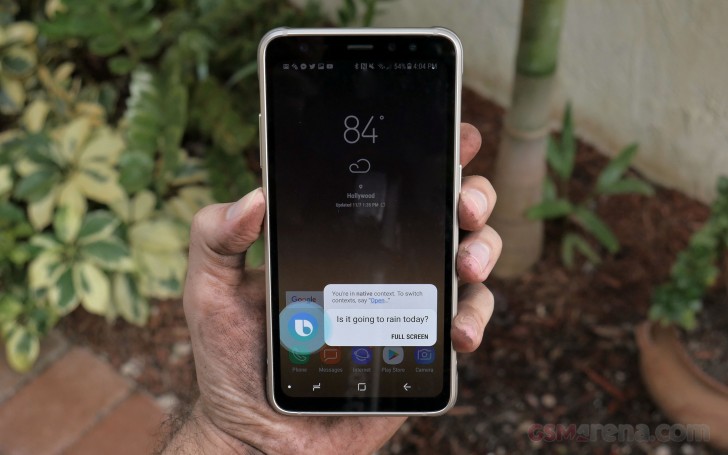 We do understand Samsung's efforts with Bixby, but it is a huge undertaking, even for a company as large as Samsung. Perhaps Bixby came into play a bit later than other voice assistants that have been around for several years. With other smartphone assistants like Google Assistant (the one available on virtually every Smartphone, including iOS), Siri, Alexa, Cortana, and Sound Hound. It seems all these companies want to be a part of your daily life.
So much so, in fact, that Samsung has even set up a rewards program to encourage potential users to take a chance with the assistant.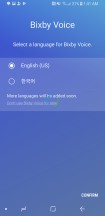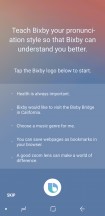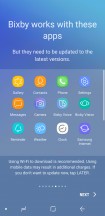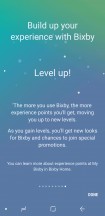 Bixby Voice • Teach it how you speak • Sample commands • Apps • XP Rewards
There are a few premises of Bixby, though there's only one that stands out above other mobile assistants: the ability to perform actions within apps. At least in theory.
It can do things like "open music and play top charts" or "open messages and show me the last message". Bixby can understand what you're doing and help you contextually. We understand what Samsung is trying to do here, but in its current state, we'd rather perform actions and tap around ourselves.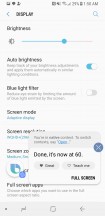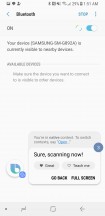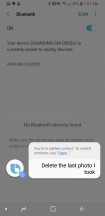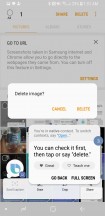 Set brightness • Find new Bluetooth devices • "Delete the last photo I took"
We asked Bixby to "Turn off double tap power button to open camera" and to our surprise, Bixby understood what we were talking about. Sometimes being very specific with the commands doesn't work, but other times it did.
We asked Bixby to "Search for Wendy's on Google Maps", but were baffled when Google Maps didn't react to Bixby. Searching for a nearby location is something that Google Assistant (or Google Search, for that matter) can do very easily, however Bixby was unable to deliver, especially on something as common as finding a nearby business. We also tried to search for a "Walgreens" drug store and got the same result.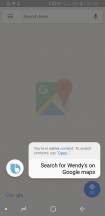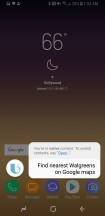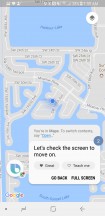 Searching for a nearby location made us wish we asked Google
Finally, we asked Bixby about the weather, this fared much better. It was also able to understand the context of the previous query. For instance, we asked about the weather, and then asked "What about this other place?"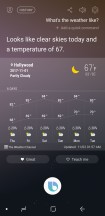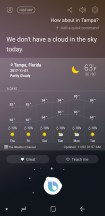 What's the weather like? • How about in Tampa?
Bixby Reminders works much like Google Now did when it first launched. Ask Bixby to create a reminder based on location or time. Reminders will show up on the lock screen and will appear in the Bixby's feed of cards.
We asked Bixby to remind us to "pick up toothpaste when we go to the grocery store". In turn, Bixby offered us "2 paste" and then prompted us to choose which grocery store we were referring to. By contrast, Google reminders can take the same command and show you this reminder at any place categorized as a grocery store in Google Maps. Bixby has a long way to come if it wants to compete with Google Cards/Assistant.
Bixby Vision is built into the Galaxy S8 Active's camera. There's a button in the lower left corner that summons Bixby to figure out what's in front of the camera. We tried it with a couple of things. It works okay. Shopping results default to Amazon. Otherwise, you can extract text, and the translate tool may come in handy.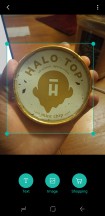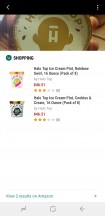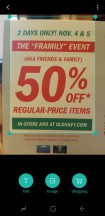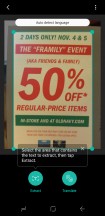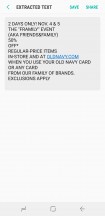 Shopping • For Ice cream • Text extraction was quite good
Finally, Bixby Home is a card based interface. The one that lives to the left of the home screen. You can also quickly access Bixby Home by pressing the Bixby key one time. It extracts data from various apps and puts them all into one feed. The idea is somewhat reminiscent of HTC's Blinkfeed. The difference here is that Bixby Home also includes reminders, calendar appointments and recently used apps. Okay, it's very similar to Google Now/Cards.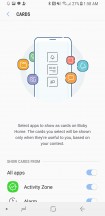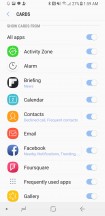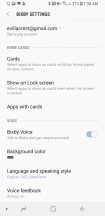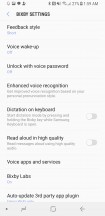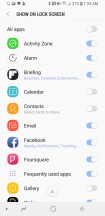 Bixby Cards • more cards • Bixby Settings • more settings • Bixby cards on lock screen
Activity Zone
Even though it's a very basic app, the premise of the Activity Zone is that it's a useful tool for hikers or explorers (or anyone really) to find their way around. The barometer will let you know your altitude and the atmospheric pressure can be useful information for hikers to predict rain. There's also a shortcut to the Samsung Health app where your step count is shown.
If you've used or owned a Samsung Galaxy Active device of the past few iterations. You'll remember that there is was an extra physical key. In the Galaxy S7 active, this was an Activity Key, its purpose - out of the box - was a shortcut for Samsung's Activity Zone app. This is an app meant for active folks, either those who love to hike or run outdoors. This key could be programmed for anything else, should you decide to.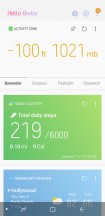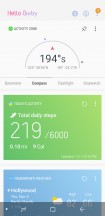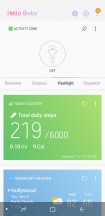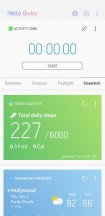 Bixby Home card: Barometer • Compass • Flashlight • Stopwatch
Well, we know Bixby happened this year. So the Activity Key situation isn't the same as it was last year. However, Bixby Home has an Activity Zone card that is pinned at the top. The card has four tabs, and each one serves as a different Activity Zone feature.
So Bixby didn't technically drive the Activity Zone app out of its place, it merely reserved a space for Activity Zone to continue to exist when pertaining to a physical button shortcut.