Telephony and text input
The Samsung Galaxy S8 Active is solely available for AT&T. Though rumors have been swirling towards a possible release on other US carriers and even an international variant. We wouldn't hold our breaths for a dualSIM variant, though.
In any case, the Galaxy S8 Active's call log and phonebook are integrated into the same interface with a dialer pad that can be shown by tapping on the green button in the lower right corner.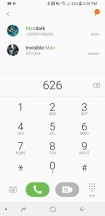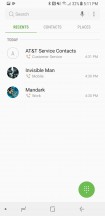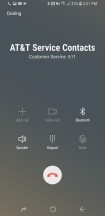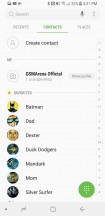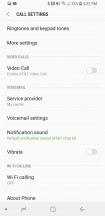 Dialer • Recents • In-call screen • Contacts • Settings
Likewise, this version of the phone comes with a "Places" tab in the dialer. It can look at what's nearby and provide the phone number or address instantly. Sadly, there's no map view.
Do Not Disturb mode can be set to activate and deactivate based on the schedule you choose. When activated, only priority notifications are able to make noise, you can decide which specific notifications will be prioritized over others whether they are from a specific app, contact, or phone calls.
The S8 Active uses the Samsung Keyboard, which the phone maker has been using for a long time and is a favorite among long-time Samsung users. There are plenty of features like word suggestions, additional characters on each key (accessible via press-hold), and a dedicated numbers row.
There's also swipe input, My Hot Keys (which are pre-programmed phrases accessibly by long-pressing a number key), and voice-to-text dictation.
Pre-installed apps
We are sad to see that even these days, carrier-branded smartphones still come with some amount of bloatware. While this isn't entirely true of the Galaxy S8 Active on AT&T, the setup process includes prompts to install recommended apps from "AT&T App Select", which is a fancy way of naming sponsored apps.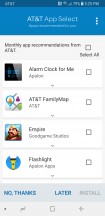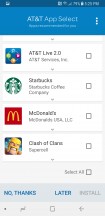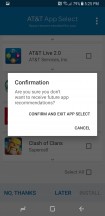 AT&T App Select "Recommended" apps
The app drawer is very clean and well organized. There are three folders in the app drawer which categorize more apps from: AT&T, Google, and Samsung apps.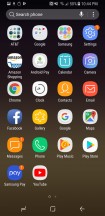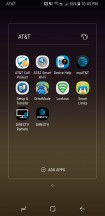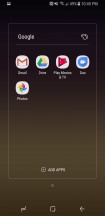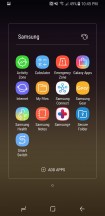 App Drawer apps: Main • AT&T • Google • Samsung
Samsung has a web-browser of its own, which incorporates the Samsung Pass service, featuring a Web sign in - a password manager that can be accessed with your iris or fingerprint. Just keep in mind that if you do opt for Samsung's solution, you'd love syncing across non-Samsung devices.
Samsung Health is the in-box fitness tracking app from the phone maker that takes advantage of the heart rate and blood-oxygen sensors outfitted next to the camera's LED flash. It counts steps, tracks runs, walks, and cycling, and even offers water, caffeine, and calorie intake. It's also the go-to fitness tracking app for Samsung's wearables.
It also offers cloud syncing via a Samsung account and the app is not exclusive to Samsung phones, so you can use it on any other Android phone. Use Samsung Health to compete in step challenges with your friends as well.
Samsung offers its own Device maintenance control panel, which can be accessed from the Settings. It looks over battery, RAM, Storage, and Device Security. This is a tool to clean up unnecessary files or track down apps that drain battery of use excessive amounts of RAM. You can use each tool individually or use the big "Optimize now" button to execute it all at once.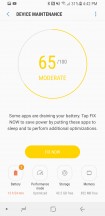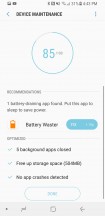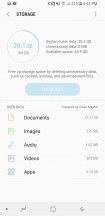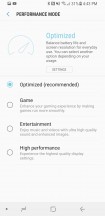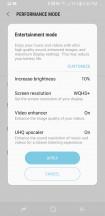 Device maintenance • One-tap optimization • Storage • Performance modes
Battery management offers two power-saving modes- Medium and Maximum. Medium lowers the display resolution, CPU speed, brightness, and shots off the AOD. Account syncing and background network usage is also reduced. Maximum battery saving is more extreme. This sets a black background and disables many of the phone's features to help you squeeze several hours of use out of a low battery.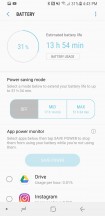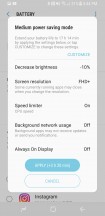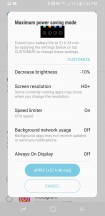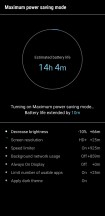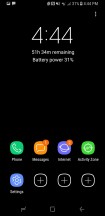 Battery management • Medium power save mode • Maximum power save mode
Samsung's file manager is called "My Files" and offers Google Drive and Samsung Cloud integration. You can zip files, extract zips, copy files between microSD or OTG storage, and you can perform batch actions.
Finally, Galaxy Apps is Samsung's self-made app store. Here you can find Samsung-made apps specifically made for Samsung Galaxy smartphones, Samsung's Kids Mode, and various other Samsung editions of apps as well as Apps that are already available on the Play Store.