12MP camera
The Galaxy S8 Active's camera is nothing new. In fact, it's the exact same camera that we've seen on the Galaxy S8 and Galaxy S8+. As the Note8 came out with Samsung's first dual-camera on a flagship smartphone, we may be able to expect a dual-camera setup on Samsung's next Galaxy S9 flagship.
We'll leave speculation of Samsung's next flagship for another day. But for now, let's talk about the camera optics. Samsung didn't' make major improvements between the Galaxy S7 and Galaxy S8's camera. In fact, the Galaxy S8 camera (the same on the S8 Active) is an incremental improvement over the Galaxy S7 - mostly, the software algorithms were tweaked, as this camera keeps identical specifications on paper. You get the same f/1.7 aperture, 26mm equivalent lens, phase detection autofocus, OIS and a single LED flash.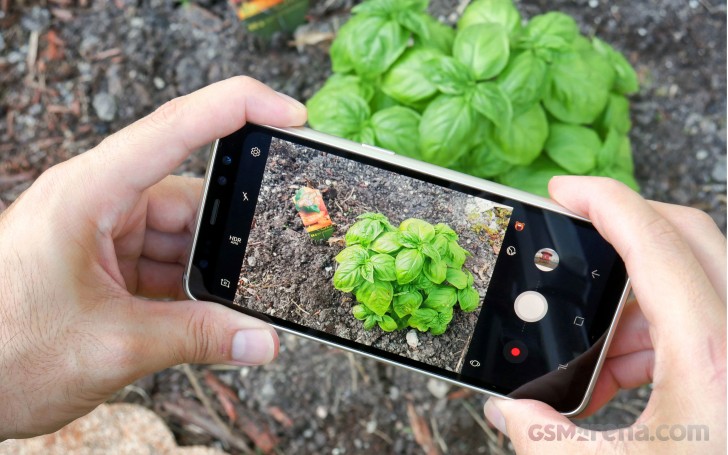 These software improvements are blended into what Samsung calls "Enhanced image processing" and "improved low-light performance". This is thanks to a new image stacking algorithm, one that Samsung officially calls "Multi-Frame Image Processing". As far as we can gather, this works similarly to the Google Pixel's HDR+ algorithm. Instead of a single shot, the phone takes several frames and blends them together, trying to preserve as much detail as possible by comparing pixels to isolate noise and produce clear images. This is all done seamlessly and in the background.
While we're on the topic of shutter buttons, Samsung's camera interface is pretty straightforward to use. It's familiar, but with a few extra controls and a couple of different interface changes.
There was one gripe that we had with Samsung's Camera in the most recent years, and that's the absence of a dedicated video recording viewfinder. Without one, it's hard to frame before hitting the record button since as soon as you do, the frame crops right in. Well, Samsung has solved this by offering a way to peek into the video viewfinder before starting to record.
If you tap and hold the video record button, the viewfinder will change to show you how the video camera would crop-in. This implementation is great because it keep things simple for basic users, but throws in the viewfinder preview for those who want to compose the shot.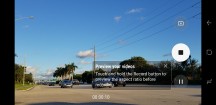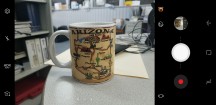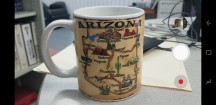 Tap-hold Rec button to see cropped viewfinder
Something that Samsung has done is it brought some new filters into the main camera interface. Swipe to the left to access them. Here, there are two pages of filters, one page of stamps and another page of Snapchat-style caricature overlays. Needless to say, they're okay for the occasional laugh or silly selfie for those who'd rather not sign up for a Snapchat account.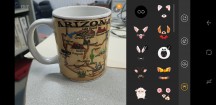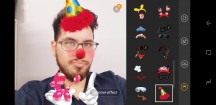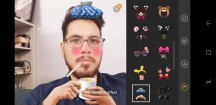 Not bad, but not quite as good as Snapchat
To flip from the rear camera to the front, Samsung has gone with a swipe-gesture. Swipe up or down on the viewfinder to switch. This was likely to reduce the number of buttons that appear on the viewfinder.
For the vanity selfie taker, there are plenty of real-time adjustments available in the S8 Active's camera UI. That's what the head icon will do. There's "Shape correction", "Large eyes", "Slim face", "Spotlight", and "Skin tone". Spotlight will play with the exposures on your face to make alter the lighting's appearance while the rest of the enhancements are pretty much self-explanatory.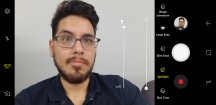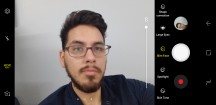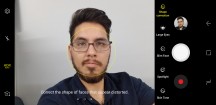 Selfie camera real-time effects
The S8 Active includes extra camera modes, some of which are pretty self-explanatory. Selective focus captures a couple of shots and lets you readjust the focus after the photo is taken. There's also a "virtual shot" method, which is cool: it's kind of like taking a panorama, but instead it's done around a subject like a person or an object. It wasn't totally impressive, and sharing these involves exporting them as video files.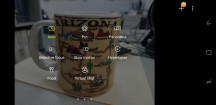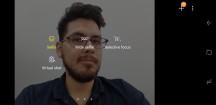 Camera Modes: Main camera • Front camera
On the other hand, Pro mode puts various camera controls at your disposal and is really impressive. It offers control for ISO, white balance, shutter speed, exposure compensation and even options for metering and there is even focus peaking for the manual focusing.
Pro mode also offers you the option to save RAW photos for the best possible quality of image to tweak in Photoshop or the like. There are also Quick Launch and voice control options like saying "cheese" to take a picture or put your palm out to trigger the shutter. There's also a "Floating camera button", which you can drag and drop to any part of the screen, great for those strange one-handed angles.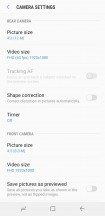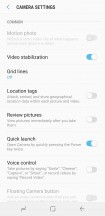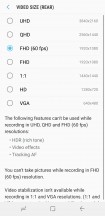 Camera settings: 1 • 2 • Video resolutions
The Galaxy S8 Active captures images at a resolution of 4032x3024 pixels with its 12MP sensor. However, you have the option to change the image's aspect ratio from the native 4:3 sensor. Thing is, we'd advise against this since it crops pixels away from the sensor, leaving you with a smaller field of view. If you still want to, you can crop the frame to a 16:9 aspect ratio or 18.5:9 so the image fits perfectly within the entire area of the phone.
Image Quality
In most scenarios, the Galaxy S8's camera is just as great as the previous generation of Samsung Galaxy flagships. In fact, we have trouble telling which photos were taken by which device. The fact of the matter is all short came with plenty of detail and dynamic range was great.
Colors are pleasingly vibrant, though it might be too vibrant for those who like to color-correct their own photos. In typical Samsung fashion, there's enough sharpening to go around, which makes for a more pleasant effect to many users.
We've added some shots taken with the Pixel 2 so you can see the difference. Some of these sample shots were taken close to twilight hour, so you'll notice how the Galaxy S8 Active produced shots that were slightly less exposed than the Galaxy S8. In the camera bag shot, you'll notice the Galaxy S8 Active's image is slightly sharper, thus showing more detail.
Low-light photos are very good with the Galaxy S8 Active. However, the Pixel 2 was consistently better in low-light performance. It was able to retain more details with the same amount of light thanks to Google's really good HDR+ algorithm. You can tell this, particularly in the pizza shot when looking at the bread.





Pixel 2 low-light comparison shots
You'll notice that a couple of the shots appear warmer on the Galaxy S8 Active than the Pixel 2. This was not an inconsistency by either device. Rather, each device balances colors differently. The Google Pixel 2's color balancing might be more inclined to balance lighting for the true colors while Samsung's S8 Active was probably coloring the scene more accurately (i.e. a warm sunset tone).
We would say the S8 Active accurately depicted what the twilight hour looked like, though we preferred the Pixel 2's detail reproduction. This is most apparent in the image of the palm trees against the sky.
As we mentioned, the Samsung Galaxy S8 Active is a great camera in low-light. We just really like the Google Pixel 2's ability to retain details in lower light and we think its low-light images look nicer, overall.
HDR can be set to Off, Auto, or On. In many scenes, you may not be able to tell the difference between HDR Auto and HDR On unless you actually compare the two shots. We'd advise you to leave it in Auto, as it does a pretty good job of figuring out where it should be used.
We might even predict that Samsung would hide the option altogether in the next generation of Galaxy flagships, just as Google has done on the Pixel (stuffing it within the camera settings) with the intention that users would leave it on all the time.
8MP selfie taker
Samsung updated the Galaxy S8 Active's front-facing camera with a higher-res 8MP sensor. This new setup also has an f/1.7 aperture with autofocus and Auto HDR. The front camera also gets its own mode selector, which offers "wide selfie" (a sort of panorama mode for taking selfies with multiple people), selective focus, and even virtual shot can be selected with the front camera.
There is a skin-tone correction effect, which softens your face. You can see its effect in the following samples.




Indoor selfie with skin tone: Off • 4 • 8
Outdoor samples showed plenty of detail, dynamic range is not amazing, though this is typical of front-facing cameras.



Outdoor selfie with skin tone: Off • 4
The selfie camera also uses a 4:3 aspect ratio sensor while video recording up to 1440p is supported. The samples were pretty good both outside and indoors. You can check out the camera section from the Galaxy S8+ review, where we go into more detail on the selfie camera and its special effects.
Video
The Galaxy S8 Active can record at up to 4K resolution at 30 fps. Video gets saved in MPEG-4 AVC with bitrates of just over 48 Kbps along with 48KHz stereo audio. There's also support for 1080p video at 60fps, which comes out with a bit rate of 28 Mbps. It's worth nothing that just like the S8, the Galaxy S8 Active has a 10 minute time limit for video clips taken in either 4K @ 30fps or 1080p @ 60fps video modes. We're not sure why this is, but Samsung didn't have such limits on the Galaxy S7.
Given that video footage isn't able to take advantage of Samsung's Multi-Frame Image processing, video is going to look the same as footage taken on the Galaxy S7. However, EIS is now available in all resolution modes including 4K. This means the Galaxy S8 Active is better at stabilizing camera shake when taking video while walking, for instance.
As you can see, 4K had a wobbly effect, one which can't be seen in 1080p video. So Full HD is better in shaky-cam situations.
4K videos are packed with detail well enough that you could extract frames from 4K footage and you may be able to pass it off as an 8MP image. Despite the fact that Samsung leans toward sharp and vibrant still images after processing, video rendering looks more natural and toned back. Again, this boils down to personal preference, but there's a noticeable difference between still images and video.
1080p videos retain what we consider flagship-grade quality, though there's a noticeable increase in noise over footage taken in 4K resolution. We're happy to report that we're no longer seeing focus hunting in 60fps, a problem that was apparent on the Galaxy S7 edge.
You can, of course, download untouched video samples, the way they came out of the Galaxy S8. We've uploaded on our server a 4K @ 30fps (19s, 117MB), a 1080p @ 60fps (18s, 61MB), and a plain 1080p @ 30fps (15s, 32MB) for you to examine in detail. (You can right-click or tap-hold and choose "save target as" to save to your device)