From outer space
Samsung I9000 Galaxy S review: From outer space

Text input, we love Swype
Text input is not usually a particularly exciting part of a review but the Samsung I9000 Galaxy S is different. It features an on-screen QWERTY keyboard by Swype in both portrait and landscape.
The way Swype works is instead of tapping on keys you sweep a finger across the keyboard. To "type" quick, you need to put a finger on the Q key and sweep over to U, then I, then C and all the way to K. There's a visual trail that marks your finger movement across the keyboard.
It doesn't matter if the trace goes over other keys, in fact you can't help it. But Swype recognizes the word you intended to enter with surprising accuracy - it correctly guessed "xylophone" without breaking a sweat.


Swype is a novel way to type
The high precision means that even fast sweeps will be recognized correctly, so you can enter text very quickly and keep the error rate reasonably low. With shorter words, there might be several combinations possible - in that case Swype simply prompts you to pick which one you meant. It has a pretty big built-in dictionary, but you can teach it new words too (just type them out the regular way and they will be stored for next time).
There's an excellent tutorial, which shows you step by step how to do everything with Swype - capitalizing, punctuation, how to write "soon" rather than "son" and a few other tricks.
Swype is very unobtrusive - it presents the user with a regular-looking QWERTY keyboard, on which you can type by tapping the keys the old-fashioned way. It's there if you like it - if not, you don't even have to turn it off or anything. Just type instead of sweep. Swype is cool though once you get the hang of it.
3D gallery is cool, but downsizes the images
The Samsung I9000 Galaxy S gallery is identical to the one found on the Nexus One. That's right, no TouchWiz customization here. The gallery automatically locates the images and videos, no matter where they are stored. The gallery boasts cool 3D effects and transitions, which we find rather attractive.
Images and videos placed in different folders appear in different sub-galleries that automatically get the name of the folder, which is very convenient - just like a file manager.
The different albums appear as piles of photos which fall in neat grids once selected.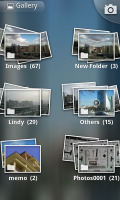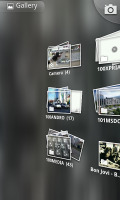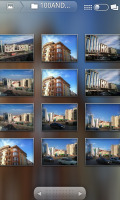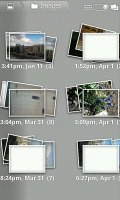 The gallery certainly is a looker • sorting by date
Alternatively, you photos can be organized by date with the help of a button in the top right corner, which switches between grid and timeline view.
In grid view, there's a date slider, which can also be used to find photos taken on a certain date.
If you dig deeper into sub-folders, you can use the tabs at the top of the screen to jump back several levels to the folder you need (similar to how the Explorer on Windows 7 works).
The gallery supports finger scrolling or panning so you can skip images without having to return to the default view. Just swipe to the left or right when viewing a photo in fullscreen mode and the previous/next image will appear.
The pinch zooming is also available here thanks to the Samsung I9000 Galaxy S multi-touch support but you can also use double tap or even the +/- buttons.
There are tons of options for a picture – you can crop or rotate it directly in the gallery. The Send feature offers quick sharing via Picasa, Email apps, Bluetooth or MMS.
Strangely, you can't zoom images up to 100%. Obviously the gallery displays only downsized versions of your images and you need to transfer them to a computer if you're into pixel-peeping.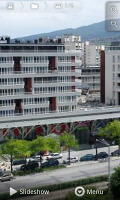 Zooming on a picture reveals 50% downsized image
Capable video player – 720p DivX/XviD clips are a cinch
The Samsung I9000 Galaxy S is among the best performers in the Android family as far as video playback is concerned. In addition to packing a dedicated video player app (though playing videos through the gallery is still possible) it also has DivX and XviD video support, which is rare in the Google OS family.
Performance with higher-res videos is great – it played 720p videos like a champ. Little wonder, considering it can record 720p videos. There's a TV-Out feature (though it's only SD) or you could use the DLNA support to stream videos and photos to your DLNA-enabled TV or media player (any PC with Wi-Fi and DLNA-capable software would do too).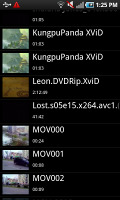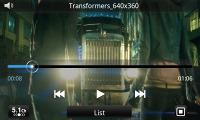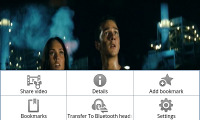 The Galaxy S video player is the best Android has seen
The interface of the video player itself is as simple and as it could possibly be. You get a list of all videos available on the phone and the on-screen controls boil down to play/pause and skip buttons, as well as a draggable progress bar.
Another interesting thing you can find in the player is the Outdoor visibility setting. It boosts the brightness and contrast of your Super AMOLED screen to give you better viewing quality outside. The video recorder also sports this option.
And last but not least the Galaxy S managed to get through 7 hours and 25 minutes of video playback before it battery reached 10 percent (at which point the player is automatically turned off) in our dedicated test. You can find more info about it in our blog.