Purified
Samsung I9505G Galaxy S4 Google Play Edition review: Purified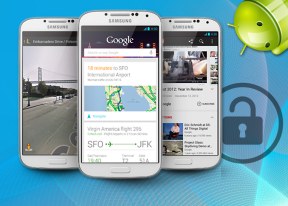 Design and handling
The Galaxy S4 Google Play Edition is the exact same size as the regular Galaxy S4 - 136.6 x 69.8 mm tall and wide and it's 7.9 mm thick. It weighs the same as well at 130 grams so it looks exactly as a regular S4 - that is, until you unlock it.
It's a very impressive feat on Samsung's part stamping a 5" display on such a thin and compact body without making it unusable. It's even more impressive when you consider there is a physical power button, which is also surrounded by two capacitive keys for menu and back. The Galaxy S4 Google Play Edition is still slightly taller than the Google Nexus 4 but offers a bigger screen without the need for on-screen buttons, which only waste the available screen real estate.



Samsung Galaxy S4 Google Play Edition
The US Galaxy S4 aside, the Galaxy S4 GPE is identical hardware-wise to the Snapdragon-powered version of the regular S4. The GPE only comes in White Frost, so you'd be out of luck, if you are into the Black Mist color.
The Galaxy S4 Google Play Edition has... or rather, as some would argue, suffers from the same design language used for the regular Galaxy S4. The edges are curved and smooth, plastics are hyperglazed with an underlying texture, the front is entirely made out of glass and there are chrome accents around the front, the home button, the camera, the earpiece and volume rocker.
Even though the design's appeal has already worn off in the past year or so, the slim bezels allow the brilliant screen to really shine through, while the slim body offers a strong high-end vibe.



Handling the Galaxy S4 Google Play Edition
The stock Android doesn't affect the usability of this Galaxy S4 in any way. The phone is still comfortable to use in one hand but users coming from a Nexus 4 would need to adjust to the physical button layout instead of the on-screen one. Ultimately, you get more screen space to work with this way.