Waving Hello!
Samsung S7230E Wave 723 review: Waving Hello!

Excellent phonebook
Samsung S7230E Wave 723 has a phonebook that's strikingly similar to the one Samsung puts on its Android phones. It has rich functionality and practically unlimited capacity.
The handset displays the phone memory and SIM-stored contacts in the phonebook. There is a dedicated setting for that, so you really can have all of your contacts gathered in one place.
You can search the entries by either flick-scrolling the list or using the alphabet scroll at the side of the screen. Gradual typing search is also available.
There are many info fields that you can assign to each contact, but it still remains perfectly organized. You have all the types listed (numbers, email addresses, etc). There are plus and minus signs on the right of each field – plus adds another field of that type and minus deletes a field (things work exactly the same on Android).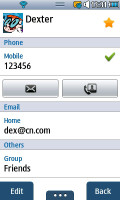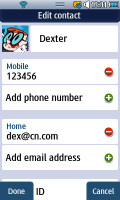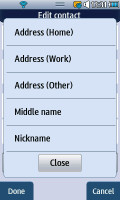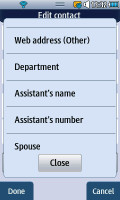 Checking out and editing a contact's details
Samsung have added another cool feature to the phonebook, which is also available in the Android OS on Galaxy S. In the main contact list, a swipe to the right on a name will dial the contact's default number, while a swipe to the left will start the New message interface. The side-sweep thing works in other lists too where you have names or numbers.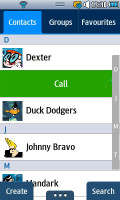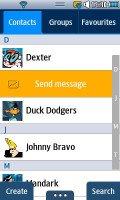 Swiping on a contact's name or number in the log will start a call or launch the message composer
Telephony is OK
Our Samsung S7230E Wave 723 was a pre-production unit and it was behaving a little erratically, so we couldn't test its signal reception. The in-call sound quality was good, though it wasn't very loud even at the loudest setting. Since there's no proximity sensor, you have to manually unlock the phone if you want to use some of the features during a call.
The Wave 723 has Smart dialing (sort if), but it's the less useful kind – the kind that searches only for contact number and not their names. That's certainly not very useful because if you remember someone's number you might as well just dial it. Name suggestion is so much better.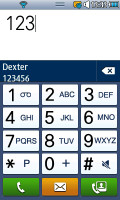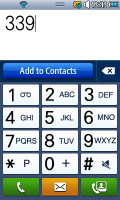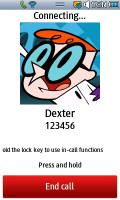 Smart dialing could have been better
The call log can be activated with the call receiver key. It shows all the dialed, received, missed calls or messages in one list, but there are also different tabs for easy sorting of the history.
We also ran our traditional loudspeaker test on the S7230E Wave 723. It snatched a Good score, meaning missed calls are likely in much noisier environments. More info on our loudspeaker test as well as other results can be found here.
| | | | | |
| --- | --- | --- | --- | --- |
| Speakerphone test | Voice, dB | Pink noise/ Music, dB | Ringing phone, dB | Overal score |
| Sony Ericsson XPERIA X10 mini | 65.9 | 66.5 | 67.3 | Below average |
| Nokia 5230 | 65.8 | 60.3 | 66.7 | Below average |
| Sony Ericsson XPERIA X8 | 66.6 | 66.6 | 69.1 | Average |
| Samsung I5800 Galaxy 3 | 73.7 | 66.6 | 72.3 | Good |
| Samsung S7230E Wave 723 | 69.0 | 66.6 | 74.9 | Good |
| LG GM360 Viewty Snap | 74.6 | 65.9 | 77.0 | Very good |
| HTC Aria | 74.9 | 73.8 | 83.8 | Excellent |
Capable messaging
There are two major sections in the main menu - Messages and Email. The Samsung S7230E Wave 723 supports sending and receiving SMS, MMS, and email messages. SMS and MMS share the same editor.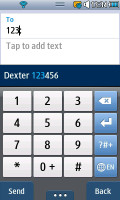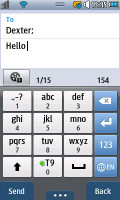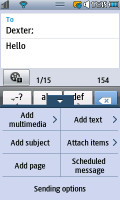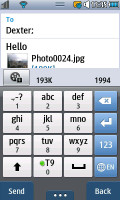 SMS and MMS share the same editor
It offers folder (tabbed) view and conversation. The first one shows all your folders as tabs at the bottom, while the conversation groups your messages by sender. An interesting option is the Scheduled message – you can compose a message and schedule it to be sent automatically on a given date and time.
Swiping on a message header will do exactly the same as in the phonebook – a left swipe starts a new message, while swiping to the right will start a call. It works only in conversation view though.
The email client looks exactly the same as the messaging one – it uses the folder (tabbed) view. Multiple accounts are also supported and you can switch among them at any time. Unfortunately there is no shared inbox for all your emails.
Maximum attachment size for both outgoing and incoming mail is 5 MB.
When it comes to setting up an email account, the Samsung Wave 723 does most of the job. For a Gmail account for example, all we had to do was fill in the account and password fields - the connection settings were retrieved automatically.
You can set things up manually if you're using an unsupported email service. The Wave 723 supports both POP3 and IMAP and also SSL connections.
For text input you get two options - a portrait numberpad and a landscape full-QWERTY keyboard. Given the not so big screen, the QWERTY keyboard is not the most comfortable.
There's no portrait QWERTY available – it would have been rather narrow but we like having the option. And the protective flap really gets in the way of landscape typing.