Waving Hello!
Samsung S7230E Wave 723 review: Waving Hello!

Well-stocked organizer
The Samsung S7230E Wave 723 comes bundled with the latest Picsel Viewer. It works like a charm and is capable of pinch zooming. It worked pleasingly fast for Word, Excel and PowerPoint documents (including Office 2007 docs) and PDFs too.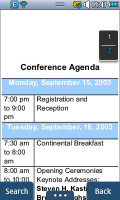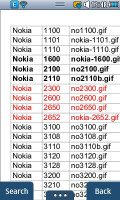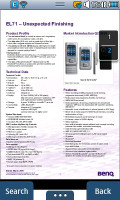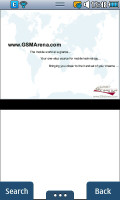 Picsel Viewer on Samsung Wave 723
The calendar has four different types of view - daily, weekly and monthly. Adding a new event is quick and easy, and you can also set an alarm to act as a reminder.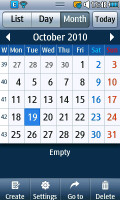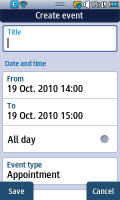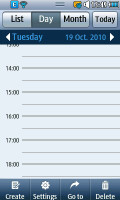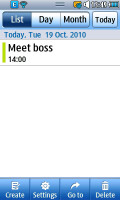 The organizer centerpiece - the calendar
The Samsung S7230E Wave 723 features other common organizer functions too – alarm clock, calculator, stopwatch and countdown timer.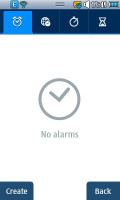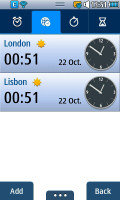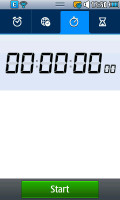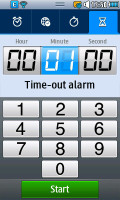 The Clock app has the alarm options, the world clock, the stop-watch and the timer
Samsung have included the My Files app – a simple to use but functional file manager, which also doubles as an image gallery. It can move, copy, lock and rename files in bulk, even send multiple files over Bluetooth.
Applications get social
Social Hub is the messaging and media sharing Holy Grail – this one app allows you to create a message (it may pack media content too) and then send it to various services – SMS/MMS, email, social networks.
Samsung also added native Twitter and Facebook clients on the Bada OS. They are nicely touch optimized and have similar looks and functionality as the respective apps for the iPhone and Symbian.
The Smart Search works on everything in your phone – contacts, images, music, videos, emails, history, apps, etc. and you can search by date too. It works excellent and helps when you have lots of content.
Finally, a simple voice recorder app and Palringo IM and Yahoo! Messenger are also onboard.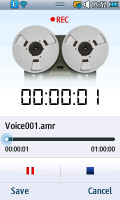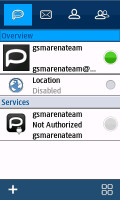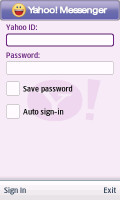 Voice recorder • Palringo IM • Yahoo! Messenger
And of course, the Samsung S7320E Wave 723 comes with a wide selection of preloaded games (we counted 9, but that may vary from region to region). Of course, you have to check out Samsung Apps, which has free games on offer.
Shopping at Samsung Apps
The Bada OS offers a native application repository – Samsung Apps. Samsung Apps is very similar to the Android Market. It has three tabs – featured, top and category view. There is also a download section and search option.
The whole idea of an app store running from day one is great and with the SDK already available to the developers we believe Samsung Apps will continue to grow in time.
Trial GPS navigation
The Samsung S7230E Wave 723 features a dedicated SatNav application. It comes with the Samsung Mobile Navigator, which is based on the Route66 mobile application.
Though its maps graphics have somewhat outdated looks, feature-wise there's really nothing missing. It has voice-guided navigation and a huge number of additional features, but the goodies come at an extra cost.
We got a 6 month trial license for voice-guided navigation (drive and walk) in Europe. This relatively long term could probably be due to the pre-production status of our device – the original Wave came with a shorter 30-day license. So don't take our word for granted and check out the specific details for your region before you commit to buying the phone.
Anyway, after the trial period expires you'll need a subscription, which is quite expensive. All other goodies require some extra payment and the whole package will cost you a lot.