Galaxy S6 vs. Galaxy S5 vs. Note 4 vs. iPhone 6
Intergalactic camera shootout: Galaxy S6 vs. Galaxy S5 vs. Note 4 vs. iPhone 6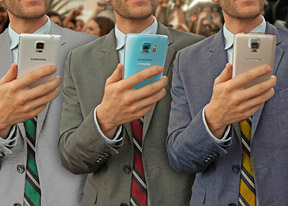 Video camera: low light
The same night we shot the low-light photos we also recorded a number of videos. Let's look at the 2160p clips first.
Crop #9: 2160p video at low-light
The first scene is against well-lit shop windows. The Galaxy Note 4 brightened up the shadows more than the Galaxy S6, but that increased the noise as well. The Galaxy S6 videos are crisper than those of the Note 4. The Galaxy S5 does quite well too, though noise in the darker parts of the frame eats into the fine detail.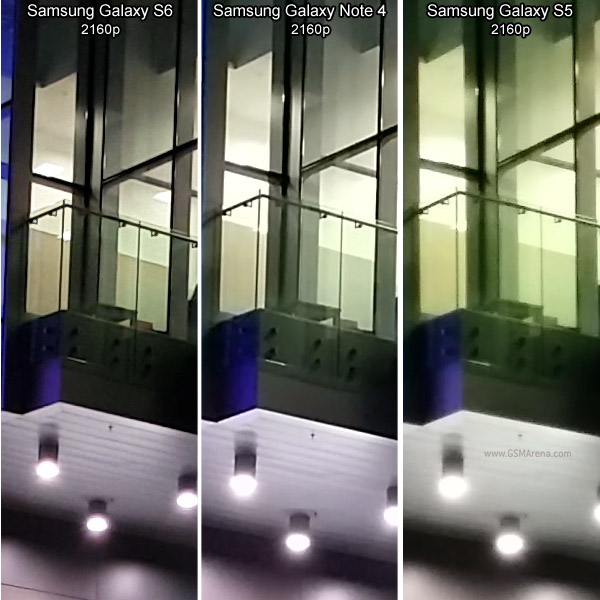 Crop #10: 2160p night time video
Without so much help from artificial lighting, the Galaxy S6 extends its lead in the UHD video recording department. Its videos have the most details in the dark and the colors are kept fairly accurate. The Galaxy Note 4 does well in well-lit parts of the frame, but the darker areas are quite noisy. The Galaxy S5 video gets quite noisy, which swamps out the detail.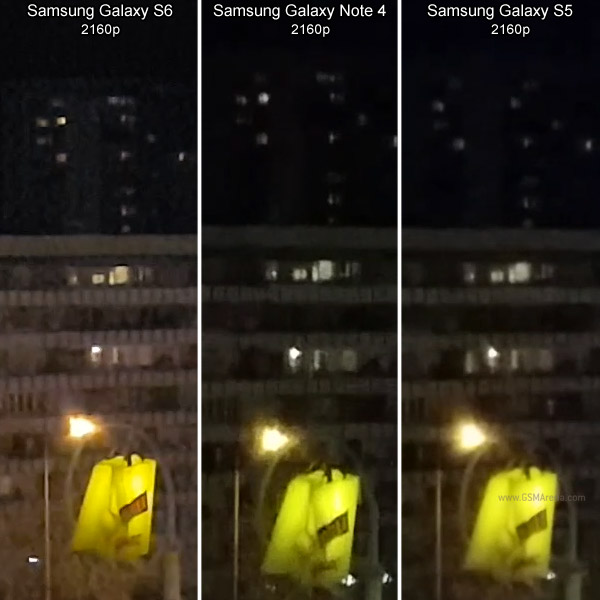 Crop #11: 1080p video at low-light
Time to go to 1080p video resolution and include the iPhone. The noise reduction is the strongest in the Galaxy S5 video, but the Galaxy Note 4 also removed some of the finer detail. The Samsung Galaxy S6 kept the most detail, while the Apple iPhone 6 came fairly close to it.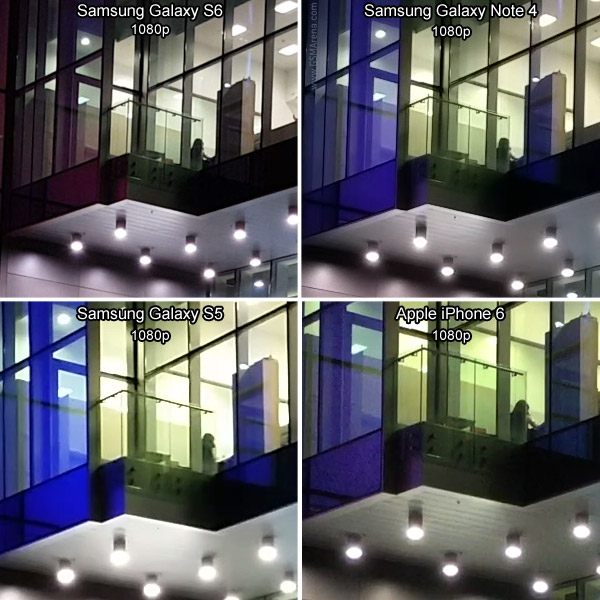 Crop #12: 1080p night time video
Without strong artificial lighting, the Galaxy S6 shows its advantage again with accurate colors and detail in the dark. Sharpening helps the Galaxy Note 4 do well in the well-lit areas, but there's little to be seen in the dark.
The Galaxy S5 can't match the crispness of the other two Galaxys and noise is visible even in the banners under artificial lighting. While noisy, the Apple iPhone 6 videos look good both in the well-lit and dark areas, though its narrower field of view helps it along.