Galaxy S6 vs. Galaxy S5 vs. Note 4 vs. iPhone 6
Intergalactic camera shootout: Galaxy S6 vs. Galaxy S5 vs. Note 4 vs. iPhone 6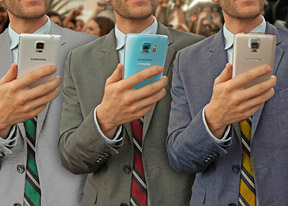 Video stabilization
Optical image stabilization is a first for the Galaxy S line, having previously landed on the Galaxy Note 4.
Both devices also include digital stabilization, though that's available only on 1080p@30fps or below. That is 2160p and 1080p@60fps videos rely only on OIS (which is always on), while 1080p@30fps can also use the optional digital stabilization.
Here's the Galaxy S6 and the Galaxy Note 4 at 2160 (so only OIS is enabled). The new flagship absorbs vibrations from footsteps better than its phablet sibling.
Note: We've downsampled all videos to 1080p - the purpose of the videos on this page is to showcase the vibration reduction rather than image quality.
The Galaxy S5 has only digital stabilization though not at 2160p resolution. This leaves the videos shakier compared to the Galaxy S6.
The Apple iPhone 6 has the best digital stabilization around, but digital stabilization always comes at the cost of noticeably reduced FoV - even on the Galaxy smartphones.
In the video below we have it on, so both have a reduced Field of view. You can turn it off on the Galaxy S6 to gain a bit wider view.