Yezz Project Ara smartphone prototype hands-on
Most of you surely remember Google's project ARA - the ingenious modular phone concept, that started out as "Phoneblocks", way back in 2013. Well, it is pretty much alive today it seems to be coming up quite nicely.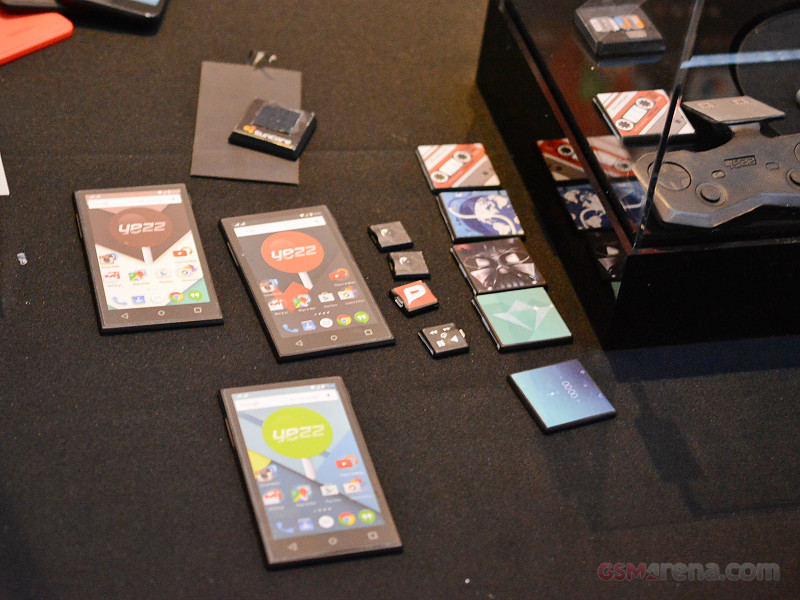 Project Are has drawn so much attention that there have been numerous conferences on the subject, as well as an official Project Ara Module Developers Kit and even a few actual Project Ara prototypes.
While roaming around the MWC yesterday we stumbled upon Yezz Mobile's take on a Project Ara phone. But before you get overly excited as well, it was not a functioning unit, but rather a model, showcasing what the first Ara devices should look like, once they become a reality, hopefully some time later this year.
A working modular phone would have been a veritable sensation, but that is not too say that the Yezz team had nothing interesting to show, quite the contrary. As Ara fans surely remember, Yezz is currently one of Google's top third-party partners on the modular handset and the company is primarily involved in developing modules, or rather imagining them, as there were some pretty ingenious concepts on display at that booth.
First thing we noticed is the frame or the endo-skeleton of the phone - definitely the heart of the project. It, however is not made by Yezz themselves, but is a brainchild of Google's own ATAP team. It is dubbed "Spiral" and its design has gone a long way since the project started. The latest version - Spiral 3 - employs magnets and phone antennas built straight into the frame itself, instead being separate modules.
From the looks of things this is precisely what Yezz has brought to Barcelona - the modules themselves. The frame we saw can house a total of 10 modules - eight on the back and two on front, including the screen and the folks at Yezz have figured out ingenious ways to use each and every one of them, for a total of over 100 unique combinations.
Naturally, we have the standard components, which no phone can go without, like cameras and batteries. They come in a variety of sizes and can even be put in pairs, which is the case with the battery for example. Modular design extends as far as the even the charging plug itself. Along with the controller, there are separate modules that can be freely moved around the frame and placed just where you would like them to be.
Other interesting modules include dedicated media controls and some beefy camera and flash hardware and some even bundle a few smaller things together to save space. Then there are the really ingenious concepts that Yezz has come up with. Among these we saw a solar panel case, which can charge your phone, but is also a module and can be combined with the screen on the front or battery on the back. Another quite outlandish concept is the game controller module. It hooks up to a slot on the device and actually mounts a joypad to the phone, which can be used for playing games.
The possibilities are truly endless and we were very pleased to see all the out-of-the-box thinking Yezz has put into some modules. Now, this all sounds very tantalizing, but there are still a few downsides. Most notably, the whole concept is still far from consumer markets. We have already seen some working prototypes, but nothing complete just yet. And with Google still tweaking the base design and all of the third-party support and work that needs to be put into producing the right hardware for the device, there is still a long road ahead of project Ara.
Another major concern is aesthetics. And while most tech geeks definitely won't mind seeing a few connectors here and there, or compromising a little slick and style for the ability to swap out a dated processor with the latest beastly model, there are still a lot of people who find the device to be a huge eye-sore. With the latest Spiral design things are notable better in this department, but manufacturers may still have some thinking to do in this direction in order to come up with a better solution than the colorful sticker approach Yezz has used for its MWC demo.
There is some good news regarding Ara's future. If everything goes according to plan the first functioning units should be up for sale some time later this year in Puerto Rico. Google has chosen this mobile-first market as a suitable "testing ground" for the new technology. Furthermore, Google's new modular phone is aimed at a mid-price range. The company's intention is to produce a convenient ant eco-friendly product for the masses, rather than a pricy conceptual piece, so a lot of Phoneblock's original revolutionary spirit can still be felt in project Ara. Pricing for the device should start at about $200 for the low-end configurations. And the beauty is that you can always go bigger and better to suite your needs as they expand further down the road.
All in all, we were very excited to browse Yezz Mobile's booth at MWC and discuss the cleverly designed module that will hopefully one day make it on the a real game-changing device.