Web browser: feature overload
The ZTE Nubia comes with the QQ Browser. You may not have heard of it, but it has tens of millions of users. It's one of the most feature-loaded browsers, having a built-in ad blocker and page compression out of the box, with plug-ins to add even more stuff.
Let's see what you get. One feature we like is swiping left/right to go back/forward. That means there's no gesture to switch between tabs though (tabs are supported, obviously, you just have to go through the button). Another interesting option is to scroll web pages with the volume rocker.
The design of the browser is somewhat Safari-like and there is indeed an option to make it tell servers it's an Apple browser. That will be used rarely, only on sites that show different pages for iOS devices. The browser supports skins so you can customize its look too.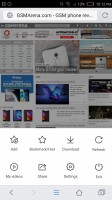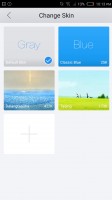 Array of settings including a theme engine
Then there's compression, which is enabled by default. Tencent servers will compress pages before sending them to your phone (you can chose the image quality: Low, Medium, High), which speeds things along on slow connections. You can block images altogether too. Another trick for faster browsing is to preload the page the browser thinks you'll open, but that may cost you if you are on a data plan.
There's also an ad blocker though it didn't have a 100% hit rate. Another privacy feature is Stealth mode, which is a type of Private browsing. When you first launch the browser it informs you that your privacy is a high priority.
Then we get to plug-ins. No, not Flash. One plug-in is enabled by default called "Compare Prices," we're not sure which sites it works on though (not Amazon.com, AliExpress.com or dx.com). The other two suggested widgets are "Game Zone" and "Thunder Widget" (not sure what this one is for). Those two you have to install manually.
Apps and more
As we saw already, the ZTE Nubia Z9 mini doesn't rely much on the Google-developed Android package. The phone does come with a full suite of apps and you can get more from the store - not the Play Store though.
As mentioned before, ZTE is working on a US version of the software, which will most likely come with the Google Play suite. The version of the software we tested is intended for China and will work great there. Not so elsewhere. Play apps will function much better in the west.
The app store on the Z9 mini is one of the apps that was not translated, not even a bit. Obviously, it's not as well stocked as Play, but it doesn't work as smoothly either - even updating apps shows the install dialog you may have seen while sideloading apps. This means updating 10 apps requires a lot of hitting "Install" then "Done."
The GameBox is a place to download games and compare scores with your friends, similar to Google's Play Games. The app also supports QQ and WeChat accounts.
You're not getting Google Maps either, instead there's Amap. The app doesn't work - it completely lacks mapping info for most of the world, you can't even see London or New York, let alone their streets. There's a full map of China, though the app loads map tiles slower than we're used to. There's the Baidu app, which is a bit better but still far from functional anywhere outside of China. Both are in Chinese.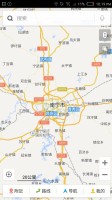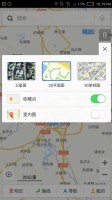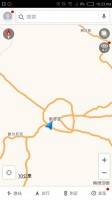 Baidu map and Amap are hardly ideal outside China
Let's look at something easier - the Calendar. That does work and it's a capable (if heavily iOS-inspired) app. No syncing with your Google calendar, not even if you add your account. It can sync with other online calendars and you get the usual views, including agenda.
TimeManager, aka the Clock app, supports multiple alarms each with their own ringtone and repeat pattern. There's also a world clock, stopwatch and timer.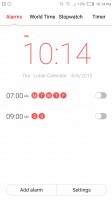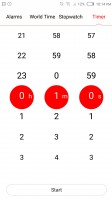 Nifty time app with alarms, world clock and stopwatch
A nice addition that most other custom skins lack is the Backup app. You can create local backups or store them in the cloud (only the Nubia cloud is supported). The app will store personal data (contacts, messages, etc.), system data, apps and even media.
There's also a Software update app that can either download a ROM automatically or use one you've downloaded manually. There are even handy shortcuts to boot into Fastboot mode or into the recovery.
The Screen projection app handles DLNA duties if you don't want to bother with MHL.
The Bluetooth companion app requires an additional dongle, which will let you take calls, read messages and listen to music wirelessly. You'll also get a reminder if you walk out of range of your phone. The Bluetooth Finder app works similarly, but with a Nubia Bluetooth tag that prevents you from leaving things behind or misplacing your phone.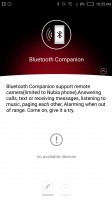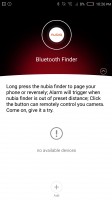 Bluetooth companion and Bluetooth finder apps
Sadly, the Z9 mini is missing both the IR blaster and the NFC hardware that that the Z9 has and is thus missing out on some cool applications, like the Remote control app and the Smart tag one.
A file manager lets you explore the internal memory and it has built in support for ZIP and APK files. You can connect USB OTG storage and browse that too, or sync files with your Nubia cloud account (no other cloud services are supported). However, its menu structure is a little confusing and you have to switch tabs to actually brose ant OTG device or view the file structure itself. Still, it is pretty feature-rich.
There are additional tools available out of the box - from the NotePad, through the SoundRecorder to the simple calculator and flashlight.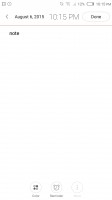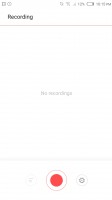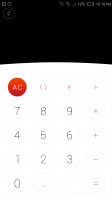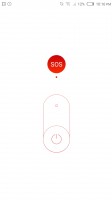 NotePad, SoundRecorder, calculator, flashlight
The Nubia UI experience is definitely a mixed bag. On the one hand it is highly-custom and a lot of native Android features are missing. The Asia-specific app package is a whole other problem, but one of major concern for usability on international markets. No the other hand, however, like so many OEM Android builds, Nubia UI offers a refreshing take on Google's OS with lots of often neat features burned right in. One prime example is the extensive Powersaver app.
It is an amazingly in-depth hub for managing most every aspect of your phone's battery. It monitors charging, discharging an even stores historical data, organized by process, non the less. It can also toggle power modes and if that isn't enough to manage your battery consumption - there are per app controls. With a few clicks you can determine which applications get network access or the ability to spawn background services. The attention to detail in the application and its depth are amazing.