Camera
The ZUK Z1 packs a 13MP camera with optical image stabilization and a dual-LED flash. The camera is built around the popular Sony IMX 214 sensor, 5 plastic lens and Qualcomm's ISP. The OIS module compensates for shaking or rotating thanks to a built-in gyroscope.
For software, ZUK settled on Cyanogen's in-house solution, namely Camera Next. They UI looks like an imitation of the Google Camera, but it's somewhat rough around the edges.
The viewfinder is quite streamlined with still, video and buttons on the right and some mode toggles on the bottom. The circle gives you access to exposure compensation, white balance and a couple of extra options.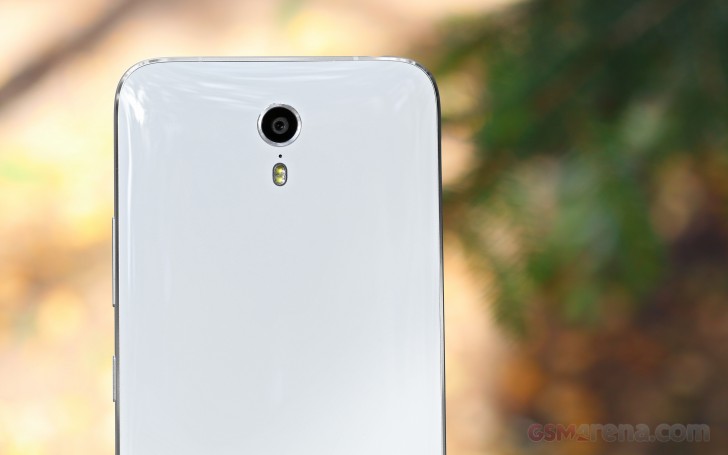 Some much needed toggles are a further tap away: HDR, Night, Steady photo are mixed in with color effects and camera modes (e.g. Sunset, Party). This makes it a very long, confusing list. It doesn't help that it's just big white letters with no icons so you have to read each and every one to find the one you need.
The settings menu is much better organized with standard Android lists and tabs. The General tab has some interesting options like using the Power button as a shutter key, volume rocker as a zoom lever, left-handed mode for those controls and boosting the screen brightness to ensure good visibility outside.
The image quality is fairly good though some imperfections are visible at 100%. The noise reduction leaves noise in, while at the same time there's smeared fine detail. The white balance is okay (a touch cool) and colors are slightly under-saturated. Also, purple fringing is quite noticeable in reflections.
The camera does keep plenty of detail and the dynamic range is quite good and the camera finds a good balance between preserving highlights and resolving shadows.
The IMX 214 sensor does have its limits though, so you can toggle the HDR mode to help (we just wish it wasn't buried so deep in the options). This mode works quite well, it brings in more detail in the bright areas without ghosting. In some cases it reduces the contrast more than we would have liked though.
The panorama mode is quite disappointing though, the images come out with between 400px and 600px vertical resolution, which is tiny. There's very little detail in the shots, even if the stitching is good.
The selfie camera is an 8MP shooter, clearly the ZUK Z1 goes after the selfie-minded. It captures plenty of detail and nearby subjects look great. You can see some noise in the soft, faraway background but it's not a huge issue.
You can check our Photo Quality Comparison tool for a quick head to head with other 13MP shooters in ZUK Z1's class.
Video camera: use a third-party camera
We tried recording some test videos with the ZUK Z1 stock camera app and we ran into a problem. The 1080p videos were recorded at 27fps, so they are noticeably choppy. The camera offers different codecs - H.264 (27fps), H.263 (refused to record 1080p) and MPEG-4 (26.9fps) so there isn't an option for a smooth 30fps.
Snapdragon 801 (even S800) is fully capable of capturing 4K video so 1080p should have been a breeze. We installed the latest firmware version available and that did not help either.
Videos are recorded at 20Mbps, which is a good start, while audio is captured in stereo at 96Kbps, 48kHz, which is not a lot. Unfortunately, even at this bitrate the videos look heavily compressed, which obscures some of the detail captured by the sensor, and you can see banding in gradients too.
The video quality isn't the best 1080p we've seen, but it's still good. Sound is good, despite the low bitrate. The autofocus was too eager though and moving objects caused it to hunt for focus all too often. And that's with it set on Auto focus instead of Continuous autofocus.
Ironically, ZUK Z1's 60fps high-speed mode practically nailed 60fps. The other option is recording at 60fps and playing back at 30fps for a slow-motion effect.
But back to the 1080p@60fps video. It eats up double the storage of 30fps, it has a narrower field of view and a noticeable drop in resolved detail even further so use that with caution.
So instead, we installed the free Google Camera app and had a second go with it at video recording,. You can imagine how surprised we were to see it recorded a 1080p video at 30fps without a hitch. The video and audio bitrate remained the same.
Here's a YouTube playlist that will allow you to compare the video quality of the clips captured with the two camera apps.
Also, here are the standard charts we shoot for the Video Quality Comparison tool. Note that we shot them with the Google Camera just to be sure.