Web browser
The ZUK Z1 comes with the new Cyanogen browser (the shortcut just names it as "Browser"). It promises to be both faster and more memory efficient than Chrome.
The Browser is based on the stock Android browser and doesn't look much differently. An easily accessible New private tab button hints at a focus on privacy. You can save pages for offline viewing, but some contemporary features are missing, e.g. bookmark syncing.
You can opt to use Chrome instead - it will sync bookmarks and open tabs across devices signed into the same Google account. You can sync form fill data and even passwords if you like. You can use Google's page compression to speed up load times on slow networks.
Apps
The ZUK Z1 comes with a fairly slim preinstalled app package - not minimal, but certainly not bloated. You get just enough to get you going out of the gate, the rest of the storage is open for the apps of your choice. Anyway, there's a mix of Android apps, Cyanogen apps and some third-party apps.
The Calendar app continues Cyanogen's collaboration with Boxer. The app supports Gmail and Exchange calendars (it uses Android's native sync), it has some beautiful Material design and offers day, week and agenda views. Calendar can use the Boxer Email app to send availability notifications to people attending a certain meeting.
The Clock app is the Google-made one. It offers the standard functions - alarms, world time, timer and chronometer. Flipping or angrily shacking the phone can be set to snooze or dismiss alarms, but it may be better to set your favorite playlist as the alarm tone and ease out of bed.
The File manager is courtesy of Cyanogen. You can enable a swipe gesture (deleting files or folders). Another option is to create password protected storage in the internal memory. The app can be a little confusing, for example copying a file looks like this: select file, move to the destination folder, hit the menu button and choose "Copy selection here." The copy/paste semantics you're used to from your computer simply don't apply here.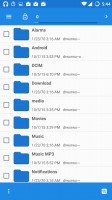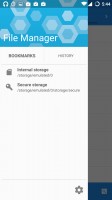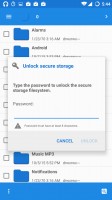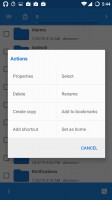 The Cyanogen-made File browser can encrypt part of your storage
Screencast speaks for itself - it records your phone's screen (with white dots indicating finger touches). Here's a quick sample session with it.
There's a Facebook app and Google Drive pre-installed for basic social networking and cloud storage.
The ZUI version in China gets a slightly different app package, which includes popular services like WeChat and Beidou Maps.