Slate of the art
Apple iPad Pro review: Slate of the art
12.9-inch IPS panel
The Apple iPad Pro comes with a 12.9-inch IPS display with a resolution of 2,048 x 2,732 pixels. Again, the logic was for the Pro to have as many pixels in the horizontal direction as the Air has in the vertical, and the 4:3 ratio did the rest. Hence, the pixel density is the same - 264ppi.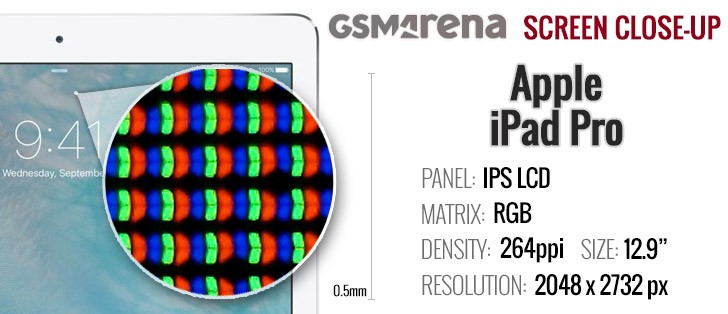 At its maximum setting, the iPad Pro display is not as bright (395nits) as the iPad Air 2 (458nits), but thanks to the much deeper blacks, the resulting contrast ratio (1458:1) is a lot higher than that of any of the other iPads we've reviewed.
In terms of color rendering, the iPad Pro is sufficiently geared to show accurate colors (Avg DeltaE 6.4) though we wouldn't go as far as using it for color critical work (you'd need all colors to stay below DeltaE 4) for that. We're not quite sure how that would go with the professional aspirations of the device, which supposedly should make it a preferred tool for creatives.
Display test
50% brightness
100% brightness
Black, cd/m2
White, cd/m2
Contrast ratio
Black, cd/m2
White, cd/m2
Contrast ratio
Apple iPad Pro
0.11
166
1456
0.27
395
1458
Apple iPad Air 2
0.16
171
1045
0.44
458
1048
Apple iPad mini 3
0.23
184
808
0.65
515
799
Apple iPhone 6s
0.10
148
1542
0.36
536
1481
Apple iPhone 6s Plus
0.10
150
1563
0.43
590
1382
Sony Xperia Z4 Tablet
-
-
-
0.47
537
1136
Samsung Galaxy Note Pro 12.2
0.33
301
901
0.54
493
911
Nokia N1
0.28
251
902
0.64
577
907
LG G Pad 10.1
0.16
112
679
0.59
445
759
Connectivity
The Apple iPad Pro we have at hand is the Wi-Fi-only version. It supports dual-channel 2.4GHz&5.0GHz 802.11a/b/g/n/ac connectivity with multiple antennas for higher-capacity link (or MIMO).
Those who insist on cellular connectivity have the sole option of getting the 128GB version, the one with cellular radios. It supports quad-band 2G and a multitude of 3G and LTE bands. This is the only version that supports GPS as well, but it also has GLONASS support.
With the cellular version Apple is also bundling an Apple SIM. It allows a single carrier-agnostic SIM to connect to AT&T, Sprint or T-Mobile in the US, Everything Everywhere (EE) in the UK, as well as GigSky-partnering carriers in 90 countries the world over.
Either way, you're getting Bluetooth v4.2, with iBeacon too. There's no NFC, though and no support for using it on physical terminals with Apple Pay.
Wired connectivity takes place through the Lightning connector, which also complies with USB 3.0 standards. There's a standard 3.5mm headphone jack as well, but you need to supply your own headphones as there are none included.
AirDrop is available in every share menu throughout iOS. You can send pictures, videos, App Store and iTunes links, Notes, Maps links, all kind of files from file managing apps (i.e. Filer, Flash Drive, Air Disk, etc.), Office docs, and more. If there are people with an active AirDrop service around you, they will automatically appear in the dedicated AirDrop field. You just mark your files, select the recipient and hit the send key.
Apple iPad Pro battery life
The iPad Pro has a 10,307mAh battery, split into 2 cells, as teardowns revealed. The closest tablet rival, a 2-year-old Samsung Galaxy Note 12.2 (2014) has a 9,500mAh capacity, but also some 16% less of screen real estate.
Apple promises 10 hours of the web browsing or video playback and it's half right. In our web browsing test the tablet crossed the 10-hour mark with a few minutes to spare, but fell two and a half hours short at video playback. We appreciate that battery endurance leans towards web browsing, as the 4:3 ratio is infinitely better suited to reading, than watching videos.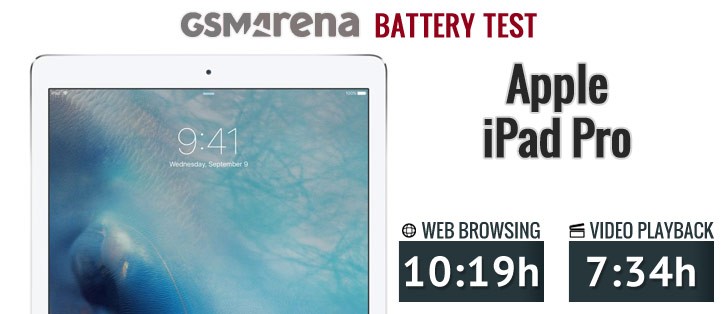 The 9.7-inch iPad Air 2 with its 7340mAh battery is good for a similar 10 hours of web browsing, but a substantially longer video playback of almost 12 hours. The Samsung Galaxy Note Pro 12.2 did about nine and a half hours in both tests, when we tested one a little short of two years ago.
The battery testing procedure is described in detail in case you're interested in the nitty-gritties.