Slate of the art
Apple iPad Pro review: Slate of the art
Safari
Courtesy of iOS 8 the iPad Safari web browser welcomes third-party developers too. It now supports extension access via its contextual menu. They will be able to auto-fill forms, use the Touch ID security features and translate webpages. It's up to the developers to come up with creative uses and hopefully we'll get a lot of those soon.
Other than the Safari extensions, Apple has improved its Private Browsing. It's more intuitive now and won't make you convert all of your currently opened tabs into Private ones.
Safari supports the iCloud keychain where you can store all of your passwords and credit card info (sans the security code). There is also a password generator available, in case you are out of ideas. What's good about this setup is that all your save content from the computer version of Safari is now available straight on your phone as well.
In much the same way, iCloud syncs your opened tabs, along with offline reading. Safari also allows you access to your multimedia content without exiting the browser.
Much like before, if a page is compatible with the integrated Reader (most of the article pages out there are) you get a Reader button right into the address bar as soon as the page loads. The Reader strips the webpage of ads and makes the layout and font size more suited to a smaller phone screen.
Text Input
Moving on to the keyboard. The QuickType predictive input will learn from your typing pattern, vocabulary, people you write often to and topics. It will eventually understand the subject of each thread and base suggestions on whether the communication is formal or casual.
Apple says the algorithm is really smart in understanding meaning and in suggesting prompt responses. We have got to say though that many competitive keyboards on other platforms are already doing similar things plus they are swype-enabled.
Siri-powered dictation is available pretty much in any app that supports keyboard input. You need just to hit the corresponding button on your keyboard and start dictating.
You can undock the keyboard, which places it dead center on the screen. You can then move it up or down, depending on what's underneath and where you would like to place it. Unlike regular iPads, you can can't split the keyboard in two for operation with both thumbs - apparently Apple doesn't consider it a viable typing option, and frankly, neither do we.
In landscape tablet orientation the keyboard is a near full size affair, though it remains awkward to type without any mechanical feedback.
In the absence of 3D touch tech, precise cursor placement is done with a double finger tap and swipe - it seems to work equally well.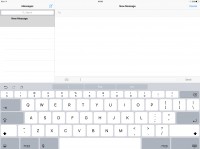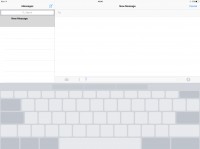 Keyboard in landscape • cursor positioning
iTunes and App stores
The iTunes store is where you get music, videos, TV shows, movies, podcasts and ringtones. The tabbed interface is similar to that of the AppStore, divided into Music, Movies, Search, Tones and More.
The App store on the iPad Pro has a better and smarter search with a new interface, App Bundles offered by devs, embedded videos in the app descriptions a la Google Play Store, and devs are able to invite users to closed beta testing of new versions of their apps.
Other apps
iCloud Drive is present on the iPad Pro, as well. Besides backing up your entire camera roll, it is instantly synced in the cloud and accessible from anywhere - your other iOS devices, Macs and PCs.
You can store any file on the iCloud Drive, not just pictures and videos, as any other services would allow you to. The Handoff feature relies heavily on the iCloud Drive - a document you've opened on your iPhone would be handed over to your iPad or Mac. If you don't use iCloud Drive this file continuity wouldn't be possible.
Naturally, you can choose what files and app data gets synced in your iCloud Drive. There is an option to choose cellular data where a Wi-Fi connection isn't available.
Unfortunately, Apple is still offering a free quota of only 5GB and it quickly gets used up by your iCloud backups, especially if those include the photos. If you want more space, you'll have to pay extra though the storage plans are actually reasonably priced.
AirDrop is naturally available as well, for system-wide file sharing between supported iDevices (including Macs running OS X Maverics and above), which needs to have both Wi-Fi and Bluetooth on to work.
AirDrop is available in every share menu throughout the iOS. You can send pictures, videos, App Store and iTunes links, Notes, Maps links, all kind of files from file managing apps (i.e. Filer, Flash Drive, Air Disk, etc.), Office docs, and more.
If there are people with AirDrop service around you, they will automatically appear in the dedicated AirDrop field. You just mark your files, select people and hit the send key.
Present since iOS 8, Family Sharing allows up to six users to make iTunes, iBooks, and App Store purchases with a single credit card. Family photos, calendar entries and locations can also be shared.
The credit card owner and group admin may opt to authorize each purchase requested by other members in the group - i.e. your kids. Thus you have full control over the purchased content - same goes for sharing requests.
If Family Sharing is enabled on a range of devices, you will be able to find each one of them on a map - handy if you want to know where your kids (or spouse) are at any time.
The clock and calendar apps are here. Clock can show you the time around the world, setup alarms, a timer and a stopwatch.
Calendar hasn't received any new functionality but remains great regardless. It can sync multiple calendar accounts at once, divide events by type (each type like Birthdays, Work, Family, etc. can be color-coded) and has the standard viewing modes - Day, Week, Month and Year. You also get an Agenda view under the search field which lists all the events in a timeline.
Notes give you rich text formatting, while Reminders are just what you'd expect. You can schedule reminders for a time and even place.
The iBooks is now part of the iOS package and has lost its skeuomorphic design. Its interface mimics that of the App Store, but the first tab is still your virtual bookshelf.
With every newly activated iPad Pro you also get the complete iWorks suite including Pages (viewing, editing docs), Numbers (viewing, editing excel files), and Keynote (viewing, editing presentations).
Pages allows you to import, create or edit documents (DOC and DOCX are supported). It isn't as powerful as some of its Android counterparts, but it covers all the basics and will do an excellent job for most users.
Keynote opens and edits (PowerPoint) presentations. It has all the tools you'll need to create a decent presentation from scratch, including tons of beautifully designed themes. You get comprehensive editing options including adding multimedia, tablets, charts and customizable transitions.
Numbers supports working with spreadsheet files (read Excel) and also covers all major features you'll probably need - charts, formulas, tablet formatting, the lot. There are many themes that will help you quickly create complicated spreadsheets even if you don't know how to do a scatter chart (looking at how the templates work is a good way to learn).
iTunes U is a very powerful app few people use on a daily basis. It has a priceless catalogue of courses and lectures from many Universities in the world on just about any science you'd want to get into and is worth checking out.
Photo Booth uses the new front-facing camera to create a series of effects. You can choose among them and the effect changes when you move your face in front of the camera.