Following the curve
Apple iPhone 6 Plus review: Following the curve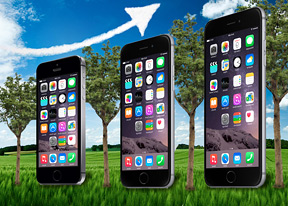 Performance
The iPhone 6 Plus, just like the iPhone 6, is running on the new generation Apple A8 chipset. It is manufactured by a new 20nm process, which means smaller parts, less heat and less power consumption.
Just like the past few years Apple didn't specify the A8 specifications, but thanks reverse engineering of the chip the details are no longer a secret. Apple A8 inside the iPhone 6 Plus packs a dual-core 64-bit Cyclone processor clocked at 1.4GHz. It is 100MHz faster than the processor inside the A7 (iPhone 5s), but it requires less power to run. There are suggestions that L1 and L2 CPU caches are larger and the L2 isn't shared as before, but this is yet to be confirmed.
The other more prominent upgrade in the Apple A8 is the new generation GPU - the PowerVR GX6450 with four GPU cores. The A7 chip used a quad-core PowerVT GX6350, which was quite the performer, but Apple needed something even better for the higher resolution iPhone 6 and iPhone 6 Plus. The GX6450 within the Apple A8 also uses four GPU cores, but the newer generation should be enough to provide the necessary graphic boost.
So, there is no better way to illustrate the actual Apple A8 performance than with some synthetic benchmarks.
We start with the Geekbech 3 test to see how the overclocked CPU and memory are doing. The iPhone 6 Plus did great, providing 20% performance boost over the iPhone 5s predecessor and on par with the current crop of Snapdragon 801 flagships. The octa-core Galaxy Alpha isn't that far ahead either.
GeekBench 3
Higher is better
Samsung Galaxy Alpha
3214
Oppo Find 7
3178
Oppo Find 7a
3093
Samsung Galaxy Note 3 S800
2937
Apple iPhone 6
2924
Apple iPhone 6 Plus
2884
Sony Xperia Z3
2860
Sony Xperia Z3 Compact
2856
LG G3 - EU version
2563
Apple iPhone 5s (iOS 8)
2552
Apple iPhone 5
1296
The Basemark OS II gives an overall device score based on CPU, graphics, system performance, memory, web, among others. Surprisingly, the new iPhone 6 duo climbs on top of our chart beating every device we've tested so far and on par with the upcoming Samsung Galaxy Note 4 and Note Edge phablets powered by the latest Snapdragon 805 chipset.
Basemark OS II
Higher is better
Samsung Galaxy Note Edge
1260
Apple iPhone 6
1252
Samsung Galaxy Note 4
1235
Apple iPhone 6 Plus
1222
Oppo Find 7
1212
Sony Xperia Z3 Compact
1167
LG G3 - EU version
1126
Sony Xperia Z3
1109
Apple iPhone 5s (iOS 8)
1077
Oppo Find 7a
1057
Samsung Galaxy Note 3 S800
1003
Samsung Galaxy Alpha
915
Apple iPhone 5
589
As we mentioned before, the Apple iPhone 6 Plus comes with a brand new PowerVR GX6450 GPU. It uses four GPU cores for both the iPhone 6 and iPhone 6 Plus, but its clock is quite possibly higher on the Plus model because it has an even better performance despite its higher resolution. First we ran the Basemark X graphic benchmark and we were surprised to find the iPhone 6 and iPhone 6 Plus to be the best phones we've tested to date. This made us suspicious and we found out that Basemark X, as well as the GFX Benchmark, on the iPhone 6 Plus (and possibly the iPhone 6) use upscaled graphics for the on-screen tests due to the lack of proper support for the new devices, hence the surprisingly good score.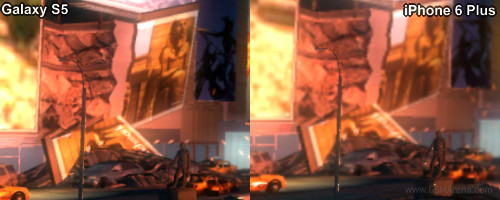 GFX 3.0 Manhattan 1080p on-screen test: Galaxy S5 vs iPhone 6 Plus
So the on-screen benchmarks are obsolete for now, but we can still check how the new PowerVR GX6450 stacks up against the competition thanks to the off-screen 1080p torture tests.
The offscreen raw performance of the PowerVR GX6450 in the iPhone 6 Plus turned out great, topping our all-time charts. Apparently the PowerVR GX66450 GPU is a real beast, handling heavy graphics with ease. It's obvious that in terms of hardware the new iPhone is not behind the curve but just on the contrary - it's ahead of it.
GFX 2.7 T-Rex (1080p offscreen)
Higher is better
Apple iPhone 6 Plus
44.6
Apple iPhone 6
42.6
Samsung Galaxy Alpha
31.3
Apple iPhone 5s (iOS 8)
28.7
Oppo Find 7a
28.4
Oppo Find 7
28
Sony Xperia Z3
27.7
Sony Xperia Z3 Compact
27.4
LG G3 - EU version
27.2
Samsung Galaxy Note 3 S800
26.3
Apple iPhone 5
6.9
GFX 3.0 Manhattan (1080p offscreen)
Higher is better
Apple iPhone 6 Plus
18.6
Apple iPhone 6
17.7
Samsung Galaxy Alpha
13.4
Apple iPhone 5s (iOS 8)
12.9
Sony Xperia Z3
12
Sony Xperia Z3 Compact
11.8
LG G3 - EU version
11.4
Oppo Find 7a
11.4
Oppo Find 7
11.1
Samsung Galaxy Note 3 S800
9.9
If the great CPU and GPU scores on the benchmarks didn't convince you enough the new iPhone 6 Plus is a real powerhouse featuring flagship hardware and software, then here come the web browser tests. Both the JavaScript-centric Kraken and the compound BrowserMark 2.1 confirm the iPhone 6 is among the best performers on the market and the device newcomers have to beat.
Kraken 1.1
Lower is better
Apple iPhone 6 Plus
4650
Apple iPhone 6
4710
Samsung Galaxy Alpha
4911
Apple iPhone 5s (iOS 8)
5396
Sony Xperia Z3
6355
Oppo Find 7
6363
Sony Xperia Z3 Compact
6480
Oppo Find 7a
6660
LG G3 - EU version
6987
Apple iPhone 5
14171
BrowserMark 2.1
Higher is better
Apple iPhone 6 Plus
3389
Apple iPhone 6
3153
Sony Xperia Z3
1533
Sony Xperia Z3 Compact
1500
LG G3 - EU version
1474
Oppo Find 7
1452
Samsung Galaxy Alpha
1364
Oppo Find 7a
1327
Apple iPhone 5
900
These benchmark results might come shocking for some, but they really aren't. The new GPU is better in every way against the current crop of flagships, but we are yet to see what the Adreno 420 with the Snapdragon 805 and the Nvidia Kepler in the Tegra K1 will bring on the market. The upgraded dual-core Cyclone processor seems to be handling things way better than expected providing similar performance as a quad-core Krait 400 CPU.
Judging by the raw performance in the benchmarks and the snappier than ever user experience with the iOS 8 and its apps, the new iPhone 6 Plus is a flagship device in every way - beating everything the competition has to offer to date.