A balancing act
Asus Zenfone 2 review: A balancing act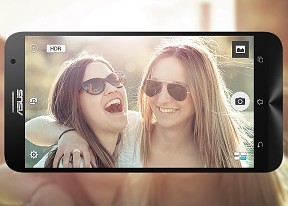 Sleek phonebook with plenty of options
The Zenfone 2 uses a combined interface for the phonebook and dialer. Out of the box it's laid out across five tabs - Telephone (dialer), Favorites, Contacts, Groups and Call Guard, for managing blocked numbers.
You can however edit the tabs and remove ones you don't use for a less cluttered interface. You can also add another tab, dubbed VIP for those among your contacts with a special status. Out of the six possible tabs you can have up to five at a time, and Telephone and Contacts cannot be removed, for rather obvious reasons.
Side-swiping lets you switch between those without needing to reach for the top, welcome on a sizeable 5.5-inch device.
You can display all your available contacts, or limit the list to the ones in your Google account, either of your SIM cards or the phone's internal memory. You also get quick access to a specific letter from the alphabet as well as a search box with voice search capability.
Opening a single contact gives a quick glimpse over the available means of communication with that person. Tapping on the pencil in top right corner reveals the usual myriad of options for editing with virtually every detail getting a dedicated field.
Telephony
The Zenfone 2 doesn't forget it's a phone in the first place and delivers good reception quality. In-call sound is loud and clear, as reported by both sides.
The phone omits gimmicky features like picking up the call when you hold the device to your ear or muting a call when flipped face down. To answer or reject you need to swipe on the screen and that's it. Volume down or the power button act as mute. Some may be disappointed, but traditionalists will rejoice. Reject with a text message is available, though.
There's no separate call log tab, instead it's combined with the dialer, and sits underneath the num pad. That one can be easily hidden though with a tap on the icon in bottom left. The call log gives you an option to show the calls by categories or all of them together, as well as a dedicated list for the VIP calls.
It's a dual-SIM smartphone, and as such the Zenfone 2 offers a choice of options on how to handle the two cards. Within the settings menu you can enable/disable each of the SIMs, and also assign a name for easier distinction. Obviously, you can specify which one is used for different tasks such as voice calls or data transfer. Otherwise you'll get two call buttons below the num pad.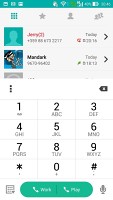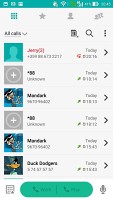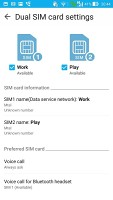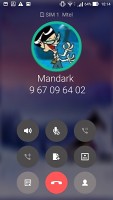 Dialer and call log • In-call display • Dual SIM settings
Our loudspeaker test returned unimpressive results. The Below average rating means you'd best keep an eye on your smartphone in noisy environments, or you may end up missing calls and notifications.
| | | | | |
| --- | --- | --- | --- | --- |
| Speakerphone test | Voice, dB | Pink noise/ Music, dB | Ringing phone, dB | Overall score |
| Asus Zenfone 2 ZE551ML | 62.9 | 61.7 | 67.7 | Below Average |
| LG G2 | 65.7 | 62.2 | 66.2 | Below Average |
| HTD Desire 816 | 66.6 | 65.7 | 66.6 | Below Average |
| Apple iPhone 6 Plus | 67.3 | 65.7 | 66.5 | Below Average |
| HTC Desire 820 | 65.6 | 61.1 | 75.7 | Average |
| Lenovo Vibe X2 | 66 | 67.7 | 71.8 | Average |
| Xiaomi Redmi Note | 65.9 | 66.7 | 75.7 | Good |
| Samsung Galaxy Note 3 Neo N7505 | 68.4 | 64.4 | 75.8 | Good |
| Meizu m1 note | 67.7 | 66.2 | 75.7 | Good |
| Oppo Find 7a | 71.7 | 66.6 | 75.7 | Good |
| Xiaomi Redmi 2 | 70.8 | 70.9 | 77.4 | Very Good |
| Oppo N1 | 73.7 | 67.7 | 78.7 | Very Good |
| Xiaomi Mi Note | 75.9 | 68.9 | 83.3 | Excellent |
| OnePlus One | 74.8 | 73.5 | 80.2 | Excellent |
| Meizu MX4 | 81.3 | 75.8 | 83.6 | Excellent |
Messaging, email and text input
The generic Messaging app on the Zenfone 2 offers straightforward texts with Asus's take on design, and works well. You can attach a picture or a video or a number of other items and that automatically turns it into an MMS message. Google Hangouts is onboard as well, with a broader set of multimedia and group handling features.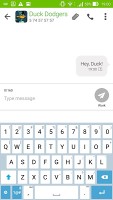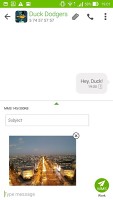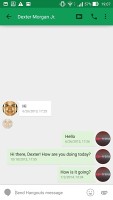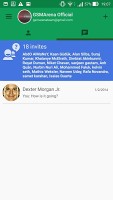 Messaging app • Google Hangouts
The Zenfone 2 comes with the common set of two email apps, the generic Android Email one, albeit tastefully skinned by Asus, and Gmail. They offer largely the same functionality, with similar interface and support for multiple accounts. The generic app has a more restrained look while Gmail is all Material design colorful. It does have that additional Google touch that may make you choose it over the default one.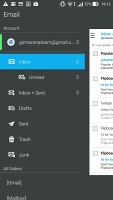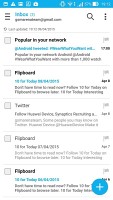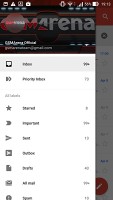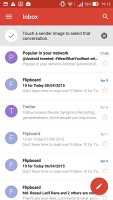 Asus-skinned Email app • Gmail
There's a single keyboard installed on the Zenfone 2, dubbed Asus Keyboard. It's not lacking in functionality and has a separate number row, which is handy, while still allowing for plenty of usable screen estate. Secondary symbols are also available, for quick punctuation or old-school emoticons without changing the entire layout.
It comes in three sizes, but Tall takes up more than half the screen and is a bit excessive. Most users will likely stick with Normal or even Short, which still provides adequate size.
It's swipe enabled, although Asus calls it trace input, but the concept is the same. Flick input lets you change between upper and lower case simply by taping on the key and flicking in up for uppercase and down for lowercase - a nifty feature, saving you a tap on the dedicated button. Trace and Flick can't work together, though.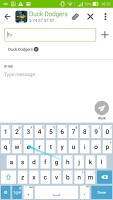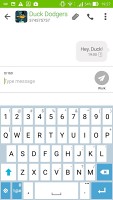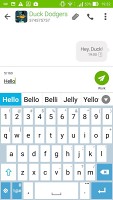 Asus Keyboard comes in three different sizes and with secondary symbols