Synthetic benchmarks
The Zenfone 6 is powered by the Snapdragon 855 chipset - Qualcomm's top model that you'll find on most every Android flagship this year. The Zenfone 5 had midrange hardware, while the 5z was the true flagship, but to avoid any confusion there's just the one Zenfone 6. Much better that way, we reckon.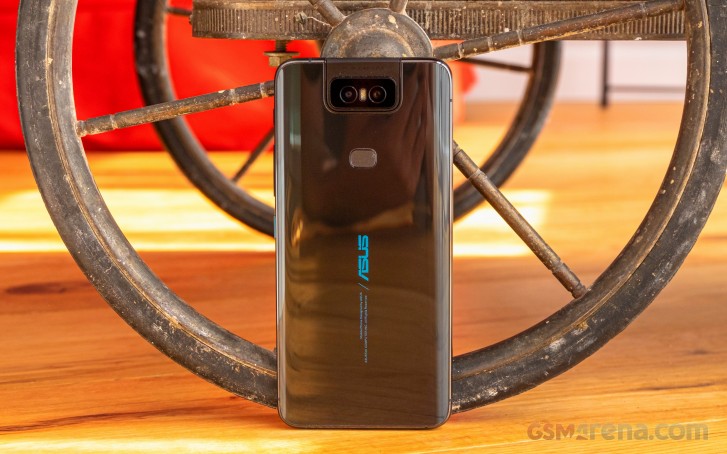 The Zenfone 6 recognizes benchmarking apps, and pops up a prompt offering to enable a 'Zen Power Boost' mode. We ran the benchmarks both ways and the differences are marginal to non-existent, with the occasional better result in the non-Boost mode. Seeing how the Snapdragon 855 has power to spare, we feel such exercises are a bit pointless, but the option is there and it could make a difference in your particular usage scenario.
Anyway, here are the results we got out of the Zenfone 6 in some popular benchmarks, compared to some potential rivals on the high-end of the spectrum, as well as some more affordable devices.
GeekBench 4.1 (multi-core)
Higher is better
Xiaomi Mi 9
11181
OnePlus 7 Pro
10943
Asus Zenfone 6 (Zen Power Boost)
10800
LG G8 ThinQ
10735
Asus Zenfone 6
10721
Huawei P30 (perf. mode)
10114
Huawei Mate 20 Pro (perf.)
10110
Samsung Galaxy S10e
10081
Huawei P30
9789
Huawei Mate 20 Pro
9712
vivo V15 Pro
6527
Samsung Galaxy A50
5396
Google Pixel 3a XL
5176
Sony Xperia 10 Plus
4780
GeekBench 4.1 (single-core)
Higher is better
Samsung Galaxy S10e
4518
Asus Zenfone 6
3505
Xiaomi Mi 9
3503
Asus Zenfone 6 (Zen Power Boost)
3499
LG G8 ThinQ
3419
OnePlus 7 Pro
3402
Huawei Mate 20 Pro (perf.)
3390
Huawei P30 (perf. mode)
3351
Huawei P30
3295
Huawei Mate 20 Pro
3291
vivo V15 Pro
2386
Samsung Galaxy A50
1715
Google Pixel 3a XL
1615
Sony Xperia 10 Plus
1340
AnTuTu 7
Higher is better
Asus Zenfone 6 (Zen Power Boost)
377024
Xiaomi Mi 9
372006
OnePlus 7 Pro
364025
Asus Zenfone 6
361679
LG G8 ThinQ
331537
Samsung Galaxy S10e
325192
Huawei P30 (perf. mode)
314595
Huawei Mate 20 Pro (perf.)
308050
Huawei P30
287960
Huawei Mate 20 Pro
273913
vivo V15 Pro
180774
Google Pixel 3a XL
159110
Samsung Galaxy A50
144574
Sony Xperia 10 Plus
120573
GFX 3.1 Manhattan (1080p offscreen)
Higher is better
Asus Zenfone 6
71
Asus Zenfone 6 (Zen Power Boost)
71
Xiaomi Mi 9
70
OnePlus 7 Pro
68
Samsung Galaxy S10e
67
LG G8 ThinQ
65
Huawei P30 (perf. mode)
56
Huawei P30
54
Huawei Mate 20 Pro (perf.)
54
Huawei Mate 20 Pro
53
Google Pixel 3a XL
20
vivo V15 Pro
17
Samsung Galaxy A50
14
Sony Xperia 10 Plus
10
GFX 3.1 Manhattan (onscreen)
Higher is better
Asus Zenfone 6
57
Asus Zenfone 6 (Zen Power Boost)
57
Samsung Galaxy S10e
57
Xiaomi Mi 9
56
Huawei P30
48
Huawei P30 (perf. mode)
48
LG G8 ThinQ
33
OnePlus 7 Pro
33
Huawei Mate 20 Pro
27
Huawei Mate 20 Pro (perf.)
27
Google Pixel 3a XL
19
vivo V15 Pro
14
Samsung Galaxy A50
13
Sony Xperia 10 Plus
8.4
GFX 3.1 Car scene (1080p offscreen)
Higher is better
Xiaomi Mi 9
42
Asus Zenfone 6
42
Asus Zenfone 6 (Zen Power Boost)
42
Samsung Galaxy S10e
42
OnePlus 7 Pro
41
LG G8 ThinQ
40
Huawei P30 (perf. mode)
33
Huawei Mate 20 Pro (perf.)
33
Huawei P30
29
Huawei Mate 20 Pro
29
Google Pixel 3a XL
11
Samsung Galaxy A50
9.2
vivo V15 Pro
8.8
Sony Xperia 10 Plus
6.3
GFX 3.1 Car scene (onscreen)
Higher is better
Samsung Galaxy S10e
40
Asus Zenfone 6
36
Asus Zenfone 6 (Zen Power Boost)
36
Xiaomi Mi 9
35
Huawei P30 (perf. mode)
28
Huawei P30
26
LG G8 ThinQ
20
OnePlus 7 Pro
19
Huawei Mate 20 Pro
17
Huawei Mate 20 Pro (perf.)
16
Google Pixel 3a XL
11
Samsung Galaxy A50
8
vivo V15 Pro
7.1
Sony Xperia 10 Plus
5
Basemark X
Higher is better
OnePlus 7 Pro
45413
Asus Zenfone 6
45291
Xiaomi Mi 9
45089
Asus Zenfone 6 (Zen Power Boost)
45074
Huawei P30 (perf. mode)
44948
Huawei Mate 20 Pro (perf.)
44780
LG G8 ThinQ
44602
Samsung Galaxy S10e
44059
Huawei P30
43428
Huawei Mate 20 Pro
40269
vivo V15 Pro
21104
Samsung Galaxy A50
19106
Sony Xperia 10 Plus
15035
Basemark OS 2.0
Higher is better
Xiaomi Mi 9
5346
Asus Zenfone 6 (Zen Power Boost)
5016
Asus Zenfone 6
4979
OnePlus 7 Pro
4797
LG G8 ThinQ
4735
Huawei P30 (perf. mode)
4718
Huawei Mate 20 Pro (perf.)
4610
Samsung Galaxy S10e
4470
Huawei P30
4373
Huawei Mate 20 Pro
3939
vivo V15 Pro
2936
Samsung Galaxy A50
2209
Sony Xperia 10 Plus
1764
3DMark SSE 3.1 Unlimited
Higher is better
Asus Zenfone 6 (Zen Power Boost)
6282
Asus Zenfone 6
6263
OnePlus 7 Pro
6093
LG G8 ThinQ
6017
Xiaomi Mi 9
5816
Samsung Galaxy S10e
4545
Huawei P30 (perf. mode)
4329
Huawei P30
3597
Google Pixel 3a XL
1748
Samsung Galaxy A50
1353
vivo V15 Pro
1206
Sony Xperia 10 Plus
1002