Final words
HTC Smart is the HTC's first experiment of going beyond the Android and Windows Mobile realms. In fact it's their closest attempt to producing a basic feature phone.
Similar to other HTC handsets, the HTC Smart has got top-notch build quality. It uses some high-quality plastics and its smallish size makes it quite pocket-friendly.
Unfortunately, its software platform is what lets it down. The Brew platform is not the smartest of platforms out there, but perhaps with proper support and good developer base, it can be turned into something more than a regular feature phone interface.
The Sense UI skin over Brew Mobile is probably the best part of HTC Smart. The homescreens are almost identical to those in Android and Windows Mobile both in looks and functionality. Still the eye-candy effects are sacrificed for performance.
But Sense UI can hardly make up for the basic looks of the submenus that use plain text and black backgrounds similar to the dated BlackBerry OS. The poor QVGA display also lets down the Sense UI graphics and the lack of a good application package on board ruins the overall experience.
For instance, the default web browser is still in beta version, sluggish, often crashing and its loading speeds are quite slow. The organizer functionality ends with the calendar and alarm apps plus a simple calculator.
HTC may call the Smart a smartphone but it has no multi-tasking, no application store and quite a poor choice of pre-installed apps. Combine that with the basic looks and capabilities of the whole platform and by our books, Smart barely makes it to a feature phone grade.
Currently HTC Smart goes for around 200 euro. If it was supposed to be the first cheap and basic touchscreen handset by HTC, they most definitely messed up with "cheap" there. Let's see what else you can get in that price range.
The youthful HTC Tattoo teases with exchangeable and customizable panels, full-connectivity package (3G, Wi-Fi, GPS) and Android OS. It has almost the same size and price tag as Smart, but offers much more features.
LG Optimus is the other Droid with similar price, but with bigger and better display, lots of connectivity options including Wi-Fi and DivX/XviD playback.
Nokia 5800 XpressMusic is another smartphone that is already proven guilty of delivering impressively high value for its budget price. The Symbian-powered device is also full of both software and hardware goodies, not to mention Nokia are now throwing in free GPS navigation and free car stands with every new touch phone they sell.
Finally, we find LG KM900 Arena and Samsung S8000 Jet resting at the feature phone camp. Both champs sport rich-connectivity options, nice camera features and capable touchscreens. S-Class and TouchWiz UIs are full of eye-candy, lots of software power and plenty of useful functions.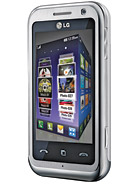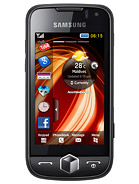 LG KM900 Arena • Samsung S8000 Jet
HTC Smart fails to defend its name. With no applications and lack of premium features plus the non-smart OS, Smart won't be able to stand up against the competition.
We really hope HTC are going to launch its own applications store and offer proper OS support, otherwise this not-so-smart phone is going down fast. A decent price drop plus some software update will set the things right and we hope HTC's already know that. Because as things stand today, HTC Smart is hardly the first choice, especially at a price point of 200 euro.