All rise
Apple iPhone 5 vs. Samsung Galaxy S III: All rise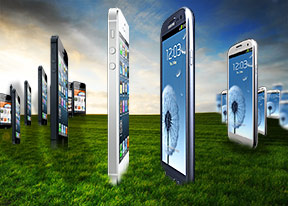 Web browsing
When it comes to Internet on a mobile device, the things that have the biggest impact on the experience are the screen, the performance and the browser. There are other considerations, of course, like connectivity (e.g. LTE) and battery life, we'll cover those too.
Anyway, we start with the screens. We already know the deal, the Samsung Galaxy S III has a 44% bigger screen, which makes a huge difference when browsing desktop sites. The iPhone 5 screen is slightly sharper, which improves the readability of tiny text.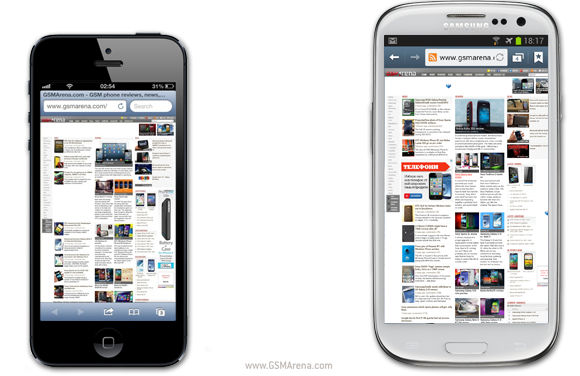 When it comes to the web browser, Mobile Safari beats the Samsung-modified Android Browser at synthetic benchmarks, but the droid does offer more functionality. We quite like the experimental Quick controls too.
Flash is being phased out on mobile devices, but you can still run it, even in Jelly Bean. You also get to choose a different browser - Apple doesn't really allow 3rd party browser engines to run on iOS, so at best you get reskinned Safari with some extra features and slower JavaScript.
You can't set them as the default browser either, so links will keep opening in Safari. Even so, iOS users are more inclined to switch Safari for something else.
In Android, you can go for Chrome, which is faster in benchmarks and provides a different user interface. Firefox is also available and it brings add-on capabilities, something which its desktop counterpart is famous for. Then there's Opera too.
All three of these browsers allow you to sync tabs between your desktop and your phone, something Apple just added to iOS.
Moving on, all Apple iPhone 5 versions have LTE connectivity, while not all Galaxy S IIIs do. If that's important to you, you should make sure you're buying the LTE-enabled version of the Galaxy S III (model number I9305).
As for battery life, the iPhone 5 has the clear advantage when browsing the web. It can last 3 and a half hours longer than the Galaxy S III, so if you spend a lot of time surfing the net on your phone, you might appreciate battery life more than the extra screen size that the S III offers (or carry a spare battery for the droid).
Overall the two are very close here - the iPhone leads in performance and longevity, but lags behind in functionality and . What clinches the win for the Galaxy S III here is the larger screen which makes a huge difference - you can fit more content on the screen without damaging readability and that's a real boost to usability.
Winner: Samsung I9300 Galaxy S III
Mobile gaming
Mobile games have started rivaling their console counterparts in terms of graphics and fanbase. The Apple iPhone 5 and Samsung Galaxy S III are two high-volume devices with some of the fastest chipsets on the market, so they'll handle everything from casual games to high-end 3D games.
There's a difference in marketplaces between the two OSes, which isn't really new. Android games are most often free or ad-supported with paid ad-free versions. In the iOS App Store, $0.99 games are the more common sight.
But the advantage isn't purely in Android's court - many popular games launch on iOS first and come to Android later (or launch simultaneously, but the other way around is rare) and there are still some high-end games that are iOS-exclusive.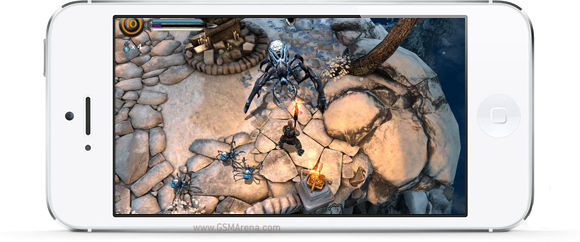 Both phones suffer a bit from other devices in their respective ecosystems. The iPhone 5, for example, changed the screen aspect ratio and quite a few games have not been updated and run with black bars on the side, so they're not really making full use of the extra screen real estate (which is already pretty limited).
The Galaxy S III has its own headaches - 720p screens are quite popular in Android already, but some games still haven't been adapted and will be upscaled to fit, which spoils the image quality somewhat (but isn't fatal). The bigger issue is that some high-profile games are Tegra 3-exclusive because of NVIDIA's close relations with game devs, meaning the S III is barred from games that would otherwise run on the hardware.
Apple's iCloud gives the iPhone 5 an advantage over Android phones as it syncs game progress, so you can easily pick up where you left off. That is helpful when you have more than one iOS device and also comes into play when upgrading.
Once again, though, the Galaxy S III wins points for its screen - since most games use on-screen controls, the big screen allows you to position your thumbs comfortably and still have good visibility. Not to mention that a larger screen allows you to enjoy those rich graphics even better.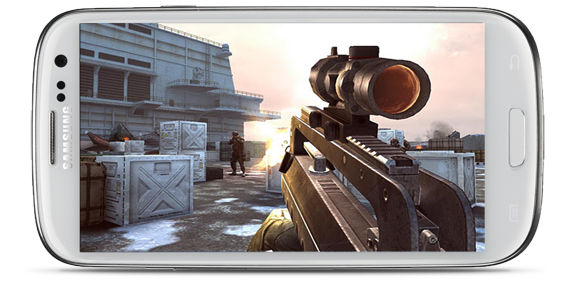 Speaking of controls, the Galaxy S III has proven a wiz at using various console controllers - the ones from the three major consoles (Xbox 360, PS3 and Wii) are easy to get working and there are games that support them.
Throw in a HDMI MHL adapter and you can use the S III as an Android game console. The Ouya project got a lot of attention, so the Android games that support hardware controllers should just keep increasing.
Of course the iPhone 5 also offers TV-out out functionality and there are some dedicated hardware controllers for the iPhone, but you can't just pick one from your console and use that. Also, since the iPhone 5 is taller than the 4 and 4S and sports a different connector many of the current iPhone controllers might not be compatible.
Once again the call it tough here - the Galaxy S III is a device better suited for gaming, but the iPhone 5 ecosystem leads Android by some distance (we assume that if you really are into mobile gaming, you wouldn't mind paying for them). We'd call this one a tie, but if any of your favorite game titles are iOS-exclusive, you should read that as an iPhone 5 win.
Winner: Tie