All rise
Apple iPhone 5 vs. Samsung Galaxy S III: All rise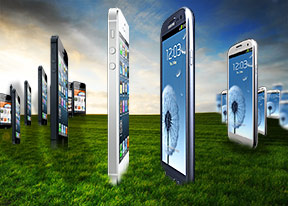 Telephony
Both the Galaxy S III and the iPhone 5 are devices capable of doing truly amazing things but we shouldn't forget that they are still phones, so telephony and messaging is a pretty important feature to get right. Samsung and Apple have both polished their telephony experience over the generations of smartphones they've produced, so let's start examining the differences.
The dials on the iPhone 5 and Galaxy S III are pretty standard affair. You get a big dial pad bringing you very thumb-friendly buttons to press. However, once you start dialing a number, Samsung's smart dial kicks in and start searching names and numbers simultaneously. If it hits any matches, the dialer displays the contact photo and number of the first and, if there are more an arrow next to it, which lets you see the rest. Overall smart dialing is a real time-saver.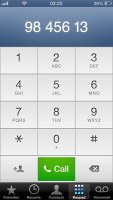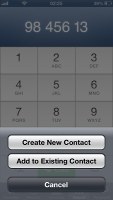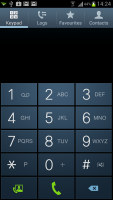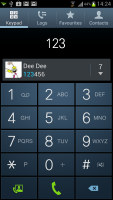 The dialers of the iPhone 5 and Galaxy S III
On either handset you can also search contacts using the universal search tool from your homescreen. The Galaxy S III has something extra there, too – since it's an Android smartphone, it lets you make widgets of your favorite contacts, which are always just a click away.
And that's not the only telephony trick, the Samsung Galaxy S III has up its sleeve. We find the Direct Call feature pretty cool. It lets you dial a number by lifting the phone up to your ear while browsing contacts, reading or composing a message. There's also flip to mute, which lets you mute the ringer and disable the vibration by simply turning your phone over.
Another trick in the TouchWiz bag is the very advanced black list. You can add numbers to it, or set it to automatically reject calls from phones starting with, ending with or containing some preset numbers. The Apple iPhone 5 and iOS6 don't pack a similar feature out of the box.
When it comes to in-call quality, the competitors are nothing short of great. The Apple iPhone 5 boasts a triple-microphone setup and, delivers crisp in-call voice quality. The Samsung Galaxy S III has only two mics but still did quite well in that aspect.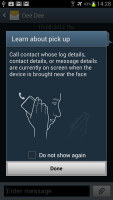 The Direct call gesture on the Galaxy S III
As usual, we included our traditional loudspeaker test that we conducted on the Samsung Galaxy S III and the iPhone 5.
| | | | | |
| --- | --- | --- | --- | --- |
| Speakerphone test | Voice, dB | Pink noise/ Music, dB | Ringing phone, dB | Overal score |
| Samsung I9300 Galaxy S III | 75.1 | 66.5 | 75.0 | Good |
| Apple iPhone 5 | 66.8 | 66.1 | 67.7 | Below Average |
| Sony Xperia T | 63.7 | 58.9 | 62.1 | Below Average |
| Sony Xperia acro S | 65.3 | 62.1 | 67.8 | Below Average |
| Apple iPhone 4S | 65.8 | 64.5 | 74.6 | Average |
| Motorola RAZR XT910 | 74.7 | 66.6 | 82.1 | Very Good |
| HTC Desire | 76.6 | 75.7 | 84.6 | Excellent |
As for the user interface, the iPhone 5 and Galaxy S III cover the basics giving you the recent call log, list of favorites as well as quick access to the keypad. The Galaxy S III is further enhanced with clever shortcuts in the call log, phonebook, messaging and just about every other contact listing -- a swipe to the right starts a call, while swiping to the left starts a text message. Just like the smart dial, once you get used to it, it's a real time-saver.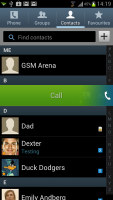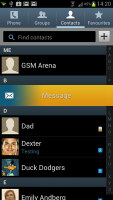 The Galaxy S III smart swipe shortcuts
Finally video calls – the Samsung Galaxy S III supports native video calls, which mean that you can call any other handset that supports the feature. The iPhone 5 lacks that, but features FaceTime, which is the Apple equivalent. FaceTime does offer higher quality than regular video calls, but it's reach is far reduced.
It's a pretty easy choice here - the Galaxy S III offers so many more features that it had no trouble walking away with the win.
Winner: Samsung Galaxy S III
Messaging
In terms of messaging, the differences between the iPhone 5 and Galaxy S III aren't substantial. Both support basic SMS and MMS messages, allow you to store virtually unlimited amount of messages, display text messages as a conversation and support multiple recipients.
You can also use voice input on both smartphone to dictate a message, rather than typing it. After the Jelly Bean the Galaxy S III has an advantage here, though – the voice typing can be made to work offline on the Android smartphone. All you have to do is download the needed language packs once and you can use the feature even without data connectivity.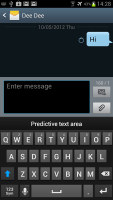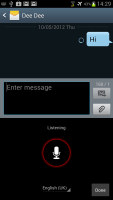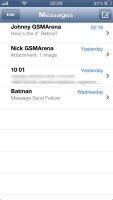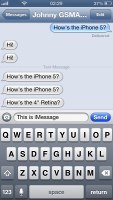 Messaging is versatile on both devices
Speaking of typing, the keyboards on both devices are pretty. On the Galaxy S III you get the benefit of the larger screen, while on the iPhone 5 there's the really cleverly thought out iOS keyboard, which many users swear by.
It really does all it can to offset the screen estate advantage, although it lacks some extra functionality that the Samsung keyboard does. There's no Swype-like input, for example, or the option to switch between letters and other characters with a horizontal swipe.
Furthermore, the Galaxy S III has access to a host of alternative keyboards from the Google Play Store, whereas the iPhone 5 is limited to its stock keyboard for good.
Apple's trump in the messaging department is the iMessage service. It lets you exchange instant messages between iOS-running –Gadgets either over Wi-Fi or 3G. The service supports plain text as well as multimedia (videos, pictures, sound) messages. Additionally, each conversation is synced with the iCloud service making it available on all iDevices, including the Mac OS X-running ones.
Samsung has its own iMessage rival in the face of ChatON, but that's neither as nicely integrated, nor nearly as popular, so it's pretty useless at this point.
It's too close to call here really – the two are just great for messaging and picking one over the other is strictly a matter of personal preference.
Winner: Tie