Monster Brawl
iPhone 6s vs. Galaxy S6 vs. Xperia Z5: Monster Brawl
Gallery
Apple
Apple's big photography update in iOS 9 is Live Photos, basically 3-second video clips centered on the time you pressed the shutter key. In other words, kinda what HTC did with Zoe, only this time the visualization is much more elegant and employs 3D Touch for playback. Our only gripe is that Apple hasn't worked out a cross-platform way to share such Live photos, though this is pretty typical Apple behavior.
In terms of organization, the iOS gallery marshals images into Moments, Collections and Year. The search function handles dates and locations and you can use pinch zoom to change the scale, which makes navigating huge image collections a breeze.
Samsung
Samsung also nabbed an HTC feature, Video highlights. Groups of photos get a mini slideshow to highlight the best moments captured in those shots.
The search function can track down photos based on people (using face recognition), time, location, event (time+location), category and so on. Pinch zoom also works here.
Sony
The Sony gallery is the only one that handles online albums (Facebook, Picasa, Flickr) after Samsung decide to drop that feature in the S6. The Xperia Z5 can also pin your photos on a map or a 3D globe so you can impress friends with your travels.
Photos can be sorted by people or location and you can use pinch zoom to adjust the size of the thumbnails. By default, the first thumbnail in the list (say, the last photo you took) is larger than the rest, to give you a clear view.
Music players
Apple
Apple has been selling music since before it had the iPhone, now it has moved into the music streaming business too with iTunes Radio. Despite the name, this service allows you to pick and choose the artists and tracks you like. Beats 1 is much more like a traditional radio (except broadcast over the Internet).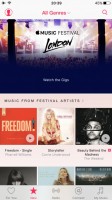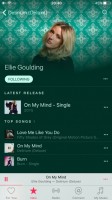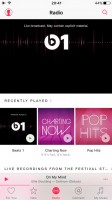 Apple music player and Beats 1 radio
The music player itself is tightly bound to iTunes and its store. If you want to load new tracks, even ones not bought on iTunes, you have to hook up the phone to the desktop iTunes app. Lossless audio is supported with Apple's proprietary ALAC format, but FLAC files will need to be transcoded.
Samsung
Samsung toyed with music streaming but is yet to find success. The TouchWiz music player is one of the very best for offline play, however. It supports a number of ways to enhance the audio experience ranging from simple to advanced, automatic to manual.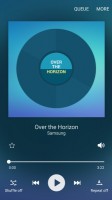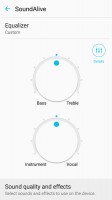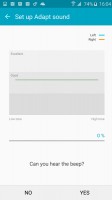 Samsung music player • equalizer in simple mode • automatic tuning of the equalizer
You have a 7-band equalizer, but you can let Adapt Sound test your hearing and your headphones to determine the best setting. A new feature is called UHQ Upscaler, which promise to improve CD-quality audio to 24-bit, 96kHz level. Or you can just use lossless FLAC files for guaranteed quality.
Sony
The music app on the Xperia Z5 bears the iconic Sony Walkman brand and also promises to catapult your CD-quality music to new heights. DSEE HX also aims to emulate 24-bit, 96kHz audio. Automatic Optimization analyzes your headphones and hearing much like Samsung to find the best settings for the 5-band equalizer.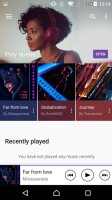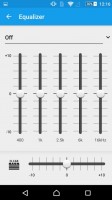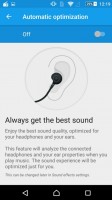 The Walkman music player • Sony can auto tune the equalizer too
The Sony Xperia Z5 is the only phone here to ship with good old FM radio and it does so in a modern way. Basic RDS is expanded by TrackID, which will recognize the current song, bring it up in the Google Music store and even let you post on Facebook about it.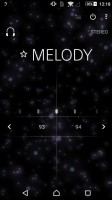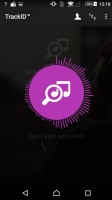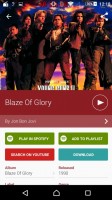 Recognizing a song on the radio with TrackID
Video players
Apple
The iTunes computer application is the gatekeeper for videos on the iPhone 6s. You have to transcode most videos (unless they were made specifically for the iPhone). That means you'll probably stick to streaming videos as even the fastest ways to transcode a movie will still take half an hour if not more.
Subtitles aren't supported either, so you'll need a third-party player for foreign films.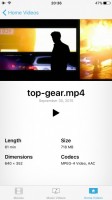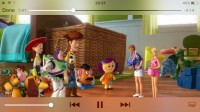 The iPhone 6s video player is locked behind iTunes
Samsung
Samsung's video player is fairly simplistic. It has one unique feature, Pop Up play, which lets you multitask while you watch. It lets you do something else with the phone, without having to pause the video.
The hardware is fully capable to decode 4K video in most formats (including MKV), however it stumbles when it comes to multi-channel audio. Subtitles can be loaded manually and their appearance is fully customizable.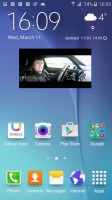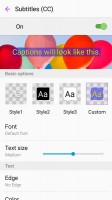 The TouchWiz video player is multitasking-friendly
Sony
Sony's video player is dubbed Movies and provides an almost home theater experience. If you have movies or TV show episodes stored on your Xperia Z5, it will use Gracenote to find additional info - cast, crew, plot summary and more. With an appropriate TV out (wired or wireless) method, you can get a great big screen experience.
The video player itself supports videos up to 4K resolution and MKV files are okay. It has problem with multichannel audio like AC-3 though. Subtitles are available and customizable.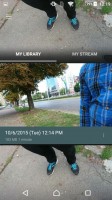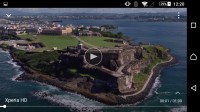 Sony went for a more cinematic feel
Winner: Sony Xperia Z5: Not the most innovative set of multimedia apps, but others focus so much on organizing photos that they don't have much fun features. Like the Movies app, which is like a mini HTPC setup, the Facebook-enabled photo gallery, bringing FM radio to the Facebook age and so on.
Runner-up: Apple iPhone 6s. Apple really streamlined its gallery with iOS 8 and now Live Photos and 3D Touch add an extra layer to the experience quite literally. They are basically HTC's Zoe and Samsung's Air View, but both of those companies seem to have cooled off on the features they spawned. The music and video players are behind the iTunes wall though, which isn't great in terms of user-firendliness.
The Galaxy S6 gallery may look better than the one on the S5, but it has fewer features. And "look better" here is dangerously close to "looks like the iOS 8 gallery." The Xperia and the Galaxy S6 offer similar audio features - Sony borrowing the auto tuning feature, Samsung taking the audio upscaling.
Loudspeaker
You don't always use headphones when listening to music or watching movies, so a solid loudspeaker is a great thing to have. The Sony Xperia Z5 boasts stereo speakers on its front, which make for a great multimedia experience. They are rather quiet though, which hurts their use for notifications... and starting parties.
The Samsung Galaxy S6 has a single speaker, but it's loud. Well, louder anyway, a Good mark is far from the best we've seen, but it's still better than the iPhone 6s.
Apple's handset scores a Below Average, but unlike the Xperia it can't say "well, at least it's in stereo."
| | | | | |
| --- | --- | --- | --- | --- |
| Speakerphone test | Voice, dB | Pink noise/ Music, dB | Ringing phone, dB | Overall score |
| Sony Xperia Z5 | 65.1 | 62.3 | 66.3 | Below Average |
| Apple iPhone 6s | 66.5 | 64.6 | 65.8 | Below Average |
| Samsung Galaxy S6 | 68.1 | 66.3 | 73.7 | Good |
Winner: Sony Xperia Z5. Assuming you don't work on a construction site, the Z5 speakers will do enough to let you know your phone is ringing. The music and video experience is nicer in stereo.
Runner-up: Samsung Galaxy S6. "One but loud" has been Samsung's strategy and while not ideal, it works quite well.
Apple never had the loudest loudspeakers and the iPhone 6s is just the last in a long line of Below Average scores.
Audio quality
All three contestants had excellently clean output when connected to an active external amplifier, with the iPhone 6s the only one to have a non-perfect reading with its average stereo crosstalk. The volume levels were pretty evenly matched too, so it's all very close to a tie here.
Plugging in a pair of headphones hurt the Xperia Z5 the most, introducing the highest amount of crosschannel leakage, some intermodulation distortion and bringing down the volume. The iPhone 6s fared better only losing some stereo quality (but still remaining better than the Sony smartphone). Finally, the Samsung Galaxy S6 was the best in this case, showing virtually no degradation.
Anyway, here go the results so you can do your comparisons.
| | | | | | | |
| --- | --- | --- | --- | --- | --- | --- |
| Test | Frequency response | Noise level | Dynamic range | THD | IMD + Noise | Stereo crosstalk |
| Sony Xperia Z5 | +0.01, -0.04 | -95.5 | 89.5 | 0.0033 | 0.012 | -94.8 |
| Sony Xperia Z5 (headphones attached) | +0.22, -0.24 | -95.1 | 89.5 | 0.0057 | 0.212 | -59.8 |
| Apple iPhone 6s | +0.03, -0.04 | -93.5 | 93.5 | 0.0016 | 0.0075 | -73.2 |
| Apple iPhone 6s (headphones attached) | +0.10, -0.06 | -93.8 | 93.9 | 0.0030 | 0.101 | -68.2 |
| Samsung Galaxy S6 | +0.01, -0.04 | -95.6 | 92.8 | 0.0024 | 0.0094 | -94.5 |
| Samsung Galaxy S6 (headphones) | +0.02, -0.05 | -92.6 | 91.9 | 0.0025 | 0.042 | -83.4 |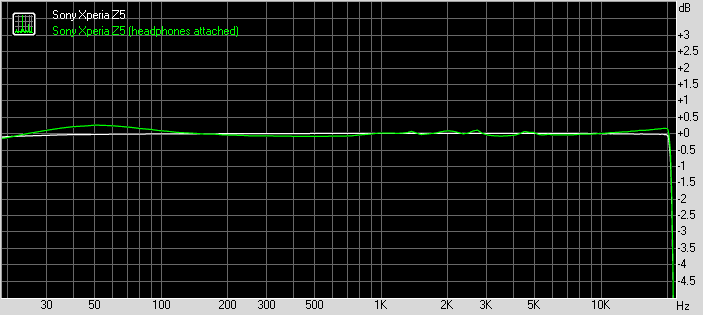 Sony Xperia Z5 frequency response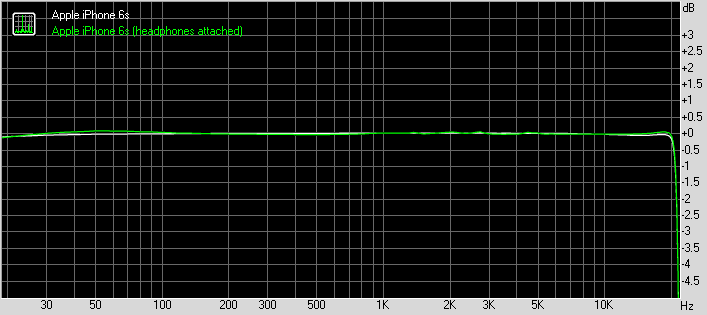 Apple iPhone 6s frequency response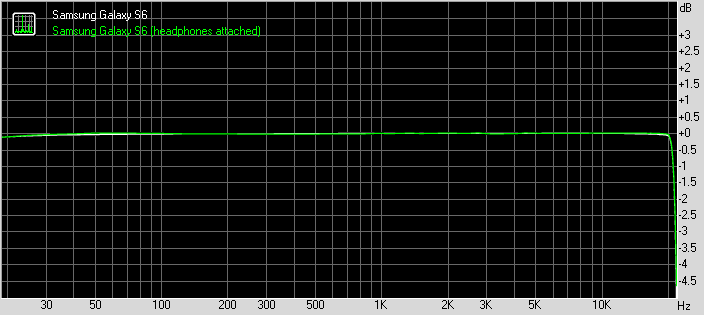 Samsung Galaxy S6 frequency response
Winner: Samsung Galaxy S6. It was a close battle between three great performers, but the Samsung handset handled headphones much better than the other two, securing the win here.
Runner-up: Apple iPhone 6s. The iPhone started on the back foot here with its slightly disappointing stereo quality with an active external amplifier, but took advantage of the Sony slip in the second part and claimed the second spot.
The Sony Xperia Z5 is not a bad musician in any way, but in this elite company it had to settle for the last spot.