Double positive
Apple iPhone 6s Plus vs. Samsung Galaxy S6 edge+: Double positive
Software overview
Interface
Apple iOS and Android used to be very different beasts but over the years they have borrowed from each other and from other OSes so much that they function in more or less the same way. Of course, iOS is purely an Apple creation, while the OS that runs on the Galaxy S6 edge+ is heavily influenced by Samsung but primarily developed by Google.
As of the time of writing this, the Galaxy S6 edge+ runs Android 5.1.1 Lollipop dressed with the latest TouchWiz on top. The iPhone 6s Plus launched with iOS 9 and you can already download v9.0.2. This is the advantage of Apple developing software for Apple devices - updates are lightning-fast.
The two devices start in pretty much the same place - a lockscreen with time and date, plus a camera shortcut. The latest iOS and Android allows for push notifications on the lockscreen.
Simple unlock methods can be used but what both companies will have you use is the fingerprint reader. It's a fairly secure way to lock your device, that's actually quicker than the various PIN and pattern locks. The iPhone's new Touch ID is a bit faster and more comfortable.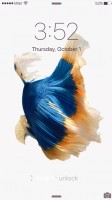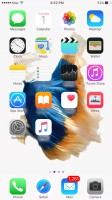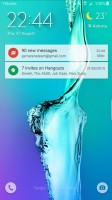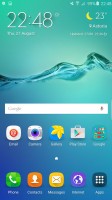 Apple iPhone 6s Plus lockscreen and homescreen • Galaxy S6 edge + lockscreen and homescreen
Samsung does offer a cool extra feature here called Private mode. It hides a folder where you can stash sensitive files, and the folder can only be accessed with your fingerprint.
Samsung also offers Smart Lock, which disables the secure locking options when a trusted device is connected (Bluetooth smartwatch or car stereo or an NFC sticker) or when the phone is in a trusted location. Unfortunately, that's determined by geo-positioning only, you can't add a trusted Wi-Fi network.
Samsung Galaxy S6 edge+ supports themes unlike the vanilla iOS. Themes can change the wallpaper and icons, core apps such as dialer, contacts, and messages, as well as the notification area.
The two platforms differ in where the widgets go - Android puts them on the homescreen, while iOS stuffs them in the notification area. Apple supports landscape view on the iPhone 6s Plus, while the Galaxy S6 edge+ keeps its homescreen portrait-only.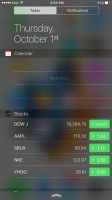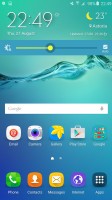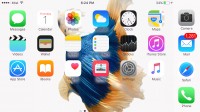 Widgets on the iPhone and the Galaxy • landscape is available for the iPhone
Samsung has enriched the homescreen with a Flipboard-powered My Magazine screen called Briefing, where you get both news and social networking updates. Apple on the other hand only has their News app, but it's only available in the States for now.
Samsung's notification area may not have widgets, but it's still pretty busy. There's a scrollable row of quick toggles (which can be rearranged), followed by a brightness slider (which can be hidden), two buttons and only then the actual notifications.
Apple has placed its quick toggles in a different slide-out menu, one which is pulled from the bottom. The so-called Control Center has four shortcuts too, but it's not customizable like on TouchWiz. Third party apps appear on the Share with and Open with lists.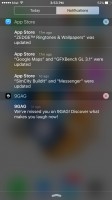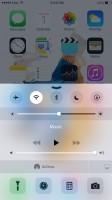 Apple's Notification and Control centers
One cool thing that Apple did for notifications is that they appear on the top row of the screen and you can tap them for a short interaction. The currently active app stays in place so you get back to it instantaneously.
Multitasking
Samsung has a more PC-like approach to multitasking with the Multi-Window feature. It splits the sizeable Galaxy S6 edge+ screen in half so two apps can be used at the same time - there are certainly enough pixels and CPU power for that.
An alternative approach is the Pop-up screen, which puts apps in a movable, floating window so you can drag and drop content from one to the other.
Both multi-view and pop-up screen are activated from the App Switcher interface.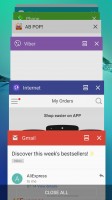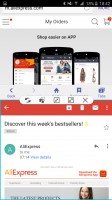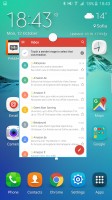 Multi-Window and floating apps for multitasking
Switching between actual apps on the Galaxy S6 edge+ is similar to the Lollipop experience where a 3D carousel of apps is shown. This lets you see only four apps at a time, for three of which you can actually see more than the app name.
On the iPhone 6s Plus the app switcher is identical to that of the smaller iPhone and shows only three apps (one plus two halves, actually) in portrait mode and four apps in landscape mode. There are shortcuts to your favorite and recent contacts, which may be of some help too.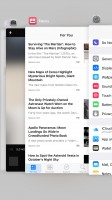 The iPhone 6s Plus app switcher
One-handed use
Big screens are a boon, but also an inconvenience for one-handed use. The Galaxy S6 edge+ answer is to scale down the screen (which you can move and resize) to make sure you can reach everything. Even the hardware keys can be swapped for on-screen alternatives.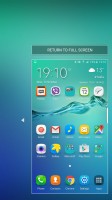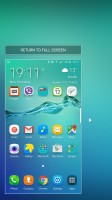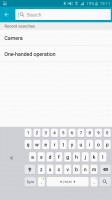 One-handed optimizations for the Galaxy S6 edge+
Apple's solution, Reachability, is more limited - you double tap the Home button (double tap, not double-press ), which lowers the UI half way down the screen. By Apple design, apps put the Back button (along with other controls) on the top row of the screen, which worked great for 3.5"-4" screens but not so great on the 5.5" iPhone 6s Plus. In the past year third-party apps have gradually transitioned to use a swipe-across-the-screen gesture to move back to previous screens.
Search
With booming storage options, sometimes it can be hard to find your files, which is where Spotlight comes in. It will search more than files though, it will go through Wikipedia, IMDb, assorted news sources and Apple stores (for apps, music, books and more). It has been updated and can now do simple calculations and conversions. It also supports finding sport scores and weather forecast information. And finally, you get shortcuts for making a call or sending a message to any of the contact results in the Spotlight searches.
A similar functionality is offered by Samsung's S Finder. The results list files, installed apps, contacts, settings and you can do a Google search, but that's an extra tap.
Digital assistants
Of course, you don't have to type, both phones have digital assistants, which understand spoken requests. Apple's Siri has been gaining new skills with every new release of iOS - it can now search through your photos and videos based on dates, locations and the album names. It supports custom reminders from things you've been searching for in Safari, Mail, Notes and Messages and it got support for public transit navigation too. It also does song recognition, but you can also make it do a web search, turn off Wi-Fi or increase the brightness, Siri can even help you with booking a restaurant. Siri's conversational skills are not bad either, it can answer questions about games, teams, players, movies, actors and more.
S Voice is less chatty but it can handle commands too, like calling someone, playing a track or launching an app. It can take down notes or schedule an event in the calendar, even type up your SMS for you or answer trivia questions.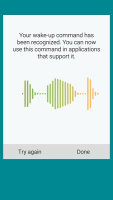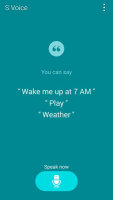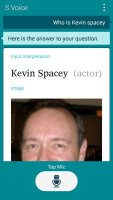 Samsung maintains its own digital assistant, despite Google Now
Working with computers
One of the coolest features in the iOS is called Continuity. It makes the transition between Apple devices seamless - you can start typing an SMS on your iPhone and finish it on your MacBook. Or you could be reading a web page on your Mac and continue on your iPhone 6s Plus if you have to leave. This syncing works for other apps too, including Mail, Pages, Numbers, Keynote and Maps.
While not quite as polished, Samsung SideSync offers similar functionality but in very a different way. It lets you use your computers keyboard and mouse to interact with your Galaxy smartphone, including text copy and paste, even moving files between the devices. You can mirror the phone's screen on the computer and operate with it remotely.
Winner: Samsung Galaxy S6 edge+. Phablet interfaces is something Samsung has been working on for generations before the S6 edge+ and TouchWiz is quite versed in this respect- you can have multiple apps, floating apps or maybe just shrink the screen temporarily. The Private mode is a great addition too.
Apple did enable landscape mode and Reachability, but overall it's like using a stretched out version of the iOS interface you get on a 4" iPhone 5s. Siri is the better digital assistant of the two but we don't put much weight on this as a feature.