Double positive
Apple iPhone 6s Plus vs. Samsung Galaxy S6 edge+: Double positive
Camera overview
Sensors
Before we dive into image quality, we'd like to quickly list camera features for both devices. Both manufacturers claim Optical Stabilization, and both boast hybrid contrast detect - phase-detect autofocus.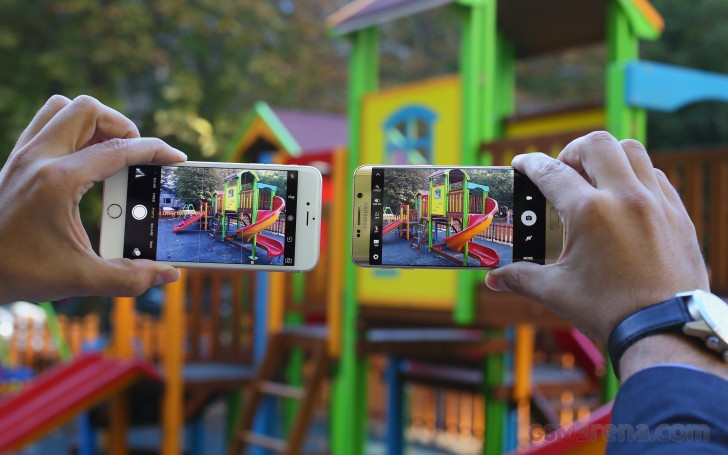 The Apple iPhone 6s Plus brings the long overdue camera resolution upgrade. After sticking to an 8MP sensor for four generations, Apple finally upgraded the iPhone's main camera to a 12MP imager. The front camera has received an upgrade to 5MP as well. Both cameras are paired with a lens with the same F/2.2 aperture.
The more powerful chipset and the new 12MP sensor allow the iPhone 6s Plus to capture 4K video recording among other new modes, plus it enables the so-called Live Photos. This is a familiar feature from the first HTC One - the camera captures 1.5s video either side of the moment you hit the shutter and it turns it into sort of animated photos.
Apple also does 1080p@60fps but goes up to 240fps at 720p and up to 120fps at 1080p for the best slow-motion mode yet. The iPhone 6s Plus also has a dual-LED flash to rely on in the dark. Both devices offer HDR modes for stills and videos, as well as the panoramic shots.
Samsung has opted to use the superb 16MP Sony IMX240 sensor on the Galaxy S6 edge+, coupled with f/1.9 lens. It's a 16MP sensor with 16:9 aspect ratio that's capable of 2160p@30fps video, plus 60fps and 120fps modes at 1080p and 720p respectively.
That's the same excellent setup that's found in Samsung Galaxy S6 and Galaxy S6 edge with the addition of an IR white balance detection sensor, a feature we first saw implemented on the LG G4. LG calls this sensor Color Spectrum Sensor, but essentially both sensors do the same thing - they try to analyze the color spectrum of the available ambient light so that they deliver a more accurate color balance.
The Galaxy S6 edge+ is equipped with a 5MP front-facing camera, which has a similar F/1.9 aperture and offers Live HDR and color filters as well.
Interface
The Apple iPhone 6s Plus doesn't offer a plethora of features - AE/AF lock, geotagging and face detection are about it. Other options include turning Live Photo on/off and filters.
By the way, the Apple iPhone 6s Plus can use its display for the so-called the Retina flash feature, which lights up the display at up to 3 times its usual maximum brightness to illuminate selfies in dark settings. It also tailors the tint to match the ambient light. It's better than nothing and can save you in extreme cases, as long as you don't expect miracles.
Luckily, the App Store is full of advanced camera apps, including slow shutter speed, which will give you enough creativity if you need it.
True to self, Samsung loaded plenty of features. The Selective focus (which has become trendy recently) lets you change the focus point after taking the photo, Virtual Shot is an upgrade over regular panoramas (it lets you walk around as you shoot), there is Pro mode where you can tweak all the settings by your choosing (focus distance, white balance, ISO up to 800, exposure and shutter speed up to 10s). Even RAW option is available. There are options for slow and fast motion videos, and live broadcast on YouTube.
But wait, there is more. In case those are not enough for you, you can download additionally sport shot, sound & shoot (a.k.a. Live Photo), food shot, rear-cam selfie, dual camera shot, animated gif, among others.
The onscreen interface is clean, but you can pop up Auto/On/Off HDR, flash and effects shortcuts. Samsung has provided focus/exposure lock too, as well as geotagging and face detection.
The front 5MP selfie cam has a 120-degree WideSelfie mode, so it can easily capture group selfies. You can snap selfies with a tap on the heart-rate sensor on the back of the phone.