Double positive
Apple iPhone 6s Plus vs. Samsung Galaxy S6 edge+: Double positive
Multimedia package
Galleries
Apple
Apple updated the Photos app with iOS 9 with Live Photos and better search options by location and date. But what's a Live Photo? It's lets the camera shoot a 3-second video clip around the time you hit the shutter button to snap a photo. We've already seen a similar implementation on the HTC One and the Zoe feature and they are pretty neat making your memories come to life. Unfortunately, sharing them across platforms is quite hard.
Other than that Photos app offers the same layout and interface we met for the first time in the iOS 8. Your pictures are organized by date and location, if available. The views you can switch between are Moments, Collections and Year - just like before.
We already mentioned the 3D Touch support. It allows you to preview both standard photos and Live Photos in the gallery. It's a pop-up with the picture and you can swipe it up for additional settings (Copy, Share, Delete).
The integrated image editor is really powerful and could improve your photos a lot. You should try and play a bit with it, it's among the best we've seen on a mobile device and while it may offer lots of manual tweaks, its automatic enhancement options are rather good, too.
The familiar iCloud Photo Library, Shared Photo Streams (a mini social networks), and a dedicated Recently Deleted album are also available.
Samsung
The Galaxy S6 edge+ gallery's default view shows photos grouped based on time. Thumbnails are shown on a clean white background and you can change their size with a pinch zoom gesture. Events uses time and location to group photos and automatically create "Video highlights," a slideshow accompanied with music. You can export that to a video to share on your social network of choice.
The Categories view groups multimedia by type - pictures, videos, slow-mo videos, Virtual shots and so on. The People category groups photos based on the faces in them. There's also a Documents category. You can use the Search shortcut to look for photos based on category, people, time, event, location and so on.
Batch operations are gone, but you can easily move photos to Private mode (this requires activating the mode). Editing tools include simple things like Auto adjust, crop and rotate, but you can also do collages and go into the Photo editor, which is the usual Android editor with more advanced crop and rotate tools, color adjustment, effects and dedicated portrait enhancements (slim face, large eyes, you get the idea).
The Share button allows you to send a photo to a device over DLNA, to a TV using screen mirroring or to a wireless printer. Samsung also has a special feature to send profile photos and high-resolution images to your contacts as a sort of mini social network. For non-Samsung devices, recipients get a link over text message, the link expires after a certain period.
Music players
Apple
The iOS 9 music player looks a lot like the one from iOS 8 - it supports (ad-supported or ad-free) iTunes Radio and iTunes Match, as well as iCloud Music library. It syncs with your computer's iTunes library, streams from your Match and/or iCloud songs, as well.
But in case that is not enough, there's also Apple Music now. The service can replace everything music-related feature Apple has launched to date and offer you pretty much the entire music world at the tip of your fingers.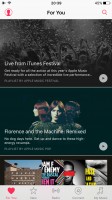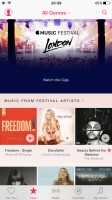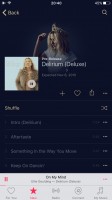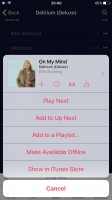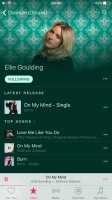 The Music app with Apple Music
Basically Apple Music does what Google Music or any other similar service does - allows you to stream songs, add them to playlists, and build an entire music library in the cloud. You can also download those songs for offline usage and unlike Google Music, Apple Music allows you to download single songs from albums.
Finally, the Beats 1 radio is available 24/7 and the tracks there are chosen by real DJs, not machine algorithms. Lots of people have been hooked on this idea already.
Samsung
Samsung's TouchWiz music player used to be one of the most feature-bloated apps, but the company has done some work to trim the fat. The app looks very clean now, essentially it has just two screens.
One lets you browse tracks and playlists, with a dropdown menu to switch between views including Folder view. The Music square is gone. The other screen is the Now playing with album art and a few playback controls. You can transfer playback to a Bluetooth or a DLNA device.
SoundAlive has gotten rid of the square view too, now it has two dials - one changes the balance between bass and treble, the other between instrumental and vocals. You can tap the Details button for a manual 7-band equalizer. Audiophiles should know 16-bit and 24-bit FLAC audio works out of the box.
Adapt Sound is available to automatically tune the equalizer based on your headphones and your hearing. Additional options include SoundAlive+ (creates a surround sound effect) and Tube Amp. There's also Smart volume to balance the volume between tracks and playback speed if you want to slow down or speed up the playback (useful for audio books we guess).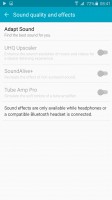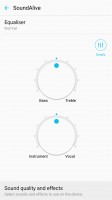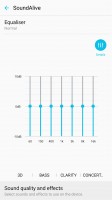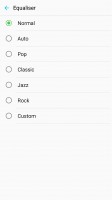 SoundAlive • 7-band equalizer • Adapt Sound
One of the most important additions to the audio credentials of Samsung Galaxy Galaxy S6 edge+ is the UHQ Upscaler. Developed by Samsung, the feature enhances the "sound resolution" of music and video files for better experience with headphones.
Google Music app is available on the Galaxy S6 edge+, so you can enjoy streaming and downloading music from Google's library. Recently it was updated with smart suggestions to match the Apple's Music feature. It lacks the Live radio and an option to download separate tracks from albums for offline listening though.
Video players
Apple
The iOS video player actually has just few features. It heavily relies on iTunes as it supports only one video format and it needs the desktop app to convert videos to that. As we already mentioned in the Connectivity chapter, the Lightning port can output 1080p video via an adapter.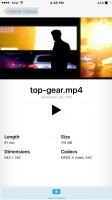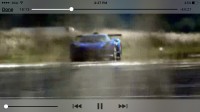 The iPhone 6s Plus video player relies heavily on iTunes for video transcoding
Samsung again goes all out with the features and supports a good deal of formats. The audio codec support is pretty spotty though, typically nothing multichannel (AC3/DTS) will work. There's extensive subtitle support and you can put the video in a popup to watch while you use another app.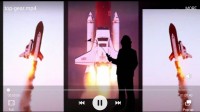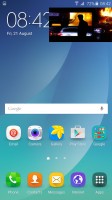 Samsung offers richer codec support and a popup video player
The MHL-enabled microUSB 2.0 port can output 2160p video with the right. Strangely, surround sound output is supported but you'll have to resort to a third-party video player for that.
Winner: Samsung Galaxy S6 edge+. We're willing to call the gallery a draw (both have exciting exclusive features), but the music and video players go in favor of the Galaxy. The ease of use and of these applications and more importantly, adding multimedia content to the phone is as great as it gets.
The Apple iPhone 6s Plus does well enough in Apple's ecosystem - the iTunes Store sells properly encoded video and audio files, but bringing content from the outside world can be tricky and confusing for novice users (especially if your multimedia collection is not organized by the iTunes computer application).
Loudspeakers
Both the iPhone 6s Plus and the Galaxy S6 edge+ have their speakers placed at the bottom, just around the connectivity port. While they offer rather adequate sound quality, their loudness is less than stellar.
Both phones out similar results when it comes to music and voice loudness, but the ringing performance is louder on the Galaxy S6 edge+ and this makes it a winner in this category.
| | | | | |
| --- | --- | --- | --- | --- |
| Speakerphone test | Voice, dB | Pink noise/ Music, dB | Ringing phone, dB | Overall score |
| Apple iPhone 6s Plus | 65.8 | 65.1 | 64.6 | Below Average |
| Apple iPhone 6 Plus | 67.3 | 65.7 | 66.5 | Below Average |
| Samsung Galaxy S6 edge+ | 65.8 | 64.8 | 70.4 | Average |
| HTC One M9 | 65.2 | 64.6 | 76.1 | Average |
| Samsung Galaxy S6 edge | 69.7 | 66.5 | 73.5 | Good |
| Samsung Galaxy Note Edge | 72.7 | 75.7 | 70.8 | Very Good |
| OnePlus 2 | 75.7 | 73.5 | 80.7 | Excellent |
Winner: Samsung Galaxy S6 edge+.
Audio output
The Samsung Galaxy S6 edge+ and the Apple iPhone 6s Plus are both excellent performers when it comes to using them as audio players. Both of them have nicely clean output and decent volume levels, meaning even audiophiles will be very pleased with either. The Galaxy S6 edge+ offers higher volume levels though and has an edge over the iPhone.
The dynamic range of both devices is great, as is the frequency response. The Galaxy S6 edge+ does better with the stereo effect though as the iPhone has a higher inter-channel interference.
Plugging a pair of headphones equalizes the stereo performance, while keeping the great dynamic range. The Galaxy offers better audio quality with the headphones in as it's visible on the frequency response graph and it gets a deserved credit for it.
| | | | | | | |
| --- | --- | --- | --- | --- | --- | --- |
| Test | Frequency response | Noise level | Dynamic range | THD | IMD + Noise | Stereo crosstalk |
| Apple iPhone 6s Plus | +0.05, -0.02 | -93.4 | 93.4 | 0.0018 | 0.0069 | -71.1 |
| Apple iPhone 6s Plus (headphones attached) | +0.15, -0.11 | -90.2 | 92.8 | 0.0031 | 0.139 | -59.9 |
| Samsung Galaxy S6 Edge+ | +0.02, -0.05 | -93.3 | 93.2 | 0.0017 | 0.0070 | -93.7 |
| Samsung Galaxy S6 Edge+ (headphones attached) | +0.03, -0.02 | -93.0 | 93.1 | 0.0058 | 0.038 | -58.3 |
| Samsung Galaxy Note5 | +0.04, -0.01 | -93.6 | 93.5 | 0.0024 | 0.0076 | -94.7 |
| Samsung Galaxy Note5 (headphones attached) | +0.02, -0.05 | -93.1 | 93.2 | 0.0023 | 0.030 | -84.1 |
| Apple iPhone 6 Plus | +0.04, -0.04 | -94.0 | 94.0 | 0.0013 | 0.0064 | -72.0 |
| Apple iPhone 6 Plus (headphones attached) | +0.10, -0.04 | -94.0 | 93.9 | 0.0016 | 0.087 | -64.1 |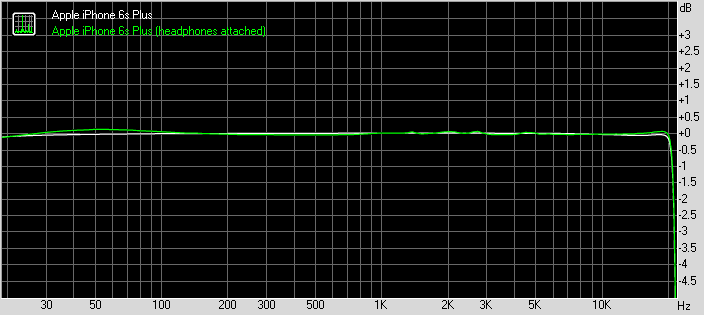 Apple iPhone 6s Plus frequency response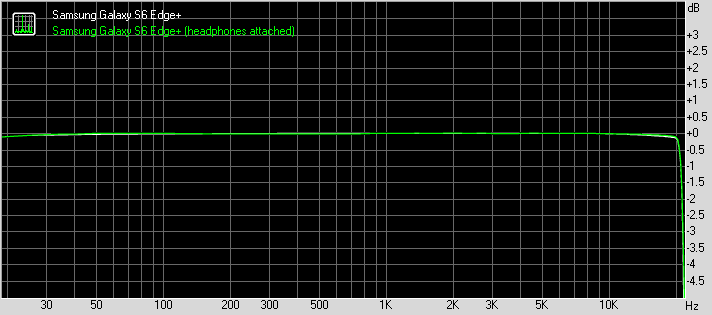 Samsung Galaxy S6 Edge+ frequency response
You can learn more about the tested parameters and the whole testing process here.
Winner: Samsung Galaxy S6 edge+. It is louder, offers better stereo effect with an amplifier and better frequency response with headphones.