The triumvirate
LG G2 vs. Samsung Galaxy Note 3 vs. Sony Xperia Z1: The triumvirate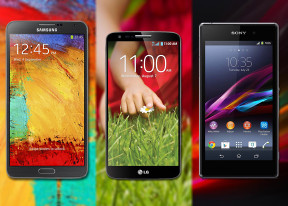 Music players
Let's move on to music players - the final chapter of our multimedia comparison.
LG G2
The music player on the LG G2 has a simple interface. It's easy to use, but still offers a lot functionality.
The Now playing interface places a big album art image in the center with controls above and below it. Swiping the album art left or right is the easiest way to skip songs back and forth.
A press and hold on the album art will bring up a search menu, if you need to look up the title, artist or the album. After that you can pick where to search - your music collection, YouTube or a general Internet search. Flipping the device to landscape mode while on the Now playing screen squeezes in a list of other songs by the same artist.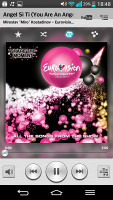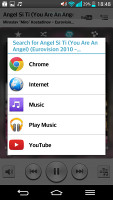 The Now Playing screen • The Search feature
There are several equalizer presets and you can even create custom ones.
Samsung Galaxy Note 3
The TouchWiz music player on the Galaxy Note 3 is jam-packed with features and supports a wide variety of file formats, including FLAC and WAV.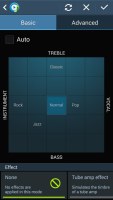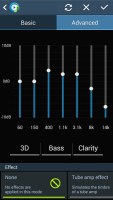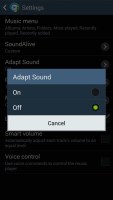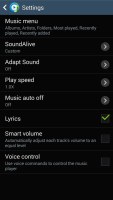 Samsung Music Soundalive feature
Then there's Music square - it's quite similar to the SensMe feature of Sony smartphones. It automatically rates a song as exciting or calm, passionate or joyful and plots those songs on a square (hence the name).
The Now playing screen gives you the usual options - a timescroll of the song, play/pause and back/forth controls, repeat and shuffle, volume control but it also adds lyrics support, AllShare shortcut and a direct sound settings shortcut.
The Samsung Galaxy Note 3 has a couple of features that will improve your listening experience further. One is Smart Sound, which equalizes the volume between tracks. The other is Adapt Sound - it plays a series of beeps (both high and low frequency) and asks if you can hear them. This way the phone can map the capacities of your specific headset and fine-tune its output for optimal sonic experience.
After the calibration is complete, the Galaxy Note 3 shows you the kind of gain you're receiving by keeping Adapt Sound on.
Sony Xperia Z1
Finally, there's the Walkman music player. The Walkman is divided into Playing and My music panels. In the My music section, you can update your album art and music information like album, year released, and more. SensMe is included, meaning you can filter your songs by mood - upbeat, energetic, mellow, dance, etc. Creating playlists is enabled and you can also view your Facebook friends' activity if they too use the Walkman player.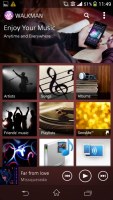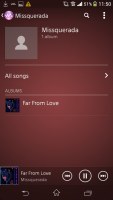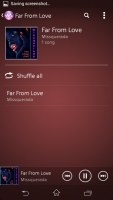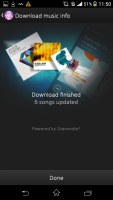 The music player is decent looking and snappy
The Now Playing screen offers the standard music controls, shortcuts to the library, "Infinity" key and the song cover art. The Infinity key lets you quickly look up a song on YouTube or browse for the lyrics, among others.
Sony has improved on the Walkman player's settings. There's the familiar ClearAudio+ option, which determines the best audio quality settings depending on the song you're listening to. We liked how it changed the music and carefully accentuated various details.
There's Surround sound mode, which imitates the Studio, Club or Concert Hall experience. The Clear stereo mode enhances the perceivable stereo channel separation. Dynamic normalizer minimizes the difference in volume between songs (great if you're playing a shuffled mix).
And audio fans will be pleased as there is a configurable 5-band equalizer with bass adjustment. However dedicated audiophiles might want to consider alternatives off the Play Store, with support for a 10 or even 20-band equalizer.
Winners: Samsung Galaxy Note 3 and Sony Xperia Z1. Both phones offer excellent sound personalizations, Samsung's Adapt Sound has no alternative, while Sony's ClearAudio+ is great at automatically selection the optimal settings for different tracks.
Runner-up: LG G2. The LG flagship is equipped with a great music player but can't match the other two in terms of features.
Audio quality
All three smartphones delivered almost spotlessly clean audio output so picking a winner here was quite hard. Still, the Samsung Galaxy Note 3 managed to take the victory with its louder output, and slightly lower stereo crosstalk when headphones were plugged in.
The LG G2 and the Sony Xperia Z1 are basically identical as far as their audio output is concerned. They perform excellently both with and without headphones but are let down by their uninspiring volume levels.
| | | | | | | |
| --- | --- | --- | --- | --- | --- | --- |
| Test | Frequency response | Noise level | Dynamic range | THD | IMD + Noise | Stereo crosstalk |
| LG G2 | +0.03, -0.28 | -91.9 | 91.9 | 0.0097 | 0.011 | -91.3 |
| LG G2 (headphones attached) | +0.07, -0.03 | -91.5 | 91.8 | 0.037 | 0.041 | -54.3 |
| Samsung Galaxy Note 3 | +0.02, -0.07 | -96.5 | 92.8 | 0.0035 | 0.0099 | -96.3 |
| Samsung Galaxy Note 3 (headphones attached) | +0.01, -0.09 | -96.2 | 92.7 | 0.017 | 0.017 | -62.1 |
| Sony Xperia Z1 | +0.09, -0.01 | -91.8 | 92.0 | 0.0063 | 0.012 | -89.9 |
| Sony Xperia Z1 (headphones attached) | +0.01, -0.15 | -91.7 | 91.7 | 0.098 | 0.049 | -45.6 |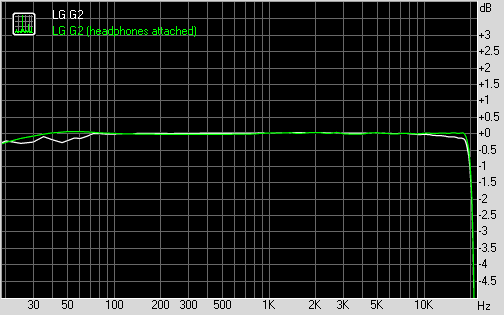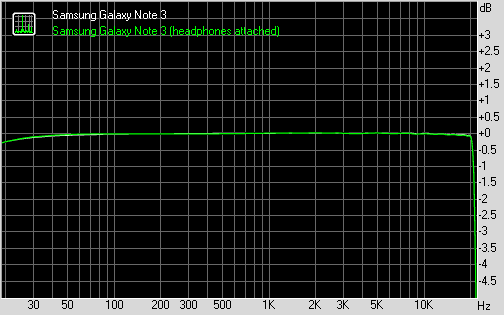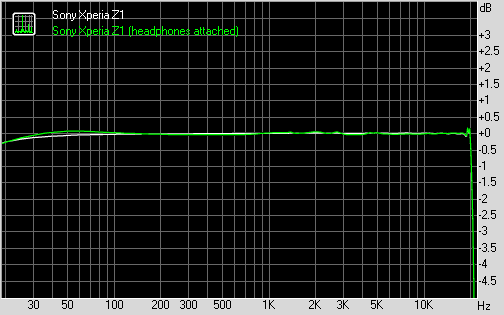 Frequency response of the three smartphones
You can learn more about the whole testing process here.
Winner: Samsung Galaxy Note 3.
Runner-ups: Sony Xperia Z1 and LG G2.
Loudspeaker
Our Loudspeaker performance test saw all three of our contenders as slightly below average. However, the Samsung Galaxy Note 3 was slightly above the LG G2 and the Sony Xperia Z1, which had the lowest overall score. Still, at least it has the water-tightness as an excuse, something the other two don't have.
| | | | | |
| --- | --- | --- | --- | --- |
| Speakerphone test | Voice, dB | Pink noise/ Music, dB | Ringing phone, dB | Overal score |
| Sony Xperia Z1 | 65.5 | 62.0 | 65.8 | Below Average |
| LG G2 | 65.7 | 62.2 | 66.2 | Below Average |
| Samsung Galaxy Note 3 | 70.5 | 66.6 | 78.0 | Below Average |
Winner: Samsung Galaxy Note 3. A simple game of numbers that the Samsung flagship won by the smallest of margins.
Runner-up: LG G2. Just behind the Galaxy Note 3, and a slightly louder than the Xperia Z1.
Third place: Sony Xperia Z1. The quietest of the three, although it will be disappointed to have come so close to the other two and still walk away last.