The triumvirate
LG G2 vs. Samsung Galaxy Note 3 vs. Sony Xperia Z1: The triumvirate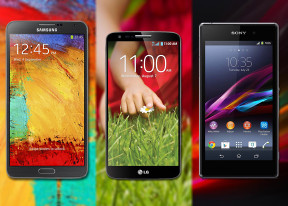 Good light
Here comes the real deal - the image quality comparison. Here are 100% zoomed-in crops from all three cameras at hand. For the Sony Xperia Z1 we used the Superior Auto mode, which uses the information from the 20.7 MP and produces oversampled 8 MP images, which should be pretty detailed and sharp.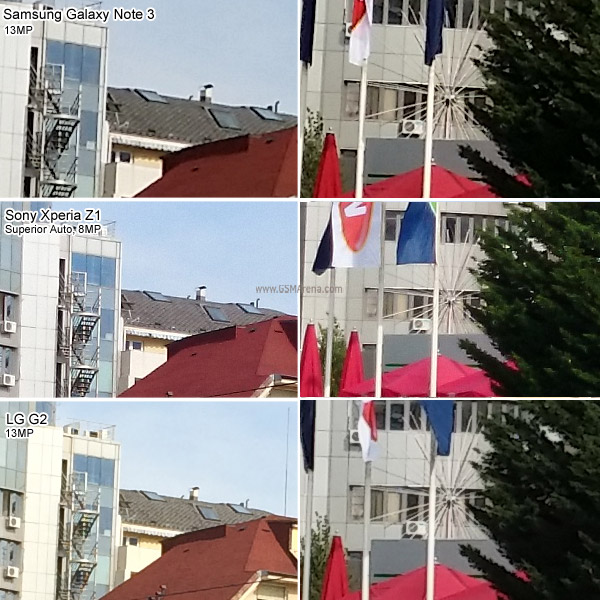 The Sony Xperia Z1 clearly has the most detail in its images. If we get down to pixel-peeping it's evident that small elements are best resolved on the Xperia stills.





Sony Xperia Z1: 20.7MP photo • 8MP photos
The Samsung Galaxy Note 3 and LG G2 both shoot 13MP stills and both resolve virtually the same amount of detail. The difference comes from processing. The LG G2 tends to overexpose photos, but has more accurate colors. The Galaxy Note 3 gets the exposure right and it looks like its photos are sharper, but that's just due to a stronger sharpening filter. There is a bit more noise in the sky, too.
Winner: Sony Xperia Z1. The Sony flagship uses its superior sensor to produce excellent 8 MP stills, that have more detail, nicer colors and less noise than those of its competitors.
Runners-up: Samsung Galaxy Note 3. The Samsung Galaxy Note 3 photos have very good detail level, though not quite as high as on the Xperia Z1. Some of that sharp feel Note 3 photos have is down to strong sharpening, which results in some artifacts in the images though.
Third place: LG G2.
The resolved detail is about on par with the Galaxy Note 3, but the frequently over-exposed images meant the G2 had to settle for third here.
HDR
High dynamic range photography is designed to help you in scenarios where there are both very bright and dark images in the frame. Instead of sacrificing one or the other, HDR helps the cameraphone resolve both by doing two or three shots and combining them in a single image.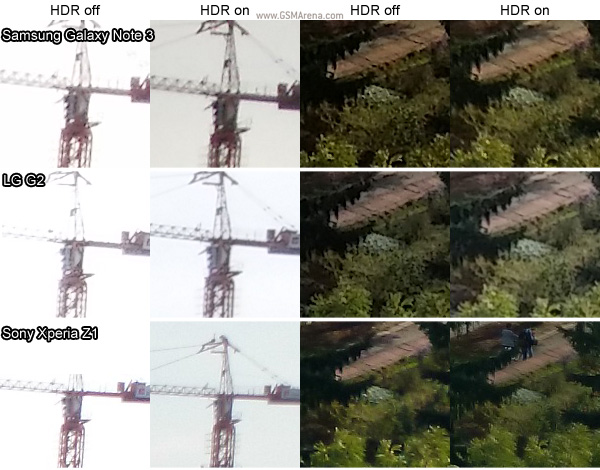 The Samsung Galaxy Note 3 looks pretty good here - it resolves the crane even without HDR and with it, it fills in the sky better. It leaves the shadows almost untouched, perhaps for the best - squeezing too much dynamic range could degrade contrast and produce a flat unrealistic photo with poor contrast.



Samsung Galaxy Note 3: HDR off • HDR on
The LG G2 has big issues with this shot due to its tendency to overexpose photos. HDR mode helps a bit, but imperfect alignment of the exposures smudges out some detail in the shadows.
The Sony Xperia Z1 HDR mode does a good job of enhancing the highlights, but the foliage becomes a water painting due to either misalignment of the photos or issues in processing.



Sony Xperia Z1: HDR off • HDR on
Winner: Samsung Galaxy Note 3.
Runner-up: LG G2.
Third place: Sony Xperia Z1.