Get smart, get started
LG GT540 Optimus review: Get smart, get started

Telephony
The dialer can be easily accessed via the dedicated key on the homescreen, while the fastest way to reach the Call log is the hardware green receiver.
The Dialer shows a virtual phone keypad that lets you dial a number. Smart Dial is available and works like a charm – the implementation on the GT540 Optimus searches both contact numbers and names unlike the one on the GW620, which went through only the contacts' numbers.
As for the actual calls, voice quality is great: sound is crisp and loud enough.
We ran our traditional loudspeaker test and the LG Optimus did well – it scored a Good mark, so you won't have trouble hearing it beep. You can find more about the testing procedure here.
| | | | | |
| --- | --- | --- | --- | --- |
| Speakerphone test | Voice, dB | Pink noise/ Music, dB | Ringing phone, dB | Overall score |
| Nokia 5800 XpressMusic | 75.7 | 66.5 | 68.5 | Good |
| LG GW620 | 67.2 | 68.7 | 78.2 | Good |
| LG GT540 Optimus | 73.2 | 66.7 | 75.7 | Good |
| LG GC900 Viewty Smart | 75.7 | 69.5 | 76.7 | Very Good |
| HTC Legend | 78.0 | 74.3 | 79.7 | Excellent |
Rich messaging capabilities
The LG GT540 Optimus can handle all common types of messages with ease - SMS, MMS and email. Email support is excellent with support for Exchange out of the box and social media buffs will be pleased with the level of integration of that content as well.
A press-and-hold on the text box gives you access to functions such as cut, copy and paste. You are free to paste the copied text across applications like email, notes, chats, etc.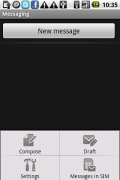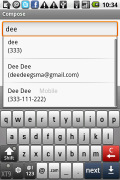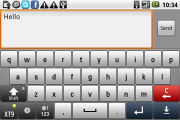 Sending Dee Dee a message • the QWERTY keyboard
Gmail is one thing that you can't expect to have changed much compared to other Android handsets.
The extended Gmail features include batch operations, which allow multiple emails to be archived, labeled or deleted, spam report and of course conversation-style email view mode.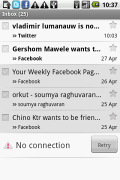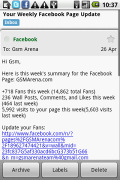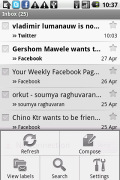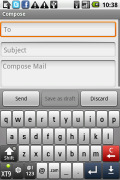 The Gmail app is simple to use but very functional
The standard Email app doesn't display messages conversation style – it sticks with the folder structure. The Inbox folder shows the number of messages that have been retrieved and how many of them are unread.
Multiple email accounts are also supported. You can have all your mail in the general inbox or choose to filter a specific account.
There are two types of on-screen keyboard you get with the LG Optimus – the phone dialpad and the on-screen QWERTY keyboard. By default you get the QWERTY regardless of the phone's current orientation.
Image gallery with 3D effects
The LG GT540 Optimus has a pretty attractive gallery. 3D effects and smooth scrolling contribute to a pretty good user experience in general.
Those 3D effects are reserved for Android 2.x devices only, but LG have somehow ported them to ver. 1.6 (even to 1.5 on the GW620).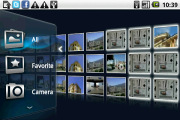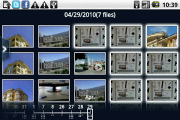 The LG GT540 Optimus comes with a refreshed gallery
The usual shortcut that allows you to share your images over email, MMS or Picasa is now updated to support social-networking and Bluetooth. Yes, there is Bluetooth sharing this time. Unfortunately, sharing multiple photos at a time isn't available.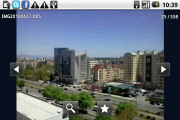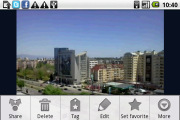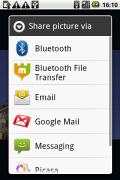 Viewing a single photo • sharing options
The LG GT540 supports a couple of zoom methods – you can use the onscreen virtual controls or you can zoom 2x with a simple double tap on the screen.
Overall, zooming and panning is really fast.