Camera is no big deal
The LG GT540 Optimus is equipped with a 3-megapixel auto-focus camera and has no flash whatsoever.
The camera interface is an almost exact copy of the camera interface on the LG Viewty Smart, for a random reference. That has its good and bad points. For one, first-gen Androids are known for their rather bare camera interfaces.
The LG Optimus camera interface is still pretty simple but finds room for some of the essential functions right on the screen. Selecting the auto-focus mode, the flash mode and exposure compensation is matter of a single tap. The controls on the left can be hidden to free up space in the viewfinder.
Switching between still camera and camcorder is done with the trademark virtual slider we've seen on previous LG phones.
Here comes the not-so-good part: the extended settings menu. It uses the well-known rotating dial and its problem is that it's quite slow. You can access only one item at a time, to get to the others you need to rotate the dial.
You can't skip over items - you need to rotate over all of them till you get to the one you need, and the dial can be unresponsive at times. Using a simple list - while not as pretty - would have been much faster.
Usually, only the rarely used settings go into the extended settings menu, but in the LG GT540 Optimus things like shoot mode and scene mode are buried in there. And scene mode was supposed to be a quick way to set up the camera for a particular kind of shot.
The shooting experience on the other hand is fine. The camera manages to focus and snap a shot quickly enough.
As for the image quality, there are four forces at play here that give their best to mess it up. First is the noisy image sensor, then comes the aggressive noise reduction that smears everything; and finally the heavy JPEG compression that results in a lot of compression artifacts. On top of that, oversharpening is quite prominent too.







LG GT540 Optimus camera sample photos
Synthetic resolution
We also snapped our resolution chart with the LG GT540. You can check out what that test is all about here.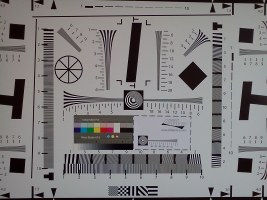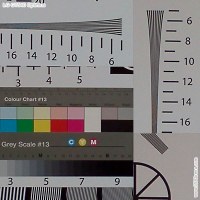 LG GT540 Optimus resolution chart photo • 100% crops
Video recording
The LG GT540 camcoder is a mediocre performer. It manages VGA videos at 17 frames per second, which doesn't sound particularly exciting. Videos lack detail and there are some artifacts to see.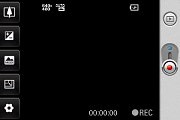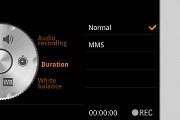 Camcorder mode
The camcorder interface is almost identical to the still camera's. The same criticisms we leveled at the still camera UI apply here too.
And here is an LG GT540 camera video sample.
Connectivity is great
The LG GT540 offers the full connectivity package. It covers the basics with quad-band GSM/EDGE but also offers speedy 3G connectivity with 7.2Mbps HSDPA and HSUPA.
For local connectivity, there's Wi-Fi, Bluetooth 2.1 (just the headset profile though, you can't send or receive files unless you pay the Android Market a visit and get the free Bluetooth File Transfer app). The GT540 features a built-in GPS receiver with A-GPS support, microUSB and a hot swappable microSD card.
There's also a 3.5mm audio jack so you can plug in your favorite set of headphones.
The Power Control widget comes in handy when you need to quickly turn Wi-Fi, Bluetooth or the GPS receiver on or off. An Airplane mode switch would have been a great addition.
Syncing your data couldn't be easier - it's just that you mainly sync with the Google services. For those of you who prefer desktop syncing with Outlook or Outlook Express, the Moxier Sync app comes in handy.