Get smart, get started
LG GT540 Optimus review: Get smart, get started

A good but Flash-less web browser
Great web browsing has been an undoubted Android strength since day one. The LG GT540 is hardly an exception here.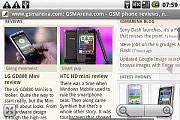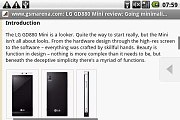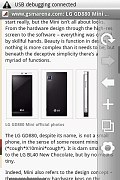 Browsing GSMArena.com on the LG Optimus
The user interface is pretty minimalist. You get the address bar, which is docked at the top of you screen so scrolling down and hiding it isn't an option and a small arrow at the right side of the screen. Tapping this arrow reveals the LG custom interface for the browser, which is actually a bar with six shortcuts.
Those let you reload a page, go back and forward, access your bookmarks, open a new tab or check the browser settings.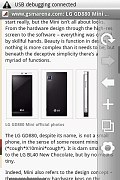 LG have added a touch of their own to the browser user interface
Hitting the menu key reveals six more shortcuts. You can start typing an address, search and select text, check out your downloads or exit the web browser from here. The final button reveals even more options (bookmarks, window overview, settings etc.).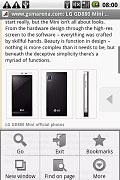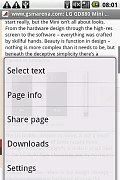 The rest of the options appear when you hit the menu key
Unfortunately, you don't get double-tap or one-finger zooming on the GT540. And since pinch-zooming isn't even an option, you only get to use the on-screen controls for that purpose. There is no text reflow either so LG's second Android handset is a rather poor performer in terms of zooming.
Unfortunately, there is no Flash support on the LG GT540. Neither Flash games nor Flash videos are an option. You do get to watch YouTube but it uses the preinstalled YouTube application rather than the web browser itself.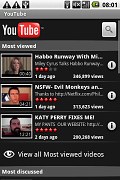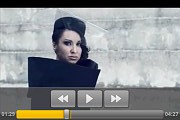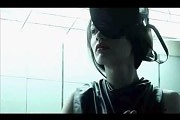 The preinstalled YouTube app partially compensates for the missing Flash support
Organizer seems fine, office document reader preloaded
The LG GT540 comes with the usual set of organizing apps. We are starting to see a positive trend among recent Android-running handsets to have a document viewer preinstalled, rather than making the user download one.
The app in question is Quickoffice and it supports viewing Word, Excel, and PowerPoint, and PDF but only their Office 2003 versions. This time you don't need a dedicated PDF reader but you still have to get the paid app for editing.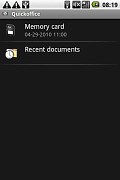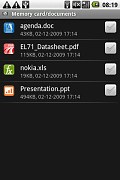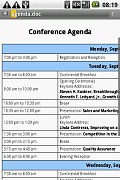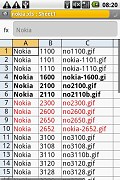 Quickoffice handles most files but doesn't support editing unless you pay to upgrade
The doc viewer integrates with the Gmail app, which makes viewing attachments a cinch. You can't download them to the phone's internal memory however. Attaching saved files (and we mean all kind of files) is possible though.
The calendar has four different types of view - daily, weekly, monthly and agenda. Adding a new event is quick and easy, and you can also set an alarm to act as a reminder.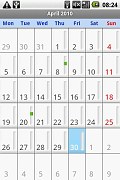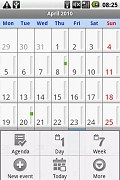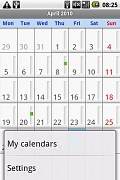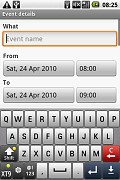 The calendar has the usual good functionality
The LG GT540 features an alarm clock application, which allows a lot of alarms to be set, each with its own start time and repeat pattern.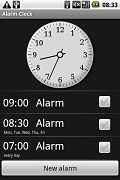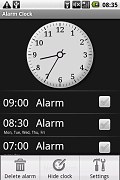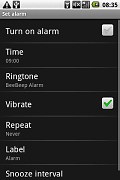 You can easily set up multiple alarms
The organizer package also includes a voice recorder, which might be pretty useful for making audio notes and a nicely touch-optimized calculator.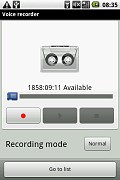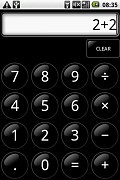 The voice recorder and the calculator
Finally, clicking the SNS icon in the main menu gives you an app designed to help you update your Facebook, Twitter and Bebo profiles. You can also keep track of your friends' activities in this app.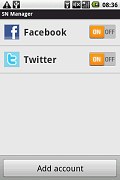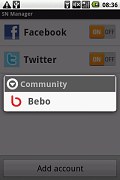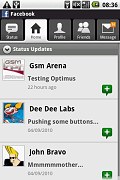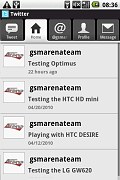 The SNS Manager puts your Facebook, Twitter and Bebo accounts a click away