DivX/XviD/MP3 capable Media Player
The Media Player does what it says on the tin – and for the most part does it well. When you run the Media Player you must choose between Music and Video.
The Video section's default view shows you the list of videos on the memory card. The player interface is simple and easy to use – it offers the playback controls and automatically switches to full screen when you tilt the phone.
A great bonus (though hardly a surprise for an LG unit) is the built-in support for DivX and XviD videos. Playback is limited to maximum video resolution of WVGA.
It's better than usual – built-in DivX/XviD support is rare on most OSes and Android is no exception. LG Optimus handled most XviD videos we threw at it reasonably well. The bigger ones (100MB+) had some dropped frames, but it wasn't too bad.
Unfortunately playing DivX files is almost a no-go. None of our samples managed through the Media Player. It seems support is limited to WQVGA resolution and specific bitrate, but we couldn't hit the right format.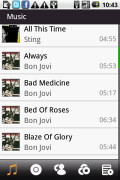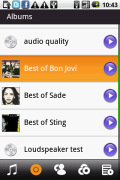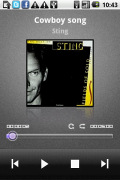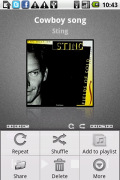 The Media Player plays music too
Music in the Media Player app is skinned to resemble other LG music players, but aside from a sleeker look and a few animated transitions, it doesn't really bring anything new to the table.
There's no equalizers, no visualizations – nothing the vanilla player doesn't have and nothing to really excite the audiophiles out there.
The Android Music app is here
Selecting Music on the main menu launches the default Android music player. Again, it's an odd choice considering they've taken the time to add a skinned Media player. Anyway, the functionality (the lack of it mostly) is the same.
The core features are all there and the looks are mostly fine but there is still some catching up to do before the best in class are matched.
You can sort tracks by artist or album or you can browse them by playlists. The now playing user interface - though very sleek and more comfortable - doesn't offer too many new features.
While a song is playing, the track info is visible in the notification area on the homescreen and that's a handy shortcut to the actual music player app.
Unfortunately, the well known letdowns are still there, like no equalizer presets and no alternative visualizations when album art isn't available.
The best part is the option to run relevant Google and YouTube searches.
FM Radio with RDS
The LG GT540 Optimus is equipped with an FM radio too. The interface is simple – there's a tuning dial and you can save as many as 48 stations as favorites. You can also listen on the loudspeaker, but the headset is still needed.
Pretty good audio quality
Not quite surprisingly the LG GT540 Optimus audio quality is pretty close to the one of the LG GW620. Both handsets are pretty quiet but have nice clean audio output.
The cut-off extreme bass frequencies are probably our only (not quite significant) grudge against it with the rest of the readings being very good (distortion levels) to excellent (stereo crosstalk, noise levels and dynamic range).
And here go the results so you can see for yourselves.
| | | | | | | |
| --- | --- | --- | --- | --- | --- | --- |
| Test | Frequency response | Noise level | Dynamic range | THD | IMD + Noise | Stereo crosstalk |
| LG GT540 Optimus | +0.17 -1.56 | -85.8 | 87.7 | 0.029 | 0.196 | -83.1 |
| LG GW620 | +0.25 -2.92 | -86.3 | 87.7 | 0.035 | 0.165 | -83.2 |
| Motorola BACKFLIP | +0.11 -0.48 | -63.1 | 63.4 | 0.042 | 0.165 | -59.9 |
| Nokia N97 mini | +0.05, -0.32 | -90.5 | 90.4 | 0.0049 | 0.487 | -91.0 |
| Motorola MILESTONE | +0.16 -0.06 | -74.1 | 74.7 | 0.014 | 0.040 | -73.1 |
| HTC Magic | +0.21 -2.20 | -85.6 | 88.8 | 0.025 | 0.220 | -86.0 |
| Apple iPhone 3GS | +0.01, -0.05 | -92.1 | 92.1 | 0.0035 | 0.011 | -95.0 |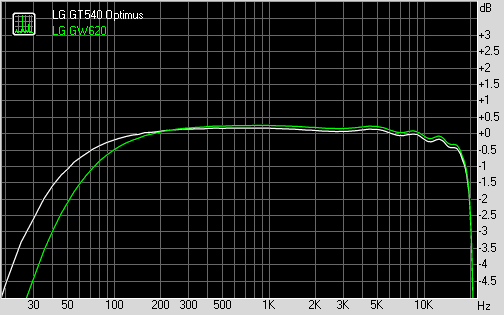 LG GT540 Optimus vs LG GW620 frequency response graphs
You can learn more about the whole testing process here.