On the road again
Nokia 6210 Navigator review: On the road again

Superb phonebook
True to its Symbian nature, Nokia 6210 has an excellent phonebook with virtually unlimited capabilities. There is storage place for practically unlimited number of contacts and fields, with all the available memory potentially usable for the purpose. Contacts can be freely ordered by first or last name and can naturally be searched by gradual typing of any of the names.
Editing a contact offers a great variety of preset fields and you can replicate each of them as many times as you like. You can also create new fields if you happen to be able to think of one. We personally find it quite a challenge to think of something Nokia has missed here. Personal ringtones and videos are also available for assigning. If you prefer you may group your contacts and give each group a specific ringtone.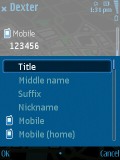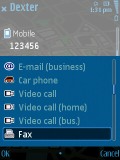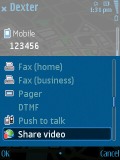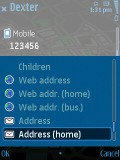 There is a great variety of fields available when editing a contact
The Call log application, although not exactly a part of the phonebook, is also one of the usual Symbian strengths. It holds up to 20 call records in each of the tabs for outgoing, received and missed calls. These are all accessed by pressing the Call key on the homescreen.
If you enter the Log application from the main menu, you'll see a detailed list of all your network communications for the past 30 days. These include messages, calls and data transfers. The period can be shortened to save some space but you are quite unlikely to do that, as even with a huge number of calls the log only takes a few kilobytes of storage space.
Messaging great
Typing is comfortable with Nokia 6210 Navigator. The phone supports all common message types - SMS, MMS, audio message and email. The SMS and MMS share an editor. It is the well known intuitive application from previous Symbian S60 smartphones. It has a counter of characters left to the limit of 160. There is also an indicator in brackets showing the number of separate parts the message will be divided into for sending.
It goes without saying that a delivery report can be activated. The reports pop up on the standby screen and are subsequently saved in a separate folder in the messaging sub-menu. When you are exiting the message editor without having sent the message, the editor prompts saving it to the Drafts folder or discarding it.
All it takes to convert a common SMS into an MMS is insert some multimedia content. A nice feature allows resizing pictures automatically for sending via MMS. Nokia 6210 Navigator also features the dedicated audio message editor.You can either record the message on the spot or use a previously recorded sound clip.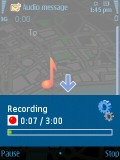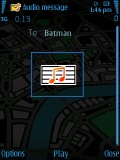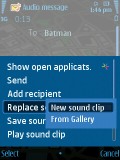 Dedicated audio message editor
The email client is also the time-tested Symbian performer. It can download headers only, as well as entire messages. There is also support for attachments, so Nokia 6210 Navigator can meet almost any user requirement.